Even though I had the camera for some time, it took me a while to write this Akaso V50 Elite review.
If you are looking for a cheap but efficient action camera then you might want to look at this one.
Like its competitors, Akaso offers a wide range of entry-level action cameras with features comparable to that of GoPro.
Ever since GoPro flooded the market with premium action cameras, several brands have emerged offering more affordable alternatives and keeping most of the premium features.
This was a great move from a marketing point of view because it appealed to both beginners and previous GoPro users alike.
Since these cameras resembled GoPro models in dimensions and design, one could easily use mounts and gimbals that one had bought for their previous camera – GoPro or otherwise.
In 2018, the V50 Elite was released with Akaso promising native 4K recording at 60 fps.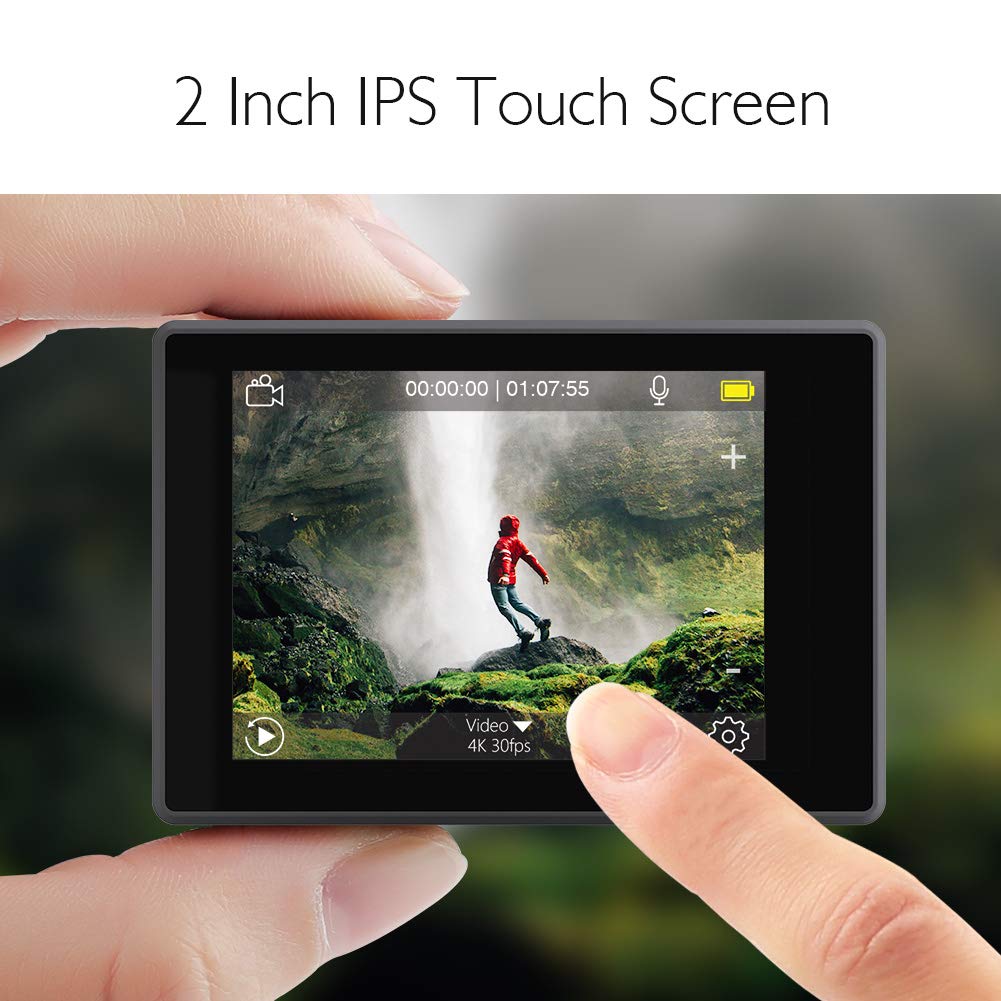 The Akaso V50 Elite is an upgrade from the EK7000 Pro. It offers an improved video and picture quality, and is priced below 150$ on Amazon.
In this article, I take on the V50 Elite and find out whether it is indeed worth the money.
---
Comparison with ThiEye T5 Edge
Both the Akaso V50 Elite and ThiEye T5 Edge are low budget action cameras at a similar price range.
On paper, the Akaso product looks better, offering 4K recording at 60 fps in contrast to an upper limit of 30 fps in the T5 Edge, and 20 MP photos in comparison to 14 MP in the ThiEye variant.
Also, unlike the former, ThiEye T5 Edge does not have a touchscreen panel.
When it comes to actual performance though, the tables seem to turn.
The ThiEye does a far better job in every single department, and delivers as much as it promises, unlike the V50 Elite.
It provides better image stabilization, comparable photos, and a much better audio quality, thanks to the dual microphones.
ThiEye has been making massive inroads in the action camera market as an alternative to GoPro, and the brand cannot risk failing to live up to expectations.
Hence, it is understandable why the T5 Edge performs much better than the V50 Elite despite being inferior on specifications.
If you are torn between the T5 Edge and the V50 Elite, we would recommend you to go for the former. Check my T5 Edge review here.
The 4K at 60 fps is not a huge improvement, and is definitely not worth it if you are going to use it sparingly.
---
Let's Jump to the Review!
Product: Akaso V50 Elite
Price: $$
My rating: 4.7/5
---
Just before I jump to the review, here are the Akaso V50 Elite specs:
Akaso V50 Elite Specs
| Specs | Akaso V50 Elite |
| --- | --- |
| Video resolution and frame rate | 4K60fps, 4K30fps, 2.7K60fps, 2.7K30fps, 1080p120fps, 1080p60fps. 1080p30fps, 720p240, 120 & 60fps |
| Photo resolution | 20 Megapixels Sony IMX078 sensor |
| Slow Motion | Yes |
| Image stabilization | Yes |
| Codecs | H.264 & H.265 |
| Night photo | No |
| ISO settings | Auto / 50 / 100 / 200 / 400 / 800 / 1600 |
| Long Exposure | 1s, 2s, 5s, 8s, 30s, and 60s |
| Video time lapse | Yes |
| Photo time lapse | Yes |
| Night lapse | Yes |
| Video quality | Very saturated especially the green color |
| Micro SD card | 128GB |
| Zoom | 8x digital zoom |
| Loop recording | 2 minutes, 3 minutes or 5 minutes |
| File format | RAW & JPEG |
| Delay timer | 3, 5, 10 or 20 seconds |
| Touchscreen | Yes |
| Voice control | Yes |
| Waterproof | No, waterproof case needed |
---
Akaso V50 Elite Design & Components
Design
The Akaso V50 Elite is very similar in design to its sister the V50 Pro.
The V50 Elite does not go overboard in the design section. It is made of rubberized plastic that ensures it does not look cheap.
At 2.4 x 1.6 x 1.2 inches, you can say it resembles the older GoPro models. This implies that you can use the accessories that you had bought for your older action camera with this one too.
On the front, the camera holds the lens along with the Power button which also acts as the Mode button.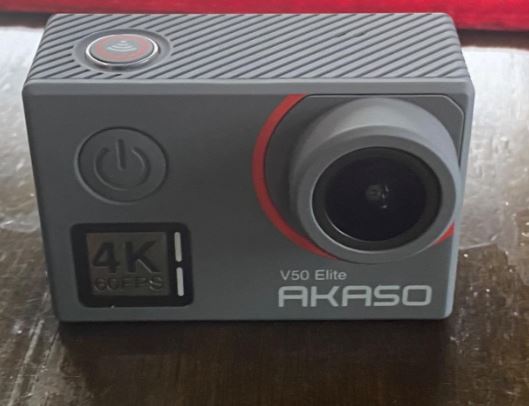 There are two LED indicators positioned just below the power button that gives the camera a sleek appearance.
At the top, there is the Wi-Fi button with a rig of blue LED surrounding it. This button also performs several other functions like recording and selecting options in your camera.
Waterproof
The camera is not waterproof by itself, and you will need to use a waterproof housing if your adventures take you underwater.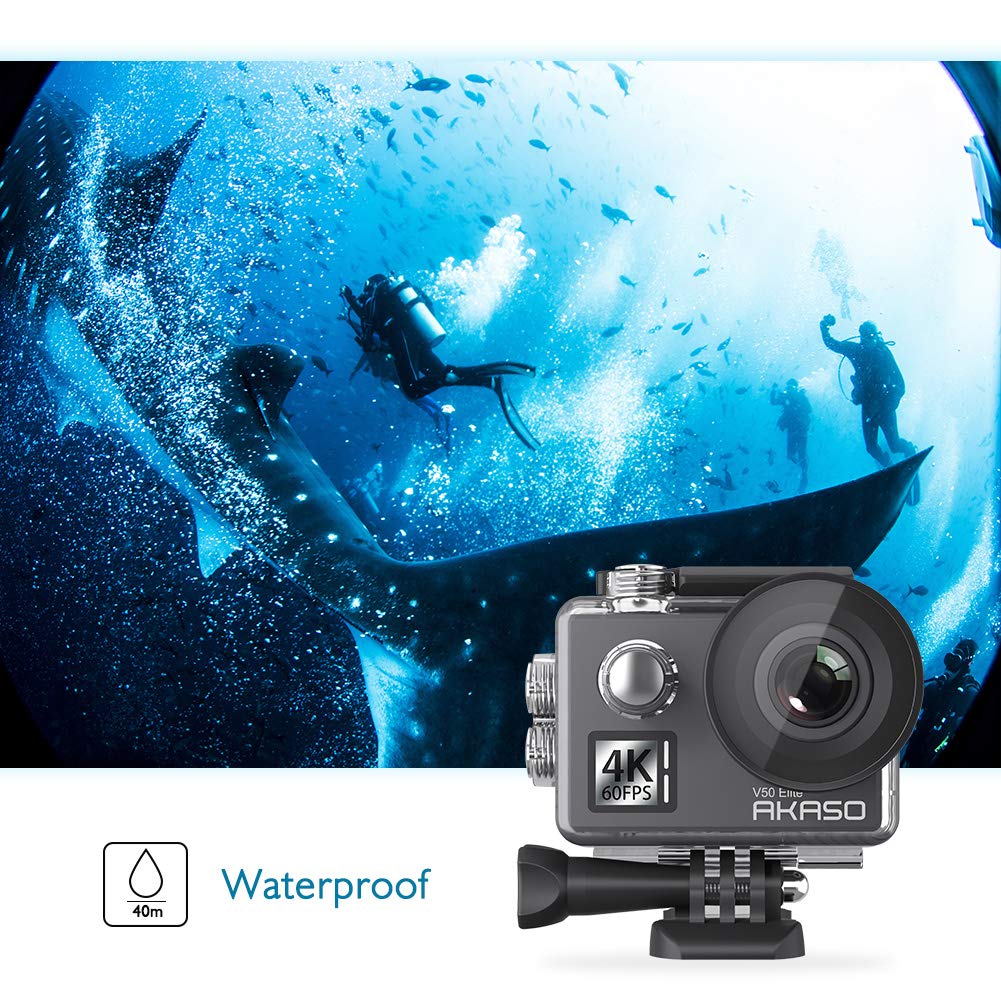 This should not be a headache as Akaso packs in a waterproof case along with the camera that protects the device up to a depth of 40 meters.
Navigation and Controls
The touchscreen is reliable, intuitive, and provides a seamless experience. Akaso also offers you the option of using buttons for controlling your camera.
In case you want to operate your device without using your hands, Akaso gives you the option of voice control as well as remote control.
For voice control, you will have to set it up first before using commands like "Action Start Video" and "Action Photo".
The remote control works via Bluetooth connectivity, letting you capture photos and start or stop recordings at will.
In order to power on the controller, you will have to hold down the red button. Setting it up may seem bothersome initially, but once that is done, the remote control will make your job way easier.
Touchscreen
The back flaunts a 2 inch LED screen that has decent viewing angles and is bright enough to use outdoors.
The touch screen is responsive, but you can also use the buttons provided in order to navigate through settings and capture videos.
Ports & Sockets
On the left side, there is a micro USB port used for charging and data transfer, an HDMI output port to playback footage on TVs, monitors or to use the V50 Elite as a webcam.
Next to those is the micro SD card slot. This camera works best with U3 micro SD cards up to 128 GB, class 10 SD cards can give you issues when recording with high frame rates.
Lens, Sensor & Chipset
The Akaso V50 Elite packs a 170-degree lens with an aperture of f/2.8, a standard I see among other similar action cameras like the V50X and V50 Pro.
The image sensor is a SONY IMX078 CMOS that is technically capable of 12 megapixels and not like what Akaso advertises as 20 megapixels.
The chipset is an iCatch V50 that supports a max video resolution of 4K at 30 frames per second and both H.264 and H.265 codecs.
In their advertisement, Akaso claims that the V50 Elite is capable of 4K at 60 fps, but in reality, the chipset supports a max of 30fps with 4K resolution.
Microphones
The microphones are located a bit towards the left of the Wi-Fi button.
There is one microphone on the V50 Elite and it provides an acceptable audio quality.
Unlike the V50 Pro and V50X, the Elite doesn't support an external microphone which can be a bummer for people who are looking for an improvement in audio quality.
---
Akaso V50 Elite Video
Video Resolutions
Other than 4K, the V50 Elite can also shoot videos in 2.7K, 1080p and 720p resolutions.
Here are the resolutions in pixels:
4K: 3840 x 2160
2.7K: 2704 x 1520
1080p: 1920 x 1080
720p: 1280 x 720
As you can see, the number of pixels on the 4K resolution match the number of pixels of a native 4K resolution. this means that the Elite shoots real 4K videos.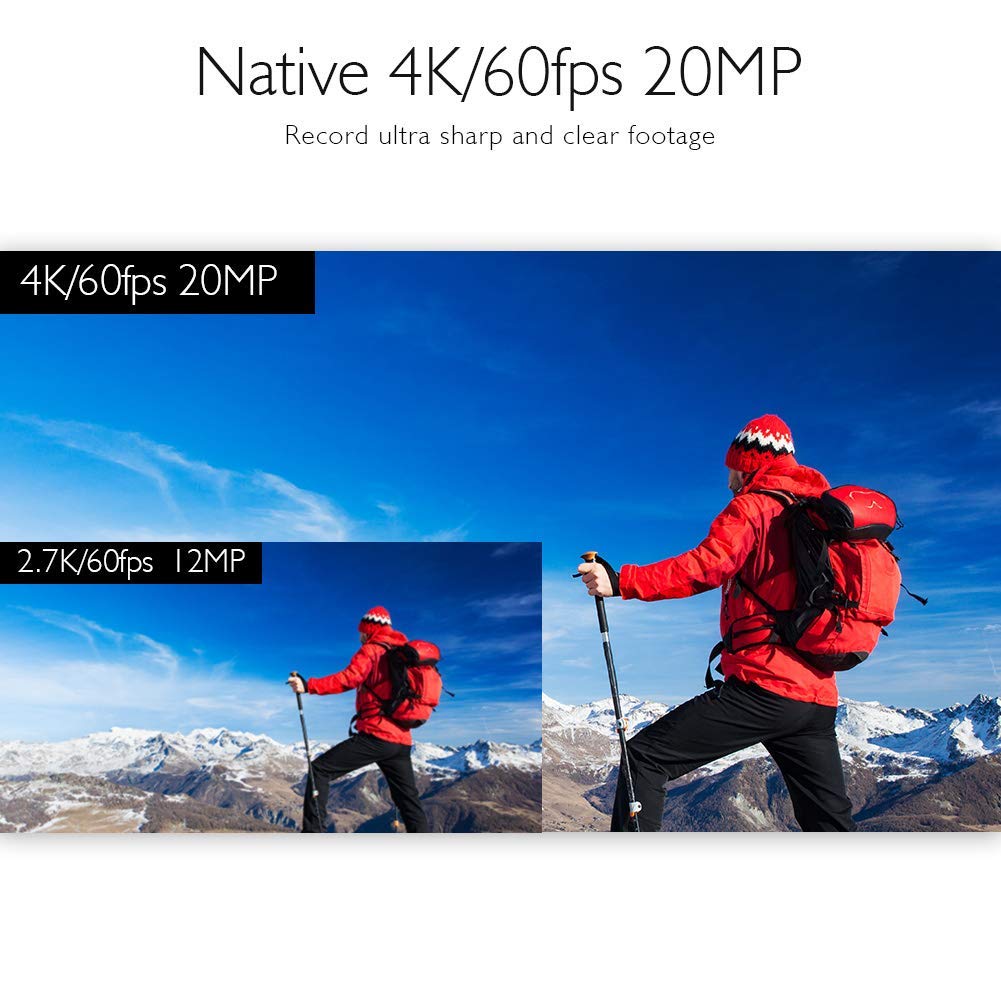 Video Quality
When it comes to the video quality, the V50 Elite performs well especially during daytime shooting. I did not like the performance when shooting in the dark.
The reason for the low video quality during night-time is the 12 megapixels Sony image sensor which doesn't perform well in low-light scenes.
However, I was impressed with the 4K at 30fps video quality during daytime recording so if you are not looking to use the V50 Elite in low-light situations, I wouldn't worry too much.
The videos recorded in 4K at 60 fps look good, however, the camera's hardware is not designed to handle 60 frames per second in 4K and the camera might overheat.
Plus you can't use image stabilization with 4K at 60 fps which renders it pretty much useless.
I also didn't like the videos shot in 1080p, they look grainy, see the video below.
I also noticed that the green color is sometimes a bit over-saturated, something that is handled better on the V50 Pro.
Here are some videos shot in 4K during both day time and night time.
Daytime (4K 60 fps)
---
Night time (4K 30fps)
---
Day time (1080p 60fps with EIS)
Frames
Moving on to the frames, the V50 Elite's maximum number of frames per second is 240.
240 fps is amazing for slow motion videos, it gives you more flexibility during editing and you will be able to slow down your footage 8 times.
Of course, not all resolutions can work with all frame rates. See below for more clarity:
240fps is available with 720p.
120fps is available with 720p, 1080p.
60fps is available with 720p, 1080p, 2.7K, 4K.
30fps is available with 1080p, 2.7K, 4K.
As I said earlier, the camera's chipset does not support frame rates higher than 30fps with 4K, this ultimately means that the 60fps with 4K is fake.
Codecs
The fact that Akaso is willing to keep pace with technology is evident from the fact that the V50 Elite supports encoding in H265 format along with the standard H264.
Since the chipset supports it, it means that it is real and has the ability to compress 4K videos while keeping a low bitrate and without sacrificing quality.
The H265 is a relatively new format that saves a lot of storage space without harming the quality of footage.
Check the difference between H265 and H264 here.
You can toggle between H.264 and H.265 in the camera's settings. I would personally keep it on H.265 because I will get smaller video files.
One thing to add here is that H.265 cannot be used with 4K 60fps.
Electronic Image Stabilization
It must be pointed out here that although the electronic image stabilization (EIS) does quite a decent job in removing bouncy footage, it is not as good as in other cameras at this price point.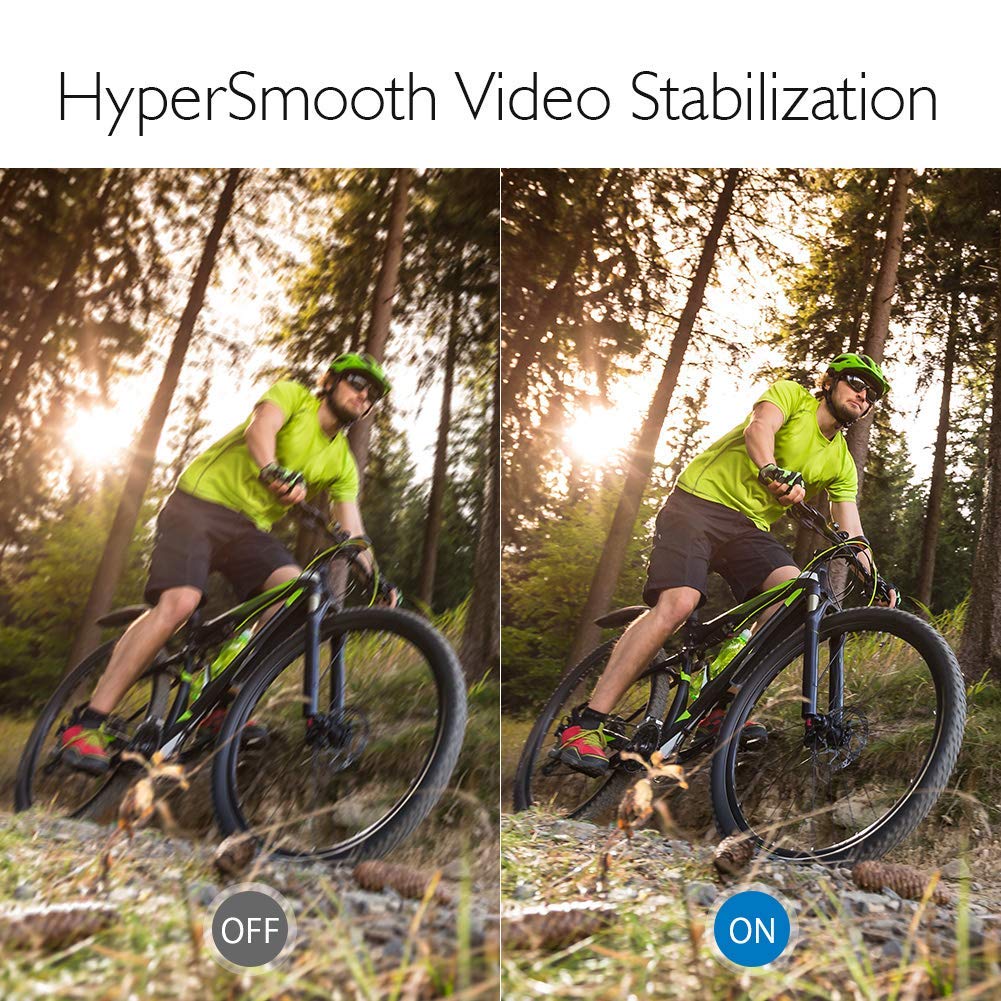 This should not bother you if you are looking for a cheap action camera for recording leisurely activity, but if you are a professional and image stabilization is a priority, this can very well turn out to be a deal breaker.
Akaso had invested in a significant amount of promotion of its image stabilizing feature during the launch, promising impeccable performance in predicting the users' movements and fixing camera shakes.
It is disappointing that the company has failed to live up to the expectations and has rolled out a feature that is simply not in the same league as its competitors.
It is worth noting that the image stabilization option cannot be used with:
Resolutions: 4K60fps, 2.7K60fps, 1080p120fps and 720p regardless of the fps.
Slow Motion
Angles: Middle, Narrow
Zoom
Time Lapse video
Date stamp
Loop Recording
Loop recording can make the camera overwrite old videos with new ones once the memory card is full.
It will actually never get full since it is always overwriting old files. You have 4 different options for this feature: unlimited, 1 minute, 2 minutes, 3 minutes and 5 minutes.
For example, if you set it to 2 minutes, the camera will record 2 minutes long videos and will overwrite old 2 minute videos.
Loop recording is not available with 4K 60fps.
Slow Motion
This is an option available in the video settings that can create slow motion videos directly on the camera. So instead of shooting videos then editing them later on and adding slow motion effect, the camera will do it for you.
To use this feature, you need to set your resolution and frame rates to one of the following: 1080p at 120fps, 720p at 240fps and 720p at 120fps.
In 120fps, you can slow down your videos 4 times and in 240fps 8 times.
Drive Mode
Under the video settings, there is a nifty feature called Drive Mode that allows you to pause and resume shooting when stopping and starting your vehicle.
You just need enable this settings and connect the camera to your car's 5V cigarette lighter charger and you will be all set.
Zoom
Also, this camera supports 8x zoom, thereby allowing you to create better-looking, versatile footage according to your desire.
It has optional view angle that lets you decide among Wide, Medium, and Narrow angles.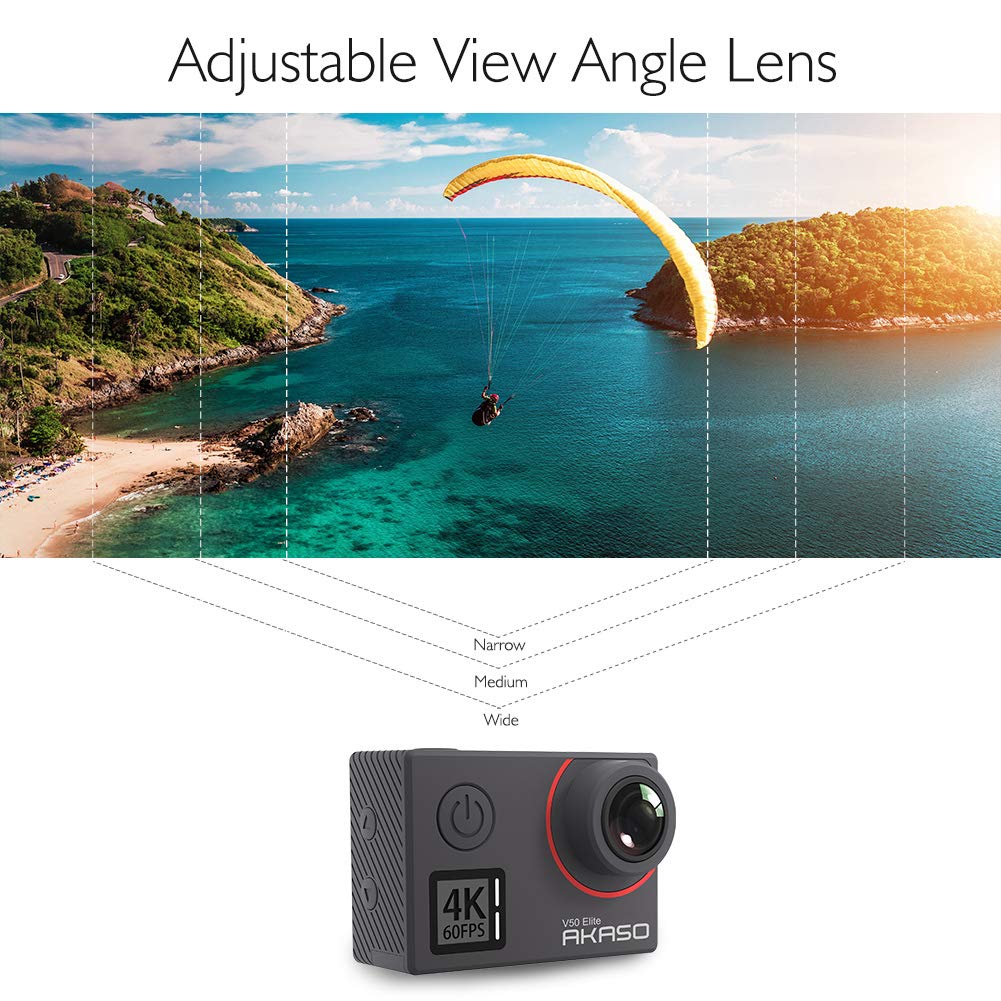 Recording while charging
Interestingly, the camera can continue recording while it's charging.
This is not the case for quite a few of its competitors on the market, but considering the fact that an action camera is hardly meant to record indoors, this may not seem like a big deal after all.
However, if you are looking to record a time lapse footage, you can simply plug in your device to the power bank and stop worrying about running out of juice while recording.
---
Akaso V50 Elite Photo
Photo Resolutions
The V50 Elite comes with a 12 MP Sony IMX078 image sensor that does a good job in capturing crisp, detailed images and vibrant colors.
In the manual, Akaso says that the camera can take still shots at 20 megapixels however this is incorrect since the image sensor is limited to 12.
Here are the available resolutions on the camera: 20, 16, 12, 10, 8, 5 megapixels.
20 and 16 are fake resolutions since they are taken with a 12 megapixels image sensor.
Photo Quality
The daytime images look exceptionally nice, but like the video, it fails to keep up under low lighting conditions. In an attempt to reduce the noise, the camera ends up providing muddy images at night.
Hence, it is advisable to use this in daylight for optimum performance.
Here are two photos taken during the day and night, you will see how dark is the night shot.
Formats
There are 2 formats available for photos, RAW and JPEG. In case you don't know, RAW is an un-compressed photo format that has a bigger size than JPEG.
RAW photos are saved in .gpr format. Shooting in this format gives you higher quality photos and more flexibility during photo editing.
JPEG is a compressed photo format which means that it loses some quality to reduce the image size and save space on the memory card.
You can turn on or off RAW in the camera settings.
ISO
ISO setting determines the camera's sensitivity to light, the higher the ISO is brighter your images will be but also noisier.
ISO can be set manually under the photo settings, you can set it to: Auto, 100, 200, 400, 800, 1600, 3200.
Photo Burst
Photo burst is when the camera takes a series of photos at a time interval. It is useful for shooting fast moving activities.
Photo burst can be found in the photo menu. It can be set to: 3 shots in 1 second, 7 shots in 2s, 15 shots in 4s, 30 shots in 8s.
---
Akaso V50 Elite Time Lapse
Akaso V50 Elite can take time lapse video, time lapse photo and night lapse photo.
Time Lapse Video
Time lapse video is when the camera captures frames at a time interval that you set then puts them together in a video file. It is often used for shooting sun-rises, sunsets or moving clouds.
Akaso V50 Elite does a good job creating time lapse video, of course during day time.
You will see two options under time lapse video, duration and interval. You will need to set the interval first. It can be set to: 1 second, 3 sec, 5 sec, 10 sec, 30 sec, 1 minute.
Once you set the interval, you can now set the duration of the time lapse. It can be set to: unlimited, 5, 10, 15, 20, 30 or 60 minutes.
Time Lapse Photo
Akaso V50 Elite can also shoot time lapse photo. This mode differs from time lapse video because it shoots still photos at a time interval then saves each photo on the memory card.
Then you will need to compile them into a video during editing. The advantage of a time lase photo is the ability to delete the photos that you don't like.
The settings are the same as the time lapse video. You set the interval first then the duration.
This mode works well as long as you use it during day light.
Night Lapse Photo
This mode is the same as time lapse photo however you have the ability to play with the exposure here.
It is used to capture a time lapse of the sky at night. I personally don't like using the Elite in low-light because it doesn't perform well regardless of the ISO or exposure settings.
---
Akaso V50 Elite Audio
The sound quality in the V50 Elite suffers significantly in presence of the waterproof case.
This issue could have been solved had Akaso gone for a waterproof camera body, but to be fair, at its cheap price, it does seem a bit of a stretch.
Outside the case, the sound quality is average at best. It is not top notch, but it's fine.
If you are looking to record live streams, I would discourage you from doing so. It is more suited for outdoor activities and traffic recordings.
If microphones are a priority for you, you may be better off investing in an SJCAM like SJ8 Pro which boasts of dual microphones at around $300.
---
Additional Features
In addition to the above, I compiled a list of all the additional features available on the Akaso V50 Elite.
Video
Sound Record: This is an option that enables you tell the camera to not record sound with the video. You can turn on or off.
Auto Low Light: This option automatically adjusts light settings for low-light and dark scenes, doesn't work really well to be honest. It is also not available in 4K or 2.7K resolutions.
Video Scene Mode: This option adjusts the colors and brightness depending on the scene you select. You can set it to: Manual, Water, Riding, Winter, Diving, Night.
Photo
Long Exposure: This option is also called shutter speed. It is useful when taking photos in dark situations. You can set it to: off, 1, 2, 5, 8, 30, 60 seconds. This option can't be used with Burst Photo mode.
Camera
Special Effect: This option acts like a filter to your videos or photos. You can set it to: none, Black & white, Sepia, Vivid, Natural, Negative, Warm, Cold, Red, Green, Blue.
Diving Mode: This option is useful when diving or simply shooting footage underwater. Enabling this mode will make the camera compensates for the red color.
White Balance: This option adjusts the color temperature for the videos and photos. It can be set to: auto, daylight, cloudy, tungsten light, white fluorescent, underwater.
Exposure: This option can be activated when you select an area you like to over or under expose on your touchscreen. It can be set to: -2.0, -1.0, 0.0, +1.0, +2.0.
---
Akaso V50 Elite Wi-Fi and App
The V50 Elite boasts of a built-in 2.4 GHz Wi-Fi connection that helps you pair up your device with the AKASO DV app on your smartphone or tablet.
The AKASO DV app is available on both Google Play Store as well as the iOS Store.
Once you have downloaded and installed the app, you can remotely control your device from a distance.
You can change settings, navigate the menu, capture images, and record footage as you like.
However, at a distance of more than 10 meters, the camera seems to disconnect frequently, but hopefully, this issue may be fixed later on.
The app interface is simple and user-friendly. It shows you exactly what you see in the camera display and lets you perform all the basic actions hands-free.
In order to connect the Wi-Fi, you need to hold down the Wi-Fi button at the top till a white screen with Wi-Fi information appears on the display.
You will then need to go to the settings of your smartphone and connect to the camera's Wi-Fi.
Once the pairing is done, you will be able to transfer files and operate your camera through the app.
But frequent disconnections may occur, so it is recommended that you use the SD card to transfer files to your computer through an adapter.
---
Akaso V50 Elite Battery
The Akaso V50 Elite come with 2 rechargeable 1050 mAh batteries.
These provide up to one and a half hours of recording (a bit less if you are shooting in 4K, of course) on full charge.
The battery life may not be significantly better than other action cameras, but the fact that you can charge the device without pausing your recording gives the V50 Elite an upper hand in the market.
What's included in the box
The camera package also contains a Bluetooth remote control, a waterproof case, a bicycle stand, seven mounts, a clip, a helmet mount, a bandage, five tethers, a protective backdoor, a USB cable, a lens cloth, and a user manual.
Because of its dimensions, all the accessories in the box can be used with most other action cameras including a few GoPro models.
The remote control is a great feature, and along with the protective backdoor, it makes underwater device control a lot easier.
---
Conclusion
At a cheap price, there isn't much that you can hope for in an action camera. The Akaso V50 Elite is far from being the best in the business but it does an appreciable job as an entry level device.
It offers 4K recording at 60 fps, 4K at 30 fps with image stabilization, crisp images with 12 MP sensor, and premium features like voice control, remote control and smartphone app.
The camera is overall easy to use, and performs decently during moderate usage. Also the double batteries packed with the camera are a definite pro, as is the fact that it continues to record while charging.
The cons, however, are quite a few. Be it the image stabilization software or the Wi-Fi connectivity – the V50 Elite falls short of premium performance again and again.
The mic is not the best either, the excuse, of course, being the low price.
Therefore, in the end, it comes down to functionality versus affordability.
The V50 Elite promises a lot, but ultimately, fails on more occasions than one.
If you are planning to purchase an action camera for a leisurely vacation to the beach or for regular vlogging, an entry level device as this may be the way to go.
For anything more, you will find better alternatives in the market by investing just a few more bucks.
---
---
I hope you liked my Akaso V50 Elite review. If you have any questions please leave a comment below and I will answer you as soon as I can 🙂