If you're looking for the best action camera for skiing or snowboarding, you'll have to consider a few things before making a purchase.
I'll show you what to look for and my top picks for the year.
Powering down a mountain isn't a small thing these days and if you are capable of capturing that on video, that's even better.
Skiing and snowboarding are increasingly popular winter sports, winning thousands of fans each year.
Maybe it is the thrill of conquering snowy and dangerous slopes when you're so close to getting an injury or even worse, meeting the Grim Reaper, but the thing is that many people become addicted to skiing and snowboarding and they routinely visit popular ski resorts to experience brand new adrenaline rushes!
If you're addicted to skiing or snowboarding too, now it is the perfect time to boast about your adventures.
Wouldn't be really fun to post a video of you skiing on a very inclined slope while finding your way between large trees and even a lazy bear?
Of course it would! To do this, you need a camera specially designed for the purpose.
Action cameras offer similar performances to standard cameras, but they are designed to withstand the rough and tough of traveling distances at high speeds.
One of their main advantages is that they are waterproof and more rugged, so they can be used on virtually any type of weather condition and at any altitude.
If you're new to buying action cameras, make sure that you read the following buying guide.
---
How to Choose the Best Action Camera for Skiing and Snowboarding
It is important to remember the following aspects and prioritize what's more important for you.
In other words, the best camera for you is the one which fits your needs perfectly, not necessarily the most expensive one.
I wrote a detailed article on how to choose the best action camera, make sure you check it out. Here are a couple of things you need to consider when buying.
Budget
A skiing and snowboarding camera can cost you something between 100 bucks up to several hundred dollars.
It is important to set a budget right from the start, to avoid overspending.
Later on, you can also invest in camera accessories such as gimbals, poles or more spacious memory cards.
Ruggedness
As mentioned earlier in this article, an action camera is designed to be tougher.
For example, it might feature a durable rubber frame which makes it waterproof and resistant to shocks and vibrations.
Make sure that you look for cameras that are known for their durability and resistance to wear and tear.
If you go for a rugged camera, in case you fall in the snow or you accidentally drop it on the ground, it will absorb shocks better and still remain operational, so your investment is protected.
It is wise to check out the operating temperatures of your camera too. Skiing and snowboarding cameras should be able to work just fine even when it is freezing cold out there.
Electronic Image Stabilization
One of the most important features to look for is electronic image stabilization. My advice to you is do not purchase a camera that doesn't offer EIS.
Image stabilization will drastically improve the quality of your footage during shaky or jittery situations, and this is expected to happen during skiing or snowboarding.
The software inside the camera works hard to make the video smoother, resulting in improved and super stable footage.
Remote & Voice Control
Most action can be connected to your smartphone and you can control them remotely from your device or using a remote control.
This is a good feature, however, it would be wise to be able to easily operate your camera without your phone as well.
Therefore, great skiing cameras come with over-sized buttons which are easily accessible even when you have gloves in your hands.
This will allow you to change settings quickly, snap pictures as well as start or stop the video footage.
When you have a long slope ahead of you and 2 ski poles in your hands, you don't want to be forced to take out your phone to take a picture.
Hence voice control would be really useful here, you will be able to start/stop videos or snap shots using your voice. A feature to look for when looking for an action camera.
Video Capabilities
Speaking of video footage, this is of course another important aspect to look for when looking for a skiing and snowboarding camera.
Some cameras are capable of filming in 4K resolution which basically captures the most details from the scenery.
Usually, 4K cameras are more expensive, however, I will show you some action cams that are budget-friendly.
If you don't necessarily aim for top video performance just yet, you can do just fine with a camera which films in full HD or 1080p which is still decent.
Lower resolutions also means that your video footage takes less memory space, so you'll be able to capture more videos before the memory card is full.
Here's a YouTube video by MountMedia showing the best settings to use on a GoPro Hero6 Black while skiing/snowboarding:
Photo Capabilities
It is wonderful to be able to capture photos using your rugged skiing camera and all of them can do that. The quality of the picture is directly related to the quality of the image sensor.
For example, some cameras come with a 12MP sensor which is still very good for snapping still shots. If you are looking for even more details, go for a more advanced sensor (20 MP), but again, be prepared to invest more.
Larger sensors have more benefits, like higher resolutions and improved low-light shooting.
Battery
Once you have set your preferences for video and photo settings, it is time to look at the battery.
This aspect is equally important because the larger the battery, the longer your videos.
Most cameras come with rechargeable Li-Ion batteries (just like your smartphone) and they can hold from 1,000mAh up to 1,500mAh or even more.
If you want to film really long videos, go for batteries with the highest mAh specifications. You can also check my article on how to extend your camera battery.
Size and Weight
Most skiers and snowboarders prefer relatively compact and lightweight cameras for obvious reasons. It is easier to mount and wear a smaller camera than a heavier one, right?
Unless you specifically need a heavier camera (which might accommodate more battery life), you'll be fine with smaller ones which make you forget you're actually having them on your helmet.
Mount Variety
Since I mentioned helmet, the mount options are the next thing you need to become interested in.
Some cameras can be mounted on your helmet (the most common method) while others can be attached to your body.
You can experiment with both of these options and see how you feel. If the camera doesn't come with an included mount, it is paramount that you shop for a durable one separately.
You don't want to lose your camera while skiing or snowboarding, do you?
I have wrote an article on the best GoPro accessories for skiing and snowboarding, make sure to check it out.
---
Best Cameras for Snowboarding and Skiing in 2020
Now you know more about what to look for when looking for a winter sports action camera, but I don't want to let you completely in the dark and lacking inspiration.
Let's talk about the GoPro Hero 8 Black which is one of the most popular, and in my opinion the best GoPro for skiing and snowboarding.
GoPro Hero 8 Black
Company: GoPro
Price: $$$
My Rating: 4.9/5
It is a well-known fact that GoPro cameras offer some of the best quality videos and photos in the action camera market, but what exactly makes it so special? Here are 5 superior traits of this amazing GoPro:
Excellent video capabilities – the Hero 8 Black is capable of recording video footage in 4K resolution at 60 frames per second which is twice more than most standard cameras. In 1080p resolution, the frames per second can go up to 240, so you can shoot 8x times slow motion videos.
Excellent image stabilization – as mentioned earlier, image stabilization is crucial to create smoother videos and the Hero 8 Black uses HyperSmooth 2.0 technology and it works really well in making your videos really smooth.
TimeWarp – TimeWarp 2.0 is a feature only available on GoPro cameras. It is similar to a time lapse but with your GoPro moving around and not fixed in one position like a time lapse.
SuperPhoto + HDR – Superphoto automatically analyzes the scene and processes the image for you to get the best photo quality.
Voice Control – The Hero 8 Black can be controlled using a variety of voice commands like: GoPro Start Recording, GoPro Stop Recording, GoPro Take a Photo and many others. So you don't have to stop to press a button or the touchscreen while you're skiing/snowboarding.
Live Stream – You can live stream to YouTube, Facebook or other supported social media channels. You will need your phone with the GoPro app with internet connection in your pocket while doing your sport. See how to set it up.
Waterproof without a case – The Hero 8 Black camera is designed to go underwater and it can survive depths of up to 33 feet

without requiring a case

. Obviously, this qualifies it as an ideal camera for skiing and snowboarding too, because it won't get damaged if it falls in the snow and gets wet.
Here's a snowboarding video shot by a GoPro Hero 8 Black:
The GoPro Hero 8 Black is currently the most selling GoPro camera because of its great quality video and stabilization.
Although it has a slightly higher price tag than other cameras, remember that you are getting a quality item which delivers stunning videos and pictures, so the price is justified.
Also the Hero 8 backed up by a warranty policy from GoPro, so your investment is protected.
---
GoPro Hero 7 Black
Company: GoPro
Price: $$
My Rating: 4.8/5
The Hero 7 Black is the Hero 8's predecessor. I included it in this list because its specs are close to Hero 8 Black but costs less.
The Hero 7 Black can be used by both beginner and experienced skiers and snowboarders.
If you don't think you can afford the Hero 8 Black yet, this model provides you a great option without compromising on quality.
Here are the key features of this camera:
4K Video – shooting video footage in 4K resolution is the become standard for all recent GoPro cameras and the Hero 7 Black is not an exception. It can record videos in 4K at 60 frames per second, 2.7K, 1440p, 1080p at 240 fps, 960p and 720p.
12MP Sensor for Photos – when you want to capture stills, the 12MP sensor is up to the task and can produce great photos. You have the possibility to shoot in Single Mode, Burst Mode or Time Lapse Mode. And it supports SuperPhoto for optimized image processing.
Livestream – You can also live stream to social media with the Hero 7 Black using 720p resolution and HyperSmooth stabilization. You will need your phone with GoPro app.
HyperSmooth – The gimbal-like electronic stabilization ensures that your footage remains smooth even with all the shaky and bumpy movements. HyperSmooth is available with 4K.
Voice Control – Talking to the camera and giving it commands is useful when you have your hands busy with the ski poles. This camera also incorporates dual mics which means that it can record a high-quality audio.
---
GoPro Max (360 Camera)
Company: GoPro
Price: $$$$
My Rating: 4.9/5
The GoPro Max is another exquisite model from GoPro. This camera features a rugged body and it is capable of shooting 360-degree video footage.
Although it has a slightly higher price tag at the moment of this writing, it provides unique features and it is a must-have for those who want to record 360 videos. See my GoPro Max vs Hero 8 Black comparison.
Here are its main features:
360 degree video capturing – this Max has 2 lenses which capture videos from all directions and stitch them together to create a 360 degree video.
360 cameras are becoming a trend in the action cam world because they allow you to record from all angles, which means much more flexibility during editing.
6K resolution videos – Many GoPro cameras can shoot in 4K resolution, but the Max captures spherical video footage in 6K then stitch them down to 5.6K (5376×2688 pixels). This is possible thanks to the powerful GoPro GP1 processor.
360 photos – This is possible thanks to the 18MP sensor which is also capable of producing awesome stills then stitching them down to 16.6 megapixels. It can also shoot regular photos.
PowerPano – This is a cool feature that lets take still shots at a super wide angle (270 degree) without even panning your camera from side to side.
​Hero Mode – Unlike its predecessor the GoPro Fusion, the Max can also shoot regular videos (in Hero Mode) in 1440p and 1080p resolutions as well as 5.5 megapixels still shots. A nice addition for people who would like to shoot regular videos and don't want to buy a separate camera.
Max HyperSmooth – Like the Hero 7 and Hero 8, the Max has also a stabilization feature called Max Hypersmooth. GoPro claims that this is the best stabilization technology ever built in a GoPro camera because of its ability to provide stabilization to 360 videos.
Here's a ski 360-degree video shot with a GoPro Max:
---
GoPro Fusion (360 Camera)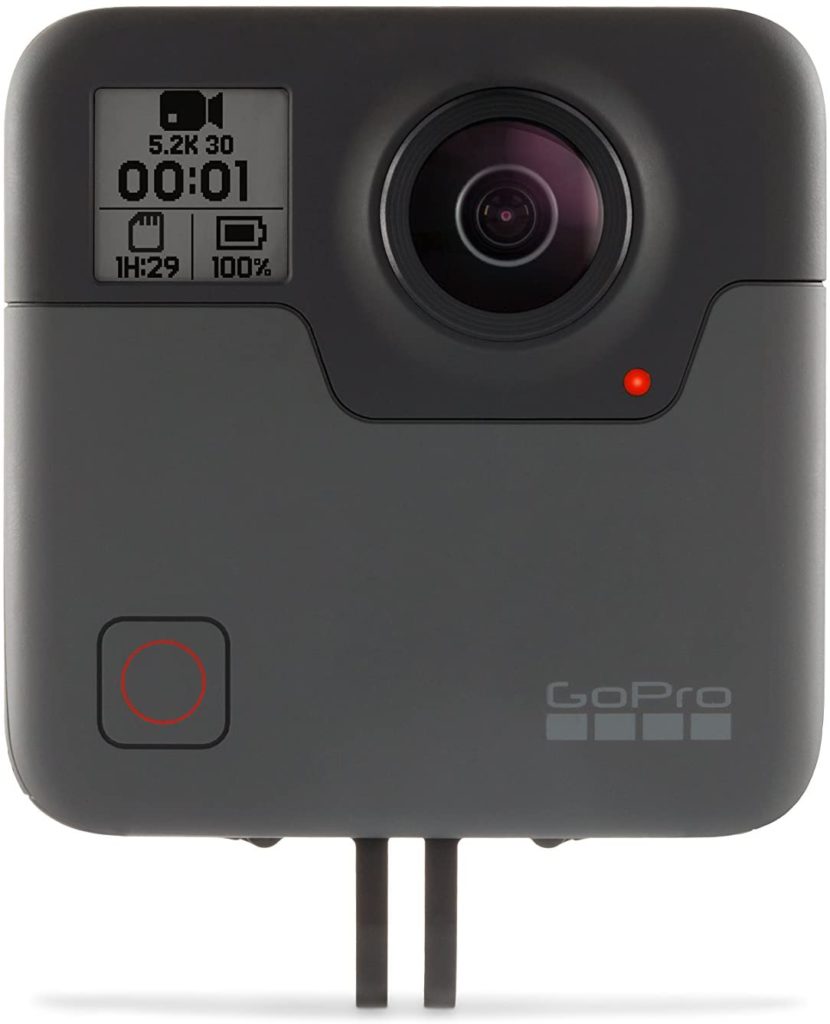 Company: GoPro
Price: $$
My rating: 4.5/5
As mentioned earlier, the Fusion was GoPro's first 360-degree camera released back in 2017.
The Fusion does a good job at shooting good quality 360 videos. But unlike the GoPro Max, video stitching is done in post-production using the GoPro Fusion Studio app, that also needs a powerful computer.
The Fusion made to this list because I think it is a great 360 camera but with a cheaper price tag. So if you can't afford the Max but don't mind the time-consuming editing work, then go for the Fusion. See how the GoPro Fusion compares to the GoPro Max.
5.8K Spherical Video – With the latest Beta 2.0 firmware update. The Fusion can capture 360 spherical videos in 5.8K at 30 frames per second. These will be later stitched together using the app at a 5.6K resolution at 24 frames per second.
18 MP photos – The image sensor on the Fusion is 18megapixels. You can take great 360 still shots at 18 which are then stitched to 16.6 MP. With the Fusion, you will be able to transform the spherical shots into regular photos during editing.
Stabilization – Fusion uses built-in electronic stabilization and anti-shake technologies to ensure that your footage remains smooth during recording. It is perfect for bumpy activities like mountain biking and running.
GPS – GoPro Fusion has GPS capabilities that in useful when skiing or snowboarding, you can even add the metrix to your video footage.
Voice Control – Like the other cameras from GoPro. The Fusion can receive voice commands to start and stop recording and to snap still images.
---
Garmin Virb 360 (360 Camera)
Company: Garmin
Price: $$$$$
My Rating: 4.5/5
The list of 360 degree cameras continue with the Garmin Virb 360 camera which offers additional unique features. Check my review here.
This premium camera is compact and lightweight, ideal for filming different types of adventures such as skiing, snowboarding, kayaking or scuba diving. I like this camera, but it is more expensive than the other cameras on this list.
Shoot videos at an impressive 5.7K resolution – Unlike the GoPro Max that can go up to 6K, the Garmin VIRB 360 can shoot in 5.7K resolution at 30 frames per second.
You can either shoot at 5.7K and use desktop stitching to put a 360 degree video footage together or record at 4K resolution and use the incorporated in-camera stitching technology.
15MP sensor – This camera also comes with a 15MP image sensor which captures good spherical photos.
HyperFrame Director Mode – It allows you to reframe your videos, using this technology you can actually reframe your videos with wide angles, excellent camera pans and more. The user interface is also intuitive and very easy to use.
In-app 4K Spherical Stabilization – The camera itself

doesn't have a built-in electronic image stabilization

, however, stabilization can be applied to the 360 spherical videos using the VIRB EDIT software or VIRB mobile app later on during editing. This will make sure your footage is as smooth as possible.
Voice Control – voice control is extremely useful when you have your hands busy. Once you have strapped the Virb 360 to your helmet, you can use a wide variety of voice control options to make the camera start recording video or capture a still image.
G-Metrix – Using the built-in sensors, you can add some metrix to show up on your footage, stuff like GPS, speed and elevation.
---
Garmin VIRB Ultra 30

Company: Garmin
Price: $$$
My Rating: 4.9/5
Garmin is a prestigious manufacturer of action cameras and I want to include yet another model from this brand – the Garmin VIRB Ultra 30.
This action camera is available in 2 buying options and it features a color LCD screen. Check my review here.
4K video @30fps – you have the ability to shoot videos in 4K resolution as well as 1080p videos at a whooping 120fps. This allows you to experiment and try multiple recording methods to find one which really suits your needs.
If you feel really adventurous, try the 720p @240fps slow-mo recording option which will definitely produce breathtaking video content.
G-Metrix enabled – I explained what G-Metrix does when I talked about the Virb XE model from the same brand. This camera features multiple sensors including a GPS which keep track of your heart rate, elevation and other important factors. It is a good idea to use these stats to monitor your adventures and see how fast your heart was beating during your skiing session.
LCD color touchscreen display – finally a camera with an LCD display where you can play back video footage! This model incorporates a rather small LCD display with a size of 1.75 inches, but it is sufficient to access the most important features of this gadget quickly and easily. Moreover, even when the waterproof case is on, the LCD screen is still fully operational.
Superior image stabilization – cameras which offer image stabilization produce much better video content and this model from Garmin features such technology. However, keep in mind that the image stabilization is active if you record video up to 1080p.
Waterproof with the included case – If you use this camera underwater without the case, it is very likely that it will get damaged, so make sure you always use the included waterproof protective case to keep your gadget safe.
---
Drift Ghost 4K

Company: Drift
Price: $$$
My Rating: 4.8/5
This is another superb camera I wanted to include in this "best of" list because it supports 4K video recording and it has an attractive and eye-catching design. I wrote a review about it here.
The Drift Ghost 4K boasts a mid-range price tag and it is compact and lightweight, making it ideal for filming video footage in various outdoor environments. Here are its highlights:
4K video footage – shoot videos in 4K resolution at 30fps as well as 1080p resolution at 120fps ad 720p at 240fps. This is possible thanks to the built-in 12MP sensor which is also capable of taking nice quality still images.
Long battery life – the manufacturer boasts a battery life of up to 3 hours of continuous filming. This is an impressive feature and one of the reasons this gadget is so popular among skiers and snowboarders.
Stabilization – just like the GoPro models, the Ghost 4K has built-in image stabilization that works to eliminate jittery footage and transform it into a smooth video.
Waterproof up to 40 meters (131 feet) – despite being compact and lightweight, this camera is also solid as a rock and it can still function perfectly at 131 feet under water. Its rugged construction makes it ideal for winter sports such as skiing and snowboarding. Use the included GoPro mount adapter to secure this camera to your helmet when practicing your favorite sports.
Included accessories – the Ghost 4K comes with a couple of useful accessories included in the box. A wearable remote, a couple of mounts, USB microphone adapter cable. This means that you won't need to buy these later on.
---
YI 4K+

Company: Xiaomi Yi
Price: $$
My Rating: 4.5/5
If you are looking for an affordable action camera which can film video footage in 4K resolution then the YI 4K+ might be what you are looking for.
This compact camera packs multiple technologies and connectivity options and also features a generous LCD display.
However, keep in mind that it is not waterproof on its own, so you'll have to use a waterproof case when skiing to protect your valuable gadget.
Here's some of its best features:
Shoots 4K video @60fps – moreover, this camera features 12MP sensors made by Sony and we all know that this brand makes high-quality optical devices and lenses. The camera is also capable of shooting in full HD resolution and the resulting video content and images are spectacular.
Exquisite electronic image stabilization – electronic image stabilization is a must when recording video footage at high speed such as when you're skiing or snowboarding. This camera uses EIS even for video shot at 4K with up to 30fps. As a result, your video clips will be much smoother and attractive to your audience.
2.2 inches touchscreen display – if you're a big fan of cameras with a good ol' touchscreen display then this camera might be suitable for you. The screen is also covered with Gorilla Glass, making it more resistant to shocks and hits, and it can be used to easily access this gadget's main functions.
Long battery life – the battery capacity is 1200mAh which is really impressive for such a compact device. This means that you can capture video footage with a 4K resolution for up to 70 minutes. This camera also features an USB Type C port which basically means that it will get charged faster and you'll be able to transfer videos and images to your computer quicker.
Voice control capabilities – tell your camera what to do because this one is listening to you! Apart from voice control features, this camera also supports Bluetooth and Wi-Fi connectivity which makes it a reliable and modern action camera for skiing and snowboarding.
---
Akaso V50 Elite
Company: Akaso
Price: $$
My Rating: 4.8/5
If you're just now beginning to discover the beauty of filming your skiing and snowboarding adventures and you're looking for an affordable, entry-level action camera, the Akaso V50 Elite might be excellent for you. Check my review here.
This camera boasts a reasonable price tag and it comes with multiple features and accessories, so obviously, it couldn't be left out from this list. Here are its key features:
12MP sensor which films in 4K – there are multiple resolutions you can use to capture your winter sports adventures such as 4K@60fps, 4K@30fps with electronic image stabilization, 1080p@60fps, etc. All of these are possible thanks to the 14MP sensor made by Panasonic.
Electronic image stabilization – this camera also comes with EIS and it is usable with 4K@30fps resolution. Needless to say, keep the EIS active all the times when you are filming to enjoy the best results. Just to noet that EIS cannot be use with 4K at 60fps.
Akaso DV App – the manufacturer also gives you the option to download the Akaso DV App on your Android or iOS device to control your camera remotely.
Use this app to see a live preview of your shots, share the video content with your friends as well as making advanced recording adjustments. The camera even comes with a HDMI port, enabling you to play back your videos directly on a TV or monitor.
Waterproof up to 100 feet – when the camera is inside the protective waterproof case, you can take it with you under water to a depth of up to 100 feet.
This also qualifies the camera as a good candidate for skiing and snowboarding because bad weather won't damage your precious device.
Multiple accessories included – you get the best bang for your buck with this camera as it comes with 2 rechargeable batteries, tripod, waterproof case and a whole lot of accessories and mounts.
---
Akaso V50X
Company: Akaso
Price: $$
My Rating: 4.8/5
The final model in our list is the Akaso V50X action camera which is equally interesting and impressive as the other cameras. Check my Akaso V50X review.
It is destined to people who want a budget friendly camera with plenty of accessories to record all their outdoor sport sessions. Here are the advantages of this camera:
4K and 1080p video – the 13 MP Sony image sensor is capable of capturing video footage in 4K at 30 fps as well as 1080p at 90 fps and 720p at 120fps. The still images are shot in 12 megapixels and they look really good during daytime.
Stabilization – the Akaso V50X has electronic image stabilization that acts as a gimbal. It works really well at keeping the footage smooth. Stabilization can be used with 4K at 30fps.
Good audio quality – Audio quality is good but that excellent I would say. It has wind noise reduction feature but still compared to a GoPro, the latter performs much better in terms of sound quality. The Akaso V50X supports an external microphone just in case you need one.
Excellent battery life – the rechargeable battery has a capacity of 1,000mAh and it is backed up by a warranty period of 6 months. The camera itself comes with warranty as well which stretches up to 12 months.
Roadcam app – you can also take advantage of the free Roadcam app which is compatible with Android and iOS devices to playback captured videos, make adjustments or share your content on your favorite social media platforms.
---
Choose the Best Action Camera for Your Winter Sports!
I genuinely hope you liked this list and probably have already spotted your favorite camera.
If you are currently a beginner and don't want to invest a lot of money, opt for a budget camera like the Akaso V50 Elite which offer many features and can record in 4K resolution.
Once you become more experienced with using action cameras, you can progress to more advanced models like the GoPro Max which allow you to capture spherical photos and 360 degree videos which are extremely addictive to watch!
If you still have troubles picking the right camera, try to jot down a list of priorities – aka what interests you most in an action camera.
Ask Yourself the Following Questions
For example, are you interested in top-notch video and photo quality and 360 footage? Go for a 360-degree model.
Are you willing to spend up to 500 bucks for a high-end camera or would you settle for one worth a hundred dollars?
Do you already have your own mounts or want a camera which comes with plenty of mounting options in the package?
Do you want to record long video footage of 60 minutes or more?
In this case, going for a camera with a large built-in battery might be the right thing to do.
Lastly, is voice control important and useful to you or you always operate your camera manually?
---
Conclusion
Once you get an answer to these questions you'll know exactly what type of camera is more suitable for you.
If you are willing to pay for a GoPro, then I would personally recommend to either get the GoPro Hero 8 Black or the GoPro Max.
If you need a camera that can shoot both 360 and regular videos then go for the GoPro Max, however, if you are only interested in shooting regular videos at high resolution like 4K then go for the Hero 8 Black.
They both provide excellent stabilization and wind noise reduction.
However, if you are on a limited budget then aim for either the GoPro Fusion for 360 footage or the Akaso V50 Elite for regular 4K videos.
Practicing winter sports is an exciting activity which deserves to be shared with those you love and care for. This is where a good action camera comes into play.
Choose the right camera for you and you can take your skiing and snowboarding experiences to the next level!