Can you cope with an action camera without 4K capabilities? Read on to see my complete Drift Ghost XL review.
Drift has introduced a bigger brother to the Ghost X which is also bigger (in size) than the Ghost 4K.
Have you checked my ultimate Ghost X review? If not, click here to go through it and be on par with the rest.
If you love filming your action-filled activities, then Drift is a company to consider.
They make cameras with a bullet-style shape, and Ghost XL is not an exception. This shape makes it very easy to mount on your bicycle or motorcycle helmet.
Also, this camera is budget-friendly compared to the high-end GoPro cameras. At its price point, you get nice features like built-in waterproof and 300° lens rotation.
However, with the Ghost XL, you get a maximum resolution of 1080p and H.264 video encoding.
---
Let's Jump to the Review!
Product: Drift Ghost XL
Release date: 2019
Warranty: Yes
Cheapest place to buy: Amazon
---
Drift Ghost XL Specs
| | |
| --- | --- |
| Specs | Supported |
| Video resolution and frame rate | 1080p at 25 and 30 FPS / 960p at 25, 30 FPS/ 720P at 25, 30, 50 and 60 FPS & WVGA at 25, 30, 50, 60 FPS |
| Photo resolution | 12MP, 8MP, and 4MP |
| Image stabilization | No |
| Wi-Fi | Yes, 2.4 GHz |
| Codec | H.264 only |
| Photo burst | Yes |
| ISO video | Auto, 100, 200, 400, and 800 |
| Exposure Modes | Auto and Manual |
| Waterproof | Yes |
| Lens Rotation | Yes, 300 degrees |
| Memory Card | Yes, Micro SD, SDHC, SDXC up to 128GB |
| Battery | Non removable, 3000mAh |
| Weight | 127 grams |
---
The Unboxing Experience
Several items are included in the box with your purchase of this camera from Drift Innovation.
You will find the following in your Drift Ghost XL retail box;
Drift Ghost XL Action Camera unit
1x Waterproof TRS 3.5mm adapter cable
1x Flat Adhesive Mount
1x Universal Clip
1x Curved Adhesive Mount
1x Mini USB Cable charger
1x TRS USB Power Connection
1x Reset Tool
1-year warranty
---
Drift Ghost XL Design and Components
Design
This camera continues with its predecessors' same design. You will easily confuse it with the Ghost X and the Ghost 4K. One physical distinguishing feature is the size, as the name suggests, the XL is the bigger brother here.
Weighing at 127 grams, the Ghost XL has a body dimension of 3.6 x 1.9 x 1.4 inches, and it features a bullet-shaped plastic body that is very comfortable to use in cycling or motorcycle riding.
The tripod mount is located on one side of the camera and it can be mounted facing any direction.
Display
The Ghost XL has the same tiny dot-matrix screen at the back of the camera.
I don't like seeing this size of display especially when competitors like Akaso are producing very nice touch screen displays, in fact, two of them in the Akaso Brave 7 LE.
The tiny screen will indicate the current mode you are using in the camera.
Drift innovation uses different colors to indicate modes; the green LED color indicates that the camera is in Video mode, Yellow LED for photo mode, Cyan LED for photo burst mode, and purple for Time Lapse photos.
Camera Lens
Drift included its well-loved rotating lens in this camera.
The lens can rotate up to 300° meaning that irrespective of your camera mounting location, you can greatly adjust your image level. I have always found this feature to be useful.
The lens has a maximum aperture of f/2.8.
It also covers a maximum of 140 degrees field of view. You also get the options of 115 and 90 degrees.
Image Sensor
The Ghost XL has a 4MP CMOS image sensor made by OmniVision Series.
Chipset
The Ghost XL is powered by a HiSilicon Hi3559 chipset which supports the H.264 video codec.
I will give more details about the video codec later in this review.
Ports and Slots
Unlike the Ghost X, this camera has one door that shuts the USB port and memory card slot.
Located at the bottom side of the camera, the memory card slot supports external micro SD cards of up to 128GB storage capacity.
Pro tip: Whenever you get a new micro SD card for your camera, always format it. This option is available in the settings menu on the Drift App.
Next to the plastic door, Drift included an external microphone port.
This is of particular importance for Vlogging if you need good audio quality.
Microphone
The Ghost XL has one built-in microphone located at the front of the camera.
I will give you more insights on how the microphone performs in the audio section of my review.
This camera supports an external microphone and you also get an external waterproof microphone adaptor included in the box.
Waterproof
The Ghost XL is waterproof without the need for a waterproof housing.
It is rated at IPX7 which means that you can only go underwater up to 1-meter depth. It is ideal to use this camera with slight splashes of water and rain.
This rating is not ideal when you want to do deep diving and underwater photography.
---
Drift Ghost XL Controls and Buttons
Similar to the preceding models, Ghost XL does not have a touchscreen display. You have the option to use the buttons, the Drift App, or the Bluetooth remote to control your camera.
Buttons
The button layout is very similar to what we had in the Ghost X.
There are three buttons located at the top of the camera. These buttons are huge enough and they are relatively easy to press.
At the front (above the lens), there is the power button which also functions as the right arrow button. To switch on/off the camera, you press and hold this button for about 3 seconds.
In the middle, there is the up and down navigation button.
At the rear, there is the left arrow button which also functions as the Wi-Fi button.
All buttons are well imprinted and it is easy to distinguish their functionalities.
Accessing Menus and Modes
Once your camera is on, the rear display will show you the current mode with the color code. At the top left of the display, you also see the mode icon.
If you want to change the camera mode, press the rear button and you will get an option to navigate through the available modes and general settings.
To navigate through the settings of a current mode, press the middle button and it will highlight the settings in turn where you have options to change them.
Using the App to Control the Camera
I enjoy using the Drift app to control my camera. Download the app from Google Play or App Store, depending on your smartphone OS.
Once installed, turn on the Wi-Fi on both your phone and camera and connect the camera to the app.
You then open the Drift app and do the necessary Mode changes and general settings from there.
With the Drift app, you also get the option to monitor live recording from your camera as well as playback what you recorded earlier on.
Remote Control
Drift Innovation does not include a remote control in the retail box of the Ghost XL.
However, the camera supports Bluetooth which can be used to connect to a Drift Innovation remote bought separately.
I bought mine on Amazon and one thing I liked is, the remote is also compatible with the Ghost 4K camera.
The remote is powered by a CR1632 battery and includes a free silicone wristband.
---
Drift Ghost XL Video
Video Resolution
The Ghost XL camera has a maximum video resolution of 1080p at 30 frames per second. This means that it can shoot videos at full HD.
I know some people will be disappointed because of the lack of 4K capabilities, Drift's rejoinder is that they also make a Ghost 4K camera.
Other resolutions available are 960p, 720p, and WVGA.
The display resolution in width, height, and aspect ratios are as follows:
1080p: 1920 x 1080 16:9
960p: 1280 x 960 4:3
720p: 1280 x 720 16:9
WVGA: 848 x 480 16:9
Frame Rates
Drift Ghost XL has a maximum frame rate of 60fps which is compatible with 720p and WVGA resolutions only.
Other frame rates include; 50fps at 720p and WVGA, 48fps at 720p, 30fps at all resolutions, and 25fps at all resolutions.
Format
All videos are saved in the MP4 file format.
Video Codec and Format
The Ghost XL has only one codec; the H.264. This codec is particularly important if you are using an old PC for post-production. It produces files that are very easy to edit.
Video Quality
Day Videos
The Ghost XL records good quality videos in full HD in the daytime. The colors are bright and it gets in a lot more details than expected.
There is a slight improvement over the previous models since I did not experience much exposure when shifting to bright lights.
However, to get the best from this camera, don't shoot in too bright areas. Cloudy weather works perfect for me and I recommend that to anyone.
Here's a video by John Bodally showing the video quality of the Ghost XL with an external mic.
Night Videos
In low light conditions, the Ghost XL met my expectations.
It picked up the details well and the video is usable in any situation. Compared to other cameras in this price range, the XL does a good job and I was very impressed.
Drift Innovation introduced a low-light filter that was not available on the X model.
The filter gets the job done compared to other cameras that have a dedicated night mode.
However, you will easily notice that the footage at night becomes a bit grainy. Not as much as the Ghost X model but still, Drift should put in a lot of work to come up with a dedicated night mode.
I would choose daytime recording over nighttime recording with the XL.
Here's a night video shot by Jimvt:
Slow Motion
Similar to its predecessor, the Ghost XL does not support slow-motion recording. Even though the maximum frame rate is 60fps, the camera doesn't have a slow-motion feature.
However, you can add slow motion during video post-production with your PC. 60fps can give you 2x slow-motion videos.
But if you needed a camera that produces slow-motion footage by itself, then Drift Ghost XL does not check that box.
Image Stabilization
The Ghost XL lacks image stabilization which can be a huge deal-breaker for many people.
To get smooth footage, consider using a physical gimbal.
Field of View (FOV)
The Ghost XL provides 3 options to choose from in the diagonal field of view. This is similar to what we got in the X model.
You get 140° for the widest view, 115° for medium, and 90° for narrow.
Video Bitrate
You can toggle between High, Medium, and Low bitrate for your video recordings.
The normal bit rate is 29Mbit per second which is good enough for a 1080p resolution.
Dash Cam Mode (Loop Recording)
Drift innovation calls their loop recording feature the Dash Cam mode.
This mode allows you to overwrite old files when the memory card is full. A file recorded in when events detection is on will not be overwritten.
You have the option to choose the interval time that the camera will use to record in loops. E.g. if you go with the 2 minutes interval and record for an hour, you will find 30 video files saved in your memory card each with a recording time of 2 minutes.
Video Tagging
This feature will allow you to record video continuously but will only save the 'tagged' video to the memory card.
You get the option to set the tagged interval which denotes the durations your videos will be shot at.
For this feature to function properly, you need a micro SD card of class 10 with a minimum available space of 4GB. Also, this function cannot work with the Dash Cam mode.
ISO Video
Straight from the box, the XL ISO is set at Auto. You also get the chance to adjust the ISO settings manually from a minimum of 100 to a maximum of 800. Other values are 200 and 400.
When shooting in low light conditions, a higher ISO value will brighten up your footage.
Be sure to test out your preferred setting before mounting your camera because a high ISO can sometimes result in grainy footage.
Clone Mode
This mode will allow you to connect two or more XL's, Ghost X's, or Ghost 4K's cameras to one Wi-Fi network. You can link up a maximum of 10 cameras.
Whatever you do on one camera will be replicated on the rest. E.g. If you start/stop a recording, all connected cameras will do exactly that.
Changing the mode on one camera will change on all the others and so on.
Event Detection
This is a new feature introduced with the XL model.
This feature will activate video recording when you are in an important incident, it does that using the gyro sensor.
An example is, when you are involved in an accident, the sensor will activate recording and capture the footage. This will be so important when claiming your insurance, right?
I was impressed with this creative feature by Drift Innovation.
---
Drift Ghost XL Photo
Photo Resolution & Formats
As I pointed out earlier, the Ghost XL packs a CMOS sensor type which can capture photos at a maximum of 12MP. You also get an option to downsize the pixel counts to 8MP and 4MP.
The camera only offers a JPEG file format for saving photos. You do not get a RAW option which might be a deal-breaker to some especially if you intend to do a lot of post-editing to your photos.
Photo Quality
The photos shot during the day are impressively similar to what I saw for the video.
The 12MP option delivers good results with vivid colors and the photos are not overexposed.
I can say that the day time photo results met my expectations. For this budget camera.
The night shots are okay, but they are grainy and cannot be used as desired.
Photo Burst
In this mode, the Ghost XL will display the back LED screen in the Cyan color code.
This mode allows you to use your camera to take several still images at a set interval of time with a specific rate.
If you want to get the most from this mode, use a fast memory card.
In the photo burst mode, you get the options to set the photo resolution, burst duration (interval), and capture rate before shooting.
Exposure Value
When you want to alter the exposure of specific areas of your camera, this feature is greatly needed.
You can easily do the necessary changes from your Drift Life App, I find it more easy and effective that way.
You get the Auto and Step Manual options for advanced users.
---
Drift Ghost XL Time Lapse
Video Time-Lapse
This mode will allow you to capture fast-motion footage of your adventures.
Video Lapse stitches together a Time Lapse video and saves it on your memory card automatically without the need for editing.
To use this mode, just turn it on in the settings menu. You also get the options to navigate through the Time Lapse interval and Resolution.
The intervals available are 1Sec, 2Sec, 3Sec, 5Sec, 10Sec, 30Sec, 1 min, 2 min, 5 min, 10 min, 30 min, and 1 hour.
Time Lapse Photos
Once this mode is turned on, the back LCD will light up with a purple color code.
Time Lapse photo mode allows you to capture several still photos at a set rate.
Both the status LED and rear LCD screen will flash with a red color every time an image is shot.
Under Time Lapse photo settings, you have the opportunity to navigate through the photo Resolution and Time Lapse Interval.
To stop capturing the images, you just have to press the power button once.
Drift Ghost XL Battery
This camera uses a massive non-removable 3000mAh rechargeable battery.
At its price point, I was impressed with such a capacity for this tiny camera.
Having in mind that the XL does not have a huge display and neither is it a touch screen, we expect a longer battery life here compared to other brand cameras like Akaso.
Drift Innovation claims that the battery can last for nine hours straight recording with full HD. I tested that out and I was impressed with the outcome.
My test ran for a total of around 8 hours 35 minutes while recording our motorcycle trip at full HD before the juice was completely gone.
With this battery capacity, you do not have to worry about power for an entire day, well-done Drift!
However, I don't like the fact that the battery is non-removable. If you need to change your battery for any reason, you won't be able to and you might have to buy a new camera.
---
Drift Ghost XL Audio
Unlike its predecessor, the XL model houses one microphone located at the front of the camera.
It does a good job in quiet environments and the sound quality is usable.
However, in windy conditions, you might not like the sound quality. I prefer using an external microphone for this camera.
Drift Ghost XL External Microphone
At the bottom of the camera, we have an external mic port which is covered by a screw-like lid. The 3.5mm external mic adapter is included in the box.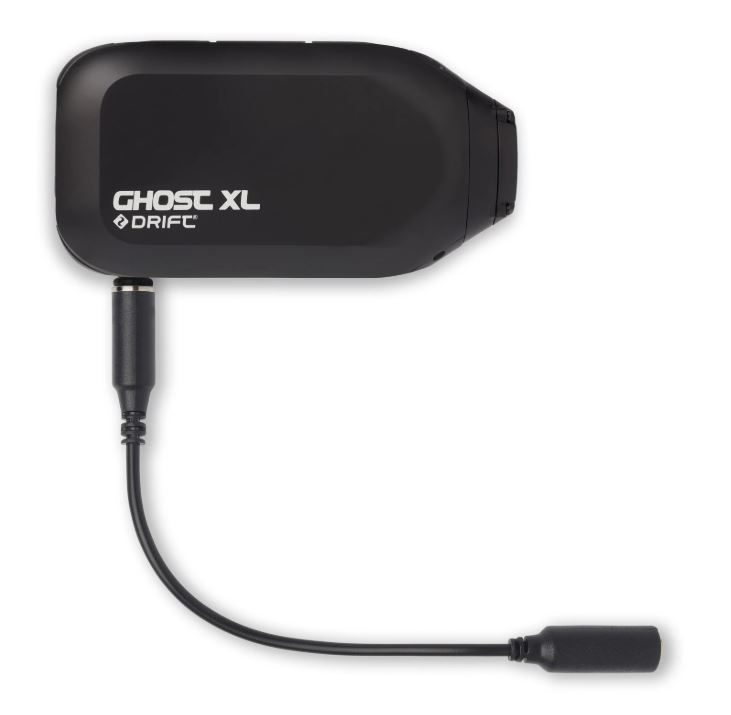 Drift provides a tool that will be used to uncover the port by removing the lid.
You also get a waterproof TRS 3.5mm adapter cable that fits very well in the port.
This indicates that you can use the external microphone in damp environments without much of a worry.
My experience with the external microphone has been good. I was impressed by the audio quality and it met my expectations.
---
Drift Life Smartphone App
The Ghost XL Supports 2.4 GHz Wi-Fi which can be used to connect your camera to the Drift Life App.
The app can be downloaded for both Android and iPhone users in Google Play and App Store respectively.
Since the Ghost XL has a very tiny screen, I always use the App to navigate through the modes and change my settings from there.
The app can also be used to monitor your recordings as well as playback your previous recordings.
---
Firmware
Once you set up your camera after purchase and have already connected it to the Drift Life app, you need to make sure that your camera runs on the latest firmware.
If a firmware update is available, you will see a pop-up window that will show on your screen giving you a bit of information about the new update, be sure to click update if you see that.
It is always recommended to keep your camera on the latest firmware version because it will fix a lot of bugs and also introduce new features brought in by the company.
---
Pros and Cons of the Drift Ghost XL
The Good
Excellent battery life
Good full HD video quality
Waterproof capability
Clone mode
300° Lens rotation
The Bad
Low sound quality
Tiny Display
No Image Stabilization
---
To Conclude
The Drift Ghost XL is a good camera for riders out there. I am impressed by the inclusion of new features like the Event Detection mode that I found useful.
The battery life is impressive and Drift should continue with that trend with their upcoming models. When cycling, I have never, for once, ran out of power.
Drift kept low frame rates and resolution and did not choose to provide a fake or interpolated 4K like some other manufacturers are doing.
If you want a 4K camera from Drift, I would advise you to look at the Ghost 4K.
The mono microphone on the XL is not the best out there for the price range, I believe Drift is working on making the internal microphone better. I like the inclusion of an external microphone port.
Going with my Drift Ghost XL review, I can easily recommend this camera to anyone who is looking for a budget option, you will get more what you pay for.