In this GoPro Hero 8 Black vs iPhone 11 Pro comparison, I will show you everything that you need to know to make your decision easier.
It is well about a year since both products were launched, GoPro Hero8 Black came out on October 15 2019 alongside the GoPro MAX.
The iPhone 11 line-up was released on September 10th, 2019 where iPhone 11 Pro features alongside the smaller iPhone 11 and the bigger iPhone 11 Pro Max.
SEE ALSO: GoPro Hero8 Black vs. GoPro MAX detailed comparison article.
Both of these products are top-of-the-line in their respective categories, GoPro is considered the best action camera brand, and the iPhone is arguably the best phone brand.
This essentially means that you will get these products at higher price tags than their respective competitions in the market.
With the release of the new GoPro Hero9 and iPhone 12 line up, the price on these products is expected to drop significantly.
I would strongly recommend waiting for that if you haven't already bought yours.
Since I am going to compare an action camera to a smartphone, I will only focus on what the two devices share in common; that is the processor and the photography features.
An action camera is not in any way going to replace your smartphone but the reverse is true; a smartphone can take the place of an action camera.
But is it safe to mount your camera on your helmet and go for intensely rugged mountain cycling?
I think there is a thing with action cameras that cannot be taken away from them; that is the ruggedness and waterproof capabilities.
Follow me long this comparison post, I will take you through all the important photography aspects of both devices and help you have a deep understanding of what to expect.
---
GoPro Hero8 Black vs iPhone 11 Pro Comparison Table
Spec
GoPro Hero8 Black
iPhone 11 Pro
DESIGN
Dimension
48.6H x 66.3W x 28.4D (mm)
144.00H x 71.40W x 8.10D (mm)
Color
Black
Midnight Green, Space Gray, Silver, and Gold
Weight
126 grams
188 grams
waterproof
Yes (up to 10 meters / 33 feet underwater)
No. It is IP68 water resistant. maximum depth of 4 meters / 13 feet up to 30 minutes
Display
2 inches LCD
5.8 inches OLED
CAMERA
Lens
Super View, which is 16mm, Wide, which is 16-34mm, Linear, which is 19-39mm, and narrow which is 27mm.
3 lenses: Ultra Wide: ƒ/2.4 aperture and 120° field of viewWide: ƒ/1.8 apertureTelephoto: ƒ/2.0 aperture
Sensor Size
12-megapixels
Rear: 12-megapixel (f/1.8) + 12-megapixel (f/2.4) + 12-megapixel (f/2.0)Front: 12-megapixel (f/2.2)
Video Resolution and Frame Rates
4K@ 60,50,30,25 & 24fps in 16:94K@ 30,25 & 24fps in 4:32.7K@ 60,50,30,25 & 24fps in 16:9
4K video recording at 24 fps, 30 fps or 60 fps1080p HD video recording at 30 fps or 60 fps720p HD video recording at 30 fps. Extended dynamic range for video up to 60 fps
Slow-Motion Recording
2.7K@ 240 & 100fpsSuper slow-mo- 240/200fps in 1080p, 960p, 720p (allows 8X slow mo.)
Slow‑motion video support for 1080p at 120 fps or 240 fps
Telephoto lens
no
2x optical zoom
Electronic Image Stabilization
Hyper smooth 2.0
Cinematic video stabilization
---
Why is it Necessary to Compare an Action Camera to a Phone?
Some people may ask if this comparison is worth making. It is a good question to ponder on and I have my observations and answers to give.
In today's world, people no longer use action cameras for adventures only.
There are people out there who use their GoPro Hero8 Black to make YouTube videos and social media vlogs.
The phones we have currently rock very impressive cameras. People also use their phones for the camera more than they use them for traditional calls.
Can the iPhone 11 Pro replace the GoPro Hero8 Black? Let's find out.
---
Design and Build
The GoPro Hero8 Black is made of plastic with a nice finish that makes it feel premium.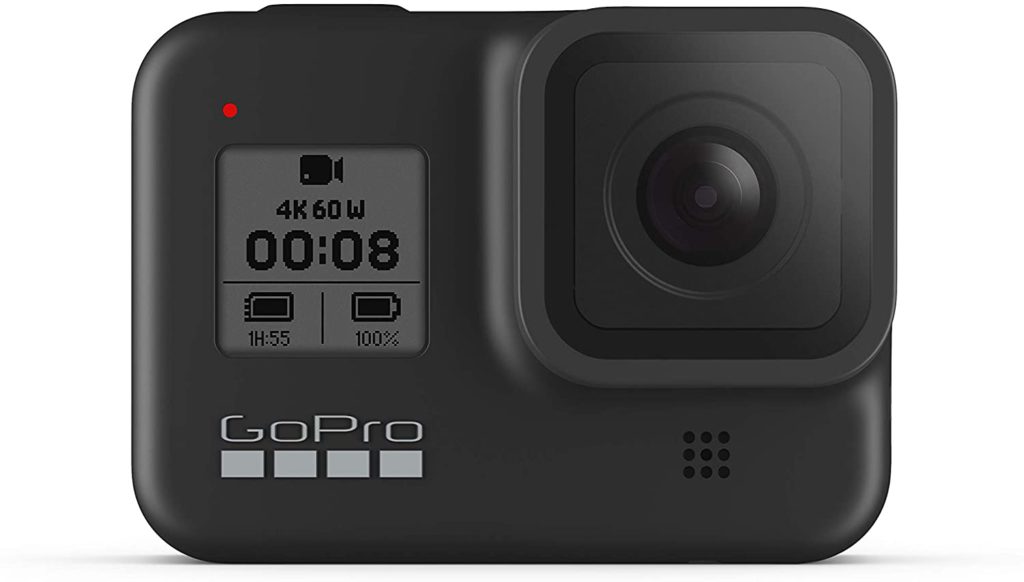 The iPhone on the other hand is made of glass on both the front and back panels. The side of the phone has a stainless steel finish which contributes to its durability.
When it comes to weight, the iPhone is the heavier device weighing at 188 grams against GoPro's 126 grams.
Processors
GoPro Hero8 Black uses the company's proprietary GP1 system on chip (SoC) processor.
As compared with other action cameras in the industry, the GP1 processor is a very strong contestant.
The iPhone 11 Pro on the other hand uses the A13 Bionic chipset which is made by Apple.
Image Sensor Size
GoPro Hero8 Black uses a standard 1/2.3 inch 12 megapixels image sensor while the iPhone 11 Pro has 1/2.55″ (Wide), 1/3.6″ (Ultra-Wide and Telephoto).
Ports and Sockets
The GoPro Hero8 Black uses the USB Type C port interface for charging and media transfer. You will use this port to attach the media mod.
Getting the Media Mod for your Hero8 Black is a good idea because you will get the following features:
Built-in bi-directional microphone with wind noise reduction.
1x HDMI out port used to connect to a TV or monitor or to use the Hero 8 as a webcam.
1x 3.5mm audio jack used to connect an external microphone.
1x USB-C port for charging or data transfer.
2x Cold-shoe mounts at the top and right side to attach a light, mic, or LCD screen.
SEE ALSO: GoPro Media Mod Review.
The iPhone has a lightning port at the bottom side of the phone.
You will use this port for charging, connecting a lightning earphone, and data interface.
Microphones and Audio
Both GoPro Hero8 Black and iPhone 11 Pro have three microphones.
The audio quality on the Hero8 Black sounds louder and cleaner than that produced by the iPhone 11 Pro.
This does not mean that the iPhone has poor audio, it's only that Hero8 Black does a better job.
Both devices support external microphone connectivity. If you have an external microphone that you used for your previous iPhone models, it should work with the 11 Pro.
For the Hero8 Black, you will need the Media Mod to be able to use an external microphone.
Waterproof vs Water-Resistant
The GoPro Hero8 Black is waterproof down to 10 meters / 33 feet whereas the iPhone 11 Pro is water-resistant down to 4 meters / 13 feet for a maximum of 30 minutes.
What is the difference between the two ratings?
Water-resistant means that the iPhone 11 Pro is only able to block the penetration of water into the phone's internals.
Phone manufacturers achieve this by using rubber rings around the openings.
Waterproof on the other hand means that the Hero8 Black is impervious to water.
This essentially denotes that the camera's body and internals cannot be destroyed by water within the rated limits.
It is not advisable to use your iPhone 11 Pro in underwater adventures because on the occasion that you go past the length and/or time limit then the phone will most likely permit water to enter.
However, you can order a separate waterproof case for your iPhone 11 Pro, it will give it protection during sports activities and will protect from water.
I recommend this waterproof case from Amazon.
Voice Control
Both devices support voice control. The Hero8 Black has a set of predetermined voices which are:
Start recording
Stop recording
Add HiLight tag to your video
Take a photo
Take burst photos
Start time-lapse
Stop time-lapse
Turn off the camera
Turn on the camera
Switch to video mode
Switch to photo mode
Switch to time-lapse mode
For iPhone 11 Pro, there is a lot more versatility when it comes to voice control.
You can turn voice control ON in the accessibility part of the settings menu.
Apart from the in-built voice control, there is also Siri assistant which is a great tool to have.
---
Video
This is the segment that will count most in this comparison. At the end of the day, everybody would love to have a good video quality with a diverse range of shooting modes.
Video Resolution
Both devices have a maximum resolution of 4K.
Other resolutions available for Hero8 Black are 4K in 4:3, 2.7K, 2.7K in 4:3 1440p, and 1080p.
Other resolutions for iPhone 11 Pro: 1080p and 720p.
Frame Rates
Both devices have a maximum frame rate of 240 fps which means that you can shoot videos up to 8 times slower.
24 frames per second is the minimum frame rate in both devices and it is available in all resolutions.
How is the Video Quality?
4K@30FPS video
Using the iPhone's ultra-wide 120 degrees Field of View, I noticed that it is wider than Hero8 Black's standard wide-angle.
You have the option to switch to SuperView mode in Hero8 Black, however, I noticed that there is a lot more distortion especially around the edges.
The dynamic range in the iPhone's HDR looks way more impressive than what Hero8 Black offers. I believe this is more of a software & sensor processing issue rather than the camera hardware.
I further noticed that the skin tone and skin mapping on the iPhone 11 pro can be too aggressive sometimes. This is completely a preference issue and I believe that some people love it that way.
You will notice that the sharpness on the GoPro Hero8 Black is more impressive than that of the iPhone 11 Pro ultra wide-angle lens.
If you switch to the iPhone's primary camera lens, the videos will improve in sharpness.
Here's a video by Danny Winget testing the iPhone 11 Pro in 4K:
4K@60FPS
Filming in this resolution, I noticed that the color saturation and dynamic range looked better on the iPhone 11 Pro.
However, GoPro Hero8 Black has better sharpness and clarity of scenes.
Low Light Video 4K@30fps
There is nothing special about night filming on both devices. The videos appear rough, grainy, and noisy on both.
However, you will notice a big improvement when you switch to the iPhone's primary camera lens.
The footage appears brighter than the ultra-wide angle lens' video.
Front-facing camera video
The iPhone 11 Pro has a 12-megapixel (f/2.2) front-facing camera which is very effective in filming vlogs and taking selfies.
The sharpness and dynamic range look good although the stabilization is not as good as the one on Hero8 Black.
The big downside on the iPhone's front-facing camera is that it is not wide-angle, meaning you are not going to get that immersive background experience.
However, the camera produces a nice background blur hence focusing on the main subject.
For you to have a better Vlogging experience with the Hero8 Black, you will need to get the media mod accessory which will permit you to attach a display mod.
This of course will come with added costs for the accessories.
Slow-motion
Both devices have a maximum frame rate of 240 fps. This means that you can shoot up to 8 times slow-motion videos.
The slow-motion footage on the Hero8 Black looks sharper than that offered by the iPhone which appeared too soft.
Electronic Image Stabilization
GoPro brands its image stabilization technology as HyperSmooth 2.0 in the Hero8 Black.
The stabilization on the Hero8 Black is way better than what you get with the iPhone 11 Pro.
I believe Apple needs to work on the stabilization technology to match that offered by GoPro.
Here's a video by 'AuthenTech – Ben Schmanke' comparing the GoPro Hero8 Black and the iPhone 11 Pro video quality:
---
Timelapse Video
In time lapse mode, the camera shoots videos at intervals and later combines them to create a single video file.
You can shoot time-lapse/ Hyperlapse videos with both devices. Please note that the iPhone 11 Pro does not offer Hyperlapse as a dedicated mode.
On a side note, Samsung phones have a dedicated Hyperlapse mode in the camera mode selection.
I noticed that iPhone time lapse does not look stabilized compared to what Hero8 Black offers.
The GoPro Hero8 Black produces sharper and better overall quality in this category.
Video Codecs
Both devices have H.264 and H.265 video encoding technologies.
H.265 also known as High-Efficiency Video Coding (HEVC) provides better compression and results in good quality and smaller video file sizes.
Video Bitrate
Bitrate refers to the amount of data that the camera writes per unit time. It is quantified in Megabytes per second (Mbps).
On the GoPro Hero8 Black, the maximum bitrate is 100Mbps when using 4K and 2.7K resolutions then maximum of 78Mbps when using 1440p and 1080p.
The iPhone 11 Pro maxes out at 54Mbps when recording in 4K@60fps. Lower resolution can use low bitrates.
---
Photos
Aside from the video properties and qualities, it is important to also go through how the devices perform in the photo department.
Both devices can save photo files in either RAW or JPEG format. I like using the RAW option due to the flexibility offered in post-production.
Photo Resolutions
Both devices have lenses that can capture photos at a maximum resolution of 12 Megapixels.
How is the Photo Quality?
The linear ultra-wide-angle iPhone camera lens is incredible. It captures images with good HDR, the colors and contrast appear well balanced.
Sharpness also looks impressive on the iPhone 11 Pro. I noticed that using HDR and superphoto mode on Hero8 Black adds a lot of processing noise. Again, that is an issue to do with the chipset and firmware.
Low Light Photos
GoPro Hero8 Black performs better in low light photography than the iPhone's ultra-wide-angle lens. The iPhone 11 Pro does not have a dedicated night mode in the ultra-wide lens.
If you need an improved night performance by the iPhone 11 Pro, you will have to switch to the primary lens which offers a lot more improvement.
---
Battery
GoPro Hero8 Black has a smaller battery in terms of size and this is because it is just meant to be a camera.
The huge battery in iPhone 11 Pro has a lot more work to do than just shooting videos.
The Hero8 Black has a removable and rechargeable battery with a capacity of 1220mAh. The best battery life I have got from this camera is 90 minutes.
The iPhone 11 Pro has a non-removable battery with a capacity of 3046mAh. The best recording time you can get is 5 hours 15 minutes in 4K.
---
Conclusion
After all is said and done, I think Apple has come a long way in improving their phones.
With the introduction of an ultra-wide-angle lens, then using the phone's camera is more interesting than before.
While the iPhone 11 Pro is an amazing device for photography and videography, it still cannot replace my Hero8 Black in every day's adventures.
There is something about action cameras that phone manufacturers cannot replace, which is ruggedness.
The Hero8 Black is waterproof and the iPhone 11 Pro is water-resistant, that is a huge difference right there.
If you choose to strap your iPhone on your helmet and by bad luck, it falls on the ground, you will be looking at 500 dollars for screen replacement.
With the GoPro, you can have it fall on the ground without necessarily worrying about serious damage.
Going with my GoPro Hero8 Black vs. iPhone 11 Pro, it is clear that the phone industry is revolutionizing photography.
In the next 2 years, we expect major upgrades that will give GoPro a run for their time and money.
---
---
Thank you for reading through my post, I hope you enjoyed and liked it.
If you have any questions or concerns about any of the above-discussed devices, please leave a comment below and I will get back to you ASAP.