GoPro Max vs Fusion – In November 2017, GoPro ventured into the 360 cameras market and launched their first 360-degree camera, the GoPro Fusion.
GoPro wasn't the first action brand to jump into this technology, Nikon had already released their Keymission 360 a year before.
Shortly after, several brands released their own 360 degrees cameras, like Garmin, Insta360, and others.
GoPro lovers were impatiently waiting for the Fusion's release and everyone was excited to put it out to test.
And the result?
Many people loved it and some others hated it. But why?
Even though it is a powerful camera in terms of hardware and capabilities, the production process of stitching and rendering the videos is slow and painful.
And needs a lot of computer processing power and storage to render and store the final edited video. Check my list of the best computers for editing GoPro videos.
After the many good and bad reviews, GoPro upped their game and launched their updated 360 degrees camera in October 2019, the GoPro MAX, which came out along the new Hero 8 Black.
Check my GoPro Max vs Hero 8 Black comparison.
Few months after its launch, the GoPro MAX had already won the hearts of many GoPro enthusiasts. That was clear going through the positive user reviews.
The MAX clearly made it easier for users to shoot and create their videos and that was missing in the Fusion.
So what changed with the GoPro MAX?
I will show you a detailed comparison of these two cameras and will try my best to provide you with as much detail as possible so you can see the differences.
Let me start by this comprehensive comparison table.
---
GoPro Max vs GoPro Fusion Specs Comparison
Specs
GoPro MAX
GoPro Fusion
Video
Lens aperture
f/2.8
f/2.8
Spherical Video resolution
up to 6K30 Source. 5.6K30 Stitched
up to 5.2K30 Externally Stitched
Normal Video resolution
HERO Mode 1440p60 / 1080p60
No
PowerPano
270° 6.2MP Panoramic Photo
No
Video Stabilization
Max HyperSmooth
Anti-Shake and Full Stabilization
TimeWarp Video Intervals
Auto (HERO Mode Only), 2x, 5x, 10x, 15x, 30x
No
Time Lapse Video Intervals
0.5, 1, 2, 5, 10, 30, 60 seconds
0.5, 1, 2, 5, 10, 30, 60 seconds
Video File Format
MP4 (H.264/AVC), MP4 (H.265/HEVC)
MP4 (H.264/AVC)
Max Video Bit Rate
78 Mb/s (1440)
60 Mb/s
FOV
Max SuperView, Wide, Linear, Narrow
Spherical only
ISO Video
100 to 1600
400, 1600, 6400
Photo
Megapixels
18MP Source, 16.6MP Stitched 360 Photo. 5.5MP HERO Photo. No RAW
16.6MP Stitched 360 Photo. RAW available
LiveBurst
No
No
Burst
No
Yes (up to 30fps)
Burst Rates
No
No
Time Lapse Photo Intervals
HERO Mode: 0.5, 1, 2, 5, 10, 30, 60 seconds
0.5, 1, 2, 5, 10, 30, 60 seconds
Continuous Photo Capture
Yes
No
SuperPhoto
No
No
Photo Timer
Yes
No
RAW Photo Capture
No
Yes
Exposure Control
Yes
No
ISO Photo
100 to 3200
100, 200, 400, 800
Night Photo
Yes
Yes
Shooting Modes
Looping
No
No
Time Lapse Photo
Yes
Yes
Time Lapse Video
Yes
Yes
TimeWarp Video
Max TimeWarp
No
Night Lapse Photo
No
Yes, Auto, 4, 5, 10, 15, 20, 30 seconds. 1, 2, 5, 30 and 60 minutes.
Night Lapse Video
No
No
Slo-Mo
Hero mode 2x
Regular mode only (60fps)
Design
Dimensions
64 W x 69 H x 25 D (mm)
74 W x 75 H x 40 D (mm)
Weight (Camera + Battery)
154g
220g
Lens
2
2
Touch Screen
Yes
No
Chip
GP1
Ambarella
HDMI Port
No
No
USB Port
USB-C
USB-C
3.5 mm Audio Mic In
No
No
Memory Storage
1 microSD
2 micro SD
Microphones
6
4
LEDs
2
2
Battery
Removable 1600mAh
Removable 2620 mAh
Replaceable Lens
No
No
Rugged + Waterproof
16ft (5m)
16ft (5m)
Features
Voice Control
Yes
Yes
Wake on Voice
No
No
Live Streaming
1080p
No
GPS
Yes
Yes
Advanced Metadata
HERO mode only
No
Protune
Yes
Yes
Compatible Housing
No
No
Auto Cloud Backup
Included With GoPro PLUS Subscription
No
Advanced Wind-Noise Reduction
6-Mic Processing
No
Stereo Audio
Premium
Normal
360 Audio
Yes
Yes
RAW Audio Capture
WAV format
HERO Mode Only
No
Wi-Fi + Bluetooth®
Yes
Yes
Damaged Camera Replacement
Included with GoPro PLUS Subscription
Included with GoPro PLUS Subscription
---
Design & Components
Weight and Dimensions
The first thing you would notice about these two cameras is their design and color difference.
Both have the squarish shape that differentiates them from the Hero cameras.
In my opinion, the MAX looks much nicer than the Fusion, maybe because its design and color is closer to the new Hero 8.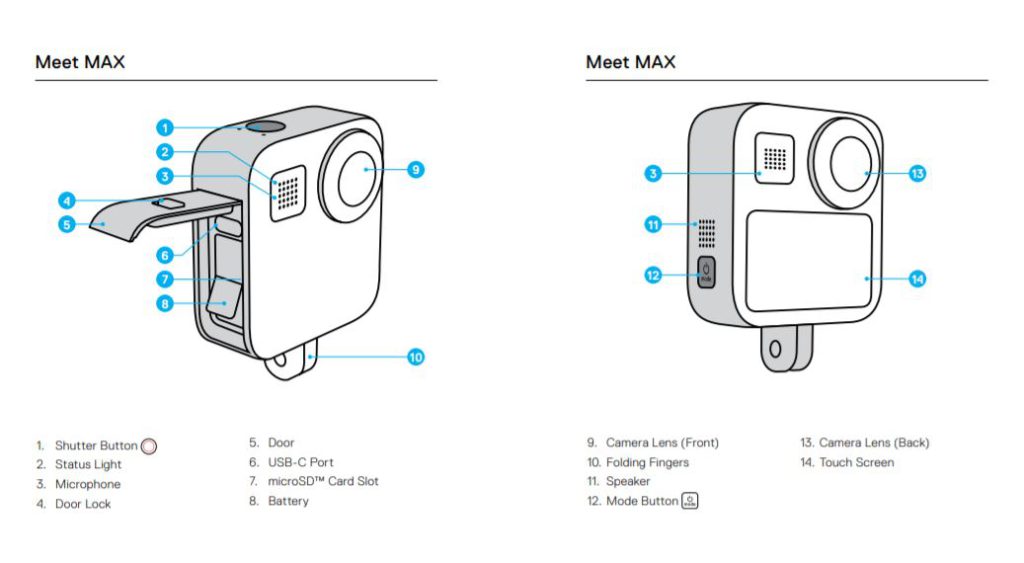 The GoPro Fusion is bulkier than the MAX. Looking at the dimensions, the Fusion is 74 W x 75 H x 40 D (mm) while the MAX is 64 W x 69 H x 25 D (mm).
The Fusion is also heavier, it weighs 220g while the MAX weighs 154g. The more advanced the technology, the smaller the hardware gets.
They both have mounting fingers at the bottom that can be used with a whole range of mounting accessories.
Touchscreen vs LCD screen
The next thing to notice is the new touchscreen on the back of the MAX which is also similar to the other Hero cameras which makes it much easier to control and to change settings and modes.
One of the drawbacks of the Fusion is the lack of a touchscreen, instead it has a small LCD screen that shows the video mode and other basic information.
On the Fusion, switching between shooting modes and changing settings takes more effort as you have to use the shutter and mode buttons to jump between the menus like the old Hero 4 series.
On the Max, you can control the camera by using the touchscreen and you can also watch the playback.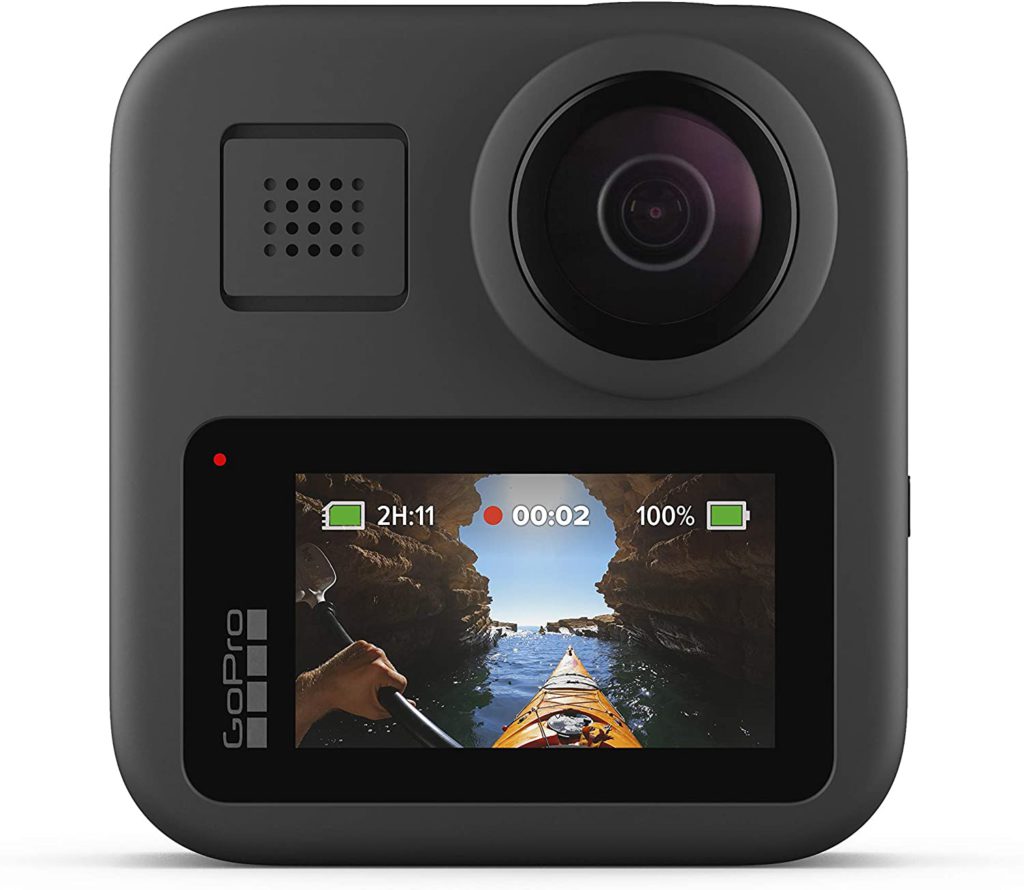 On the Fusion, playback is only possible during the post-production phase using the GoPro Fusion Studio software that requires a powerful computer due to the large files the Fusion creates.
Lens
When it comes to the lenses, both cameras have two ultra wide 180-degree lenses with f/2.8 aperture one at the front and another at the back enabling them to shoot 360-degree footage.
However, the MAX has PowerPano feature which is capable of 270-degree panoramic 6.2 megapixels photos. This is not possible on the Fusion.
I will talk in more detail about the photos difference later on in this review.
Ports and Sockets
Both the MAX and Fusion have a USB-C port for charging and data transfer.
Both don't have an HDMI out, no idea why GoPro didn't add at least the HDMI out port on the MAX.
Also, they both don't support adding an external microphone due to the lack of the 3.5mm audio mic in port.
The MAX has one micro SD card socket like the rest of the GoPro cameras.
Another difference is the memory card requirement. The Fusion needs two micro SD cards sockets, it apparently records the footage to the two cards at the same time. One SD card for each lens.
Make sure to format your new micro SD card before using it.
Microphones
The GoPro Fusion has 4 microphones while the MAX has 6. An upgrade that will positively impact the audio quality of the recorded 360 footage, giving it much more spatial sound and advanced wind-noise reduction using a 6-mic processing.
A key upgrade from the Fusion.
Waterproof
Both cameras are waterproof without any additional housing, down to 16 feet or 5 meters.
---
Controls and Buttons
The way you control and interact with these cameras are way different.
Both have Mode and Shutter buttons, which on the Fusion are essential to go through the menus and change settings.
Both can be controlled via WiFi using the GoPro app to frame shots and shoot footage, snap photos and play with settings.
Both can be controlled with voice but lack the Wake on Voice feature.
Accessing Menus and Modes
On the Fusion, the Mode button is used to switch between the menus. The Shutter button is not only used to start/stop video recording and taking photos but also to select modes and preferences in combination with the Mode button.
As mentioned earlier, the big difference between both cameras is the addition of the touchscreen on the MAX, this made it a lot easier the camera to control the camera.
You just swipe left or right on the touchscreen to toggle between video, photo and time-lapse modes.
Swipe down to open the dashboard and swipe up to access the media gallery and check the captured photos and videos.
Swiping through the menus and modes on the MAX is very similar if not identical to the Hero 8 Black. I personally find the touchscreen extremely helpful and I'm sure you think the same too.
What I keep asking myself is why didn't they fit a touchscreen on the Fusion? Who knows, maybe they were trying to reduce the cost on the end-user.
The GoPro Fusion launch price was high already and adding the touchscreen would have brought it much higher.
Voice Control
Both the GoPro Fusion and GoPro Max have voice control. It needs to be enabled in the preferences and it can be used for simple stuff like starting and stopping video recording, changing modes, taking photos, and adding HiLight tags.
Changing settings is not possible with voice control. This should be done manually.
They both don't have the Wake on Voice feature and I find that weird since it was available on the GoPro Hero 6 which was launched at the same time as the Fusion. But to be honest, this feature is not that important.
However you can turn the cameras off using the voice command.
Remote Control
The GoPro MAX and GoPro Fusion can be controlled with the smart remote. You may already be familiar with the smart remote.
The good thing that I like in the smart remote is its controlling distance which is up to 600 feet or 180 meters.
It gives you full control of you camera like start/stop video, take photos, change settings and modes via its small LCD screen and three buttons.
It also has the ability to control up to 50 cameras simultaneously and it is waterproof.
---
Video
There has been a major upgrade with the GoPro MAX video capabilities compared to its predecessor the GoPro Fusion. Let me walk you through them.
Spherical Video Resolutions
Spherical video is the 360-degree video captured by the two lenses of the cameras then stitched together by the camera's software.
There is a huge improvement with how this video is processed on the GoPro MAX, when comparing with the Fusion.
How are the 360 videos processed?
On the MAX, the 360 videos are recorded by the two lenses at 6K 30 frames per second then stitched back together to 5.6K (5376 x 2688) at 30 frames per second.
The newly added resolution is 3K at 60 frames per second (This was added in the last firmware update 'v1.50' released on the 6th of May 2020).
Whereas on the GoPro Fusion, the 360 videos are captured at 5.2K(5228 x 2624) 30 frames per second and 3K (3000 x 1504) at 60 frames per second.
But they are not stitched back together by the camera. Instead, it is stitched externally on your computer using the GoPro Fusion Studio.
However, with the latest Beta 2.0 firmware update, you can get 5.8K captured with the camera, it decreases to 5.6K at 24 frames per second when stitched during the post-production.
Letting the MAX do the stitching is a great advantage that will significantly decrease the time it takes you to edit your 360 videos.
So the MAX will save one .MP4 file on your micro SD card instead of saving multiple un-stitched files like the Fusion.
While also saving you space as the Fusion's generated videos are huge.
The in-camera stitching needs a powerful processing of the sensor data. GoPro was able to achieve all this with their GP1 processor that is built in-house.
Normal Video Resolutions
Another good improvement from the MAX is the Hero Mode which gives you the ability to shoot normal videos (non-360).
There are two available resolutions: 1440p (1920 × 1440) with an aspect ratio of 4:3 and 1080p (1920 × 1080) with an aspect ratio of 16:9.
4:3 aspect ratio is for non-wide screens and 16:9 is for wide screens or HDTV.
The Fusion is not capable of taking normal videos and can only shoot 360 videos.
Frame Rates
As mentioned above, both the GoPro MAX and the GoPro Fusion have the same frame rates (30 fps), but with different resolutions.
30 fps is available with the spherical 6K on the MAX and the spherical 5.2K on the Fusion. 60fps is available with the 3K on the Fusion, Hero mode 1440p & 1080p on the MAX.
24 fps is available with the spherical 5.6K on the Fusion which can be achieved by updating the firmware to the Fusion 2.0 beta.
Bitrates
Bitrate is the amount of data used to record one second of video, it is calculated in Mb/s (megabits per second).
GoPro Max uses higher bitrates than GoPro Fusion. 78Mb/s vs 60Mb/s.
But even with the higher bitrates on the max, the saved files will be smaller than the Fusion files because the MAX uses H.265 (HEVC) encoding so more video compression without losing quality!
Codecs
Another key difference between the two cameras is the video codec.
Even when both the cameras save the files in .MP4 formats. Fusion uses H264 (AVC) codec to compress the videos and something called dual-fisheye to encode unused pixels.
GoPro Max has also two types of encoding and both are done inside the camera. They use the Google EAC to convert the internal .360 format files into .MP4 videos.
Unlike Fusion, there is no need to encode unused pixels with EAC and that will save space and result in smaller video files.
MAX also uses H265 (HEVC)codec to further compress the videos. So overall, MAX will produce smaller videos while boosting providing higher video quality.
Slo-Mo
Both cameras can do slow motion videos at 60fps. MAX can do slow motion videos only in Hero mode (non-360) and only at 60fps as this is the maximum frame rate these cameras can capture.
MAX uses HyperSmooth in slo-mo to make sure that your footage is not shaky and keeps it as smooth as possible.
On the Fusion, slow motion works on 360 videos since 360 is the only mode available in the camera. Also with 60fps.
So for both, you can get around 2x slower footage, not the best compared to the Hero 8 Black for instance.
Stabilization
Both cameras use built-in electronic stabilization systems. But the new stabilization in the MAX pushes it much higher in the race against the Fusion.
MAX uses Max Hypersmooth, the same new stabilization technology used in the Hero 8 Black which is much more advanced than the stabilization in the Fusion.
Fusion uses anti-shake and full stabilization technology, and it doesn't stand a chance next to the Max Hypersmooth.
On the MAX, your footage will look much smoother, like using a professional gimbal.
Here's a video from GoPro showing the stabilization on GoPro Fusion:
Protune for Video
You may already be familiar with Protune, but if not, Protune is the name for the advanced settings in GoPro for selected modes like Video and Photo.
Protune gives you full control over advanced features like exposure, white balance, color, ISO, shutter speed and others.
GoPro MAX has the advanced Protune which means much more control over a lot of settings, while the GoPro Fusion's Protune is very limited.
Check the table below to see the difference between the two:
| PROTUNE | GoPro MAX | GoPro Fusion |
| --- | --- | --- |
| Bitrate | Low & High (78Mb/s) | No |
| Color | GoPro color, Flat | NA |
| White balance | Auto (default), 2300K, 2800K, 3200K, 4000K, 4500K, 5500K, 6000K, 6500K and Native | NA |
| ISO | 100, 200, 400, 800, 1200, 1600, 3200, 6400 | 400, 800, 1200, 1600, 3200, 6400 |
| Shutter | 1/30, 1/60, 1/120, 1/240, 1/480, 1/960 | NA |
| Exposure value compensation | -2.0 to +2.0 | -2.0 to +2.0 |
| Sharpness | High (default), Medium, and Low | NA |
| Raw audio | Off (default), Med, High | NA |
| Microphones | Sterero (default), Front, Back, Match Lens | NA |
| 360 audio | 360 + Stereo (default), Stereo | NA |
| Wind noise reduction | Auto (default), on, off | NA |
Digital Lenses (FOV)
The FOV (Field of View) defines how much of the scene the camera will capture, the smaller the FOV, the smaller of the scene is capture.
It acts like a zoom.
GoPro Fusion has only spherical FOV because it cannot shoot normal videos (non-360) like the GoPro MAX.
While GoPro MAX has 5 FOVs:
Spherical: Only available in 360 mode.
The below FOV options are only available in Hero mode.

Max SuperView: (13mm) Widest, most immersive field of view.
Wide: (16mm) Wide field of view with less fisheye effect.
Linear: (19mm) Wide field of view without the fisheye effect.
Narrow: (27mm) Narrow field of view without the fisheye effect.
Horizon Leveling
Another nice feature only available in GoPro MAX is the Horizon Leveling, also only available in Hero Mode.
Horizon Leveling will keep your video footage level even if the camera flipped upside down, it's a cool feature and will prevent your footage to be ruined by unexpected change to the camera's orientation.
This feature is not available on the Fusion simply because it cannot shoot in Hero Mode.
---
Photo
Both cameras are capable of taking good quality still shots. There has been some changes between the GoPro MAX and the GoPro Fusion photo sensor.
Of course the still shots on these action cameras cannot be compared to regular DSLR cameras but they are good enough to be posted on the internet and social media.
Photo Resolution & Formats
Both the MAX and Fusion can take 18MP photos in 360 (spherical) then stitch them to 16.6MP.
GoPro MAX can also shoot photos in Hero mode (regular non-360 photos) with a resolution of 5.5 Megapixels. Whereas the Fusion cannot take regular still shots because as I said earlier, it is 360-degree camera only.
GoPro MAX has a new feature called PowerPano which is not available on Fusion.
PowerPano lets you take 270-degree panoramic photos without the need to pan the camera and scan the horizon.
RAW & JPEG
Here is where GoPro Fusion beats MAX. Fusion can save photos in RAW (.gpr format), whereas MAX only save photos in JPEG.
RAW format gives you un-compressed photos with more sensor data which gives you more control when editing the photos. RAW photos are larger in size than JPEG.
RAW can be turned off and on in the photo settings on the GoPro Fusion.
Protune Photo
Same as video, Protune is also available for Photo mode, giving you more advanced control over a range of settings.
GoPro MAX has the advanced Protune giving you control over many settings unlike the GoPro Fusion.
Take a look at the table below:
| PROTUNE PHOTO | GoPro MAX | GoPro Fusion |
| --- | --- | --- |
| Color | GoPro color, Flat | NA |
| White balance | Auto (default), 2300K, 2800K, 3200K, 4000K, 4500K, 5500K, 6000K, 6500K and Native | NA |
| ISO | 100, 200, 400, 800, 1200, 1600, 3200, 6400 | 100, 200, 400, 800 |
| Shutter | Auto, 1/125, 1/250, 1/500, 1/1000, and 1/2000 | NA |
| Exposure value compensation | -2.0 to +2.0 | -2.0 to +2.0 |
| Sharpness | High (default), Medium, and Low | NA |
Exposure Control
Only GoPro MAX has the exposure control feature. You can press and hold the touchscreen to turn on and adjust the exposure control.
There are two settings available: Auto exposure and locked exposure (MAX locks the exposure until you cancel it).
Burst
Only GoPro Fusion can shoot photos in Burst mode. This feature is not available on GoPro MAX which has a similar feature called continuous photo capture.
Here are the burst rates available on GoPro Fusion:
30 photos in 1, 2, 3, or 6 seconds
10 photos in 1, 2, or 3 seconds
5 photos in 1 second
3 photos in 1 second
Continuous Photo Capture
This feature is only available on the GoPro MAX and it is a bit similar to burst mode.
When you are in Photo mode and press and hold the shutter, the camera will automatically take a continuous series of shots.
The rate depends on the lighting conditions (it is between 3 and 30 photos per second).
---
Time-Lapse
Both cameras can shoot time-lapse in both photo and video modes.
Time Lapse Video
Time-lapse video is when the camera captures frames and then combine them one video file. You only have to set the interval of the frames that the camera should capture.
Both GoPro MAX and GoPro Fusion can shoot video time-lapse and have the same interval rates of 0.5, 1, 2, 5, 10, 30, 60 seconds.
Since GoPro Fusion only shoots in 360 then the time-lapse is only available in 360 at the resolution of 5.2K and 3K.
GoPro MAX only shoots time lapse video in Hero mode (non-360) with the available resolutions of 1080p and 1440p.
Update: Time Lapse video is now available in 360 mode on the GoPro Max following the latest firmware update v1.50 released on the 6th of May 2020.
Time Lapse Photo
Time lapse photo is when the camera captures a series of frames and saves them as individual photos which you can them combine later one during the editing phase.
Both cameras can take time lapse photos, however, MAX only takes normal photos in Hero mode and Fusion only in 360 mode.
Update: Time Lapse photo is now available in 360 mode on the GoPro Max following the latest firmware update v1.50 released on the 6th of May 2020.
You have these available intervals:
MAX: (HERO Mode) 0.5, 1, 2, 5, 10, 30, 60 seconds
Fusion: (360 Mode) 0.5, 1, 2, 5, 10, 30, 60 seconds
Fusion can save time lapse images with the RAW format as mentioned earlier (only if RAW is enabled). MAX saves time lapse photos only in JPEG.

Photos resolution for Max is 5.5 megapixels whereas Fusion is 16.6 megapixels.
Night Lapse
Only Fusion has the night lapse option. The shutter remains open for longer to let in more light when it's dark.
Night lapse intervals are Auto, 4, 5, 10, 15, 20, 30 seconds. 1, 2, 5, 30 and 60 minutes.
It's best to set the interval between 20 to 30 seconds for dark or very low light shots and the shutter to 20 or 30 seconds.
Time Warp Video
This is a new cool feature that GoPro added to the Hero 8 and the MAX. Fusion doesn't have it as it was released recently.
Time warp is very similar to time lapse video however, in time warp your camera is not fixed in one place and you can move it around.
It actually combines hypersmooth stabilization with time lapse video so you can have a smooth time lapse video.
---
Battery
Both cameras use removable batteries. GoPro MAX uses a 1620mAh lithium battery and GoPro Fusion uses a 2620mAh lithium battery.
Battery on these cameras last around 1.5 hours of continuous footage. Connecting your camera to your phone or smart remote will drain the battery much faster.
Also using GPS, Protune, stabilization, TimeWarp and shooting 360 videos can drain the battery faster than shooting regular videos, due to the fact that the processor will need to work harder to deliver.
The cameras can be charged with a USB-C cable that is included in the box.
---
Audio
GoPro MAX has 6 microphones whereas Fusion has 4. GoPro added 1 microphone per side on the MAX, one in the front and one in the back.
The MAX uses an advanced wind noise reduction on the 6 built-in microphones to further reduce wind noise in the footage and does a good job at it. The Fusion doesn't have this feature.
Both cameras have 360 audio.
One more improvement on the MAX is the ability to capture audio in RAW format, but only in Hero mode videos (non-360).
This will give you a better quality audio and the camera will save it as a .WAV file on your micro SD card.
---
Post-production
I don't use Quik to edit video footage shot by any of my GoPro cameras because it is not stable and crashes quite frequently. I have lost many hours of editing work because of it.
I use Adobe Premiere Pro which for me is the best video editor ever created, especially when editing 4K and 360-degree GoPro videos.
Other Features
Livestream: GoPro MAX can live stream using the GoPro app in 1080p resolution, you can live stream to YouTube, Facebook and many other platfirms.
Check my guide to see how to live stream from your GoPro.
GPS: Both cameras have built-in GPS.
Voice Control: Both cameras have voice control.
Advanced metadata: Only available on GoPro MAX. Advanced metadata is a smart way of processing image data. This eliminates the need for extra equipment, like underwater color filters for example. It basically auto corrects colors and white balance.
Auto Cloud Backup: Only available on GoPro MAX. This feature will enable you to save your footage on the GoPro cloud automatically. You will need the GoPro PLUS Subscription.
WiFi & Bluetooth: Both cameras have WiFi and bluetooth.
Damaged Camera Replacement: Available for both cameras. You will need the GoPro PLUS Subscription.
---
Problems Encountered by Users
GoPro MAX
Direct sun light on one of the lenses can create a different exposure level than on the other lens.
Doesn't shoot well when shooting close to an object.
TimeWarp drains the battery quickly.
Non-fisheye footage can be grainy.
GoPro Fusion
Occasional blur between the two stitched videos especially when there are solid lines in the footage.
Massive storage space requirement.
Stitching and rendering 1 or 2 minutes of footage takes hours and needs a powerful computer.
Desktop software is complicated
---
To Conclude
It is clear that GoPro MAX is a great improvement over its predecessor the GoPro Fusion.
Especially the fact that MAX does the stitching for you unlike the Fusion where you need to export the videos then stitch the 360 videos using the software, thanks to the GP1 processor from GoPro.
Also, Hero mode on the MAX transforms it into a regular action camera.
GoPro's upgrade to the GP1 processor opened a new range of possibilities in the MAX.
Higher encoding capability so more compressed files, better stabilization, and advanced Protune settings.
If you already have a GoPro Fusion and considering an upgrade, and you feel that the improvements are crucial to you then go for it.
Also considering that the post-production process on the MAX is much simpler and less time-consuming than the Fusion.
---
Where to Buy
---
I hope you liked my detailed comparison of the GoPro Max vs GoPro Fusion.
If you have any questions, please leave a comment in the comments section below. 🙂