In this post, I will focus on GoPro MAX vs Insta360 One R Dual-Lens 360 degrees Mod to give GoPro MAX a fair competition.
GoPro announced their 360 degrees camera which they named GoPro MAX in late October 2019 alongside the Hero8 Black.
Insta360 made their official release of the One R on 22nd January 2020.
The Insta360 One R is a modular action camera that allows you to interchange the Lens Mods depending on what and how you would love to shoot.
The camera has a One Inch Wide Angle Lens Mod, a 4K Wide Angle Lens Mod and a Dual-Lens 360 degrees Mod.
Getting all the Mods would come at an extra cost.
Did you know that GoPro's attempt to have a modular design camera saw them release a Media Mod for the Hero8 Black?
Insta360 clearly won by being the world's first action camera to debut an interchangeable lens set up.
Both cameras are powered by different processors and so we expect to see some noticeable differences in terms of performances in different departments.
Both cameras have very impressive image stabilization capabilities although they use different technologies to achieve that.
GoPro MAX was launched at 20 dollars more than the Insta360 One R Twin Edition.
Check my detailed GoPro Max review here.
Check my detailed Insta360 One R twin edition review here.
This makes the One R a better cost-effective unit having in mind that you will also get a 4K Wide Angle Lens Mod with the Twin Edition.
In this comparison, I will give you all the key details you need to know and I hope that I will help you make a sound decision on which camera will suit you.
Have you checked my GoPro MAX vs. Hero8 Black comparison? Be sure to click the link and check it out if not already.
I will kick off with a comprehensive comparison table featuring both cameras.
Spec
GoPro MAX
Insta360 One R
VIDEO
Lens aperture
F2.8
F2.0/ F2.8
Resolutions and Frame Rates
5.6K 30fps, 3K 60fps, Hero Mode: 1440p 60fps/ 1080p 60fps
5.7K @30fps, 24fps, 25fps, 4K @50fps, 30fps, and 3K @ 100fps
Maximum Bitrate
78mbps
100mbps
Video Codecs
H.264, H.265
H.264, H.265
Video File Formats
MP4, MOV
Insv, MP4, LOG and HDR videos
Shooting Modes
Standard, Time Lapse, Time Warp, and Slow Motion.
Standard, HDR, Timelapse, TimeShift, and Bullet Time.
Live stream
Yes
No
PHOTO
Photo Resolution
16.6 megapixels
18 megapixels
Photo File Formats
JPEG
isnp and RAW
Photo Modes
Standard, Interval, PowerPano
Standard, HDR, Burst, Interval, Night Shot
Other Features
Exposure Modes
Auto, Manual (Shutter 1/8000s-120s, ISO 100-3200), Shutter Priority (1/8000s-2s), ISO Priority (100-3200)
Auto, Manual (Shutter 1/8000s-120s, ISO 100-3200), Shutter Priority (1/8000s-2s), ISO Priority (100-3200)
White Balance
Auto, 2700K, 4000K, 5000K, 6500K
Auto, 2700K, 4000K, 5000K, 6500K
Image Stabilization
Yes, HyperSmooth
Yes, FlowState
Waterproof
Yes, up to 5 meters / 16.4 feet
Yes, up to 5 meters / 16.4 feet
Memory Card
Yes, micro SD Card Slot up to 256 GB
Yes, micro SD Card Slot up to 256 GB
Microphones
6
2
3.5mm external mic port
No
No, USB C adapter needed
Wi-Fi
Yes, 2.4Ghz /5GHz
Yes, 5Ghz
Bluetooth
Yes
Yes, 4.0
Battery
rechargeable Lithium- Ion with capacity of 1600mAh
rechargeable lithium Polymer with a capacity of 1190mAh
Dimensions
2.52 inches W (64 mm), 2.72 inches H (69 mm), 0.9 inches D (24mm)
2.8 inches W (72 mm) x 1.9 inches H (48mm) x 1.7 inches D (43 mm)
Weight
5.75 oz / 163 g
4.6 oz / 130.5g
---
Design & Components
Weight and Dimensions
Having both cameras side by side, you will notice that they do not follow a similar design pattern.
The GoPro Max took more design aspects from its 360 degrees predecessor, the GoPro Fusion.
The GoPro Max has a body dimension of 2.52 inches W (64 mm), 2.72 inches H (69 mm), 0.9 inches D (24mm) while the Insta360 One R Dual-Lens Mod takes the body dimensions of 2.8 inches W (72 mm) x 1.9 inches H (48mm) x 1.7 inches D (43 mm).
From the dimensions, we can see that the One R is slightly wider and shorter than the GoPro Max. The One R has more depth than the GoPro Max.
The GoPro Max has a weight of 5.75 oz / 163 grams while the One R has a weight of 4.6 oz / 130.5 grams. The latter is the heavier camera without housing and frame.
Talking of housing, both cameras have folding fingers at the bottom hence they don't require housing or a frame to be mounted.
Display Screen
GoPro Max has one screen located at the back of the camera. The screen is touch-sensitive hence it can be used to change modes and select different preferences from the Protune settings.
This is quite odd for GoPro cameras since most of them usually have a dual-screen, one (LCD) being located at the front of the camera.
The Insta360 One R also has a touch screen at the back of the camera's core compartment.
The only downside with its screen is probably the size. It is 1.3 square inches, making it so small that you may struggle to monitor your footage.
Also, if you have big fingers, controlling the camera via a small touch screen is always a nightmare.
Lens
Both cameras have dual-lens set up which enables 360° shooting. Both lenses in each camera can shoot at a maximum wide angle of 180 degrees.
In the GoPro Max, the dual-lens are capable of having the following fields of view: Max SuperView, Wide, Linear, and Narrow
Insta360 One R also gives you the options to adjust from a fully spherical to a linear field of view.
The lens aperture in both GoPro max and One R is f/2.8.
Ports and Sockets
Both GoPro Max and Insta360 One R have a USB type C port for charging the battery.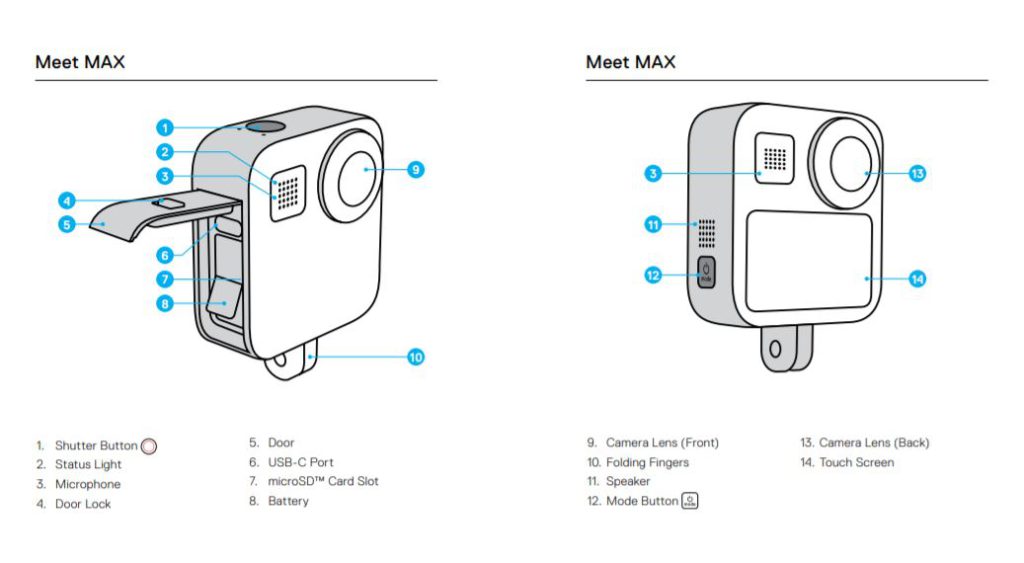 For the One R, you can purchase an external mic adapter that connects to the USB port if you would wish to use an external mic for your audio recordings.
Both cameras have a memory card slot that supports micro SD cards of up to 256 GB storage capacity.
None of the cameras feature an HDMI port, you can however use the USB connection to transfer your data between the cameras and your PC.
Microphones & Audio
GoPro Max has six inbuilt microphones while the Insta360 One R has only two of them.
The six microphones in the GoPro Max are very effective in ensuring that all angle audio is captured well in your 360° footage recording.
In this category, GoPro is a clear winner. It produces crisp stereo audio thanks to the six microphones that are strategically located around the camera.
For the One R, I would strongly recommend you buy the external microphone adapter which is a proprietary accessory made by Insta360.
It will allow you to use your favorite external microphone to revamp your audio experience.
One cool external mic feature with the One R is the ability to connect your Apple Airpods to the camera via Bluetooth and use the Airpods' internal microphone to do your audio recordings.
This capability has always proven to be so convenient to me, although the audio quality is not as great compared to what I get with a dedicated external microphone.
The GoPro Max does not support external microphone connections.
Waterproof
Both cameras are waterproof without the need for housing. You can check my complete guide on GoPro cameras' waterproofness here.
You can use both cameras underwater for up to depths of 5 meters / 16.4 feet. This is not a good rating when you intend to scuba dive. I suggest you get a waterproof case to extend your underwater limit.
GoPro has not yet made any official waterproof housing for the Max.
However, I bought the Sruim waterproof housing case for my GoPro Max and it has proved to be good with me. Using it will guarantee you an underwater depth limit of 30 meters / 98.5 feet.
For the Insta360 One R, you can get the VGSION Waterproof Housing Case with a pushed depth limit of up to 60 meters / 196.9 feet. That rating is enough for a good scuba dive.
Always remember to test your waterproof housing before you use it. Also, rinse and dry your camera + housing after every underwater adventure.
Controls and Buttons
Controlling both cameras is fairly easy and similar to any other action camera.
One downside with the One R is the tiny screen and as I mentioned, if you have huge fingers then you might be disappointed with this option.
The GoPro Max has a Power/ Mode button to switch on the camera or change shooting modes. There is also a shutter button that is used to start and stop recordings as well as capture still shots.
The One R has the power button that is used to switch on / off your camera and a record button to start/stop recordings.
The touch screen gestures are pretty similar and not hard to adapt to, as I would say with any action camera out there.
You can also control both cameras via their respective mobile phone Apps. This is made possible by the in-built Wi-Fi present in each camera.
Voice Control
You will get voice control capabilities in both cameras. However, none of the cameras can be turned on by voice command.
The GoPro Max has the following predetermined voice commands:
Start recording
Stop recording
Add HiLight tag to your video
Take a photo
Take burst photos
Start time-lapse
Stop time lapse
Turn off the camera
Switch to video mode
Switch to photo mode
Switch to time-lapse mode
For a detailed guide on GoPro voice commands, check my article here.
The Insta360 One R has the following predetermined Voice commands:
Start Recording
Stop Recording
Take a photo
Shut Down Camera
You can clearly see the winner in this category.
I am not fond of controlling my action cameras with my voice, and this feature is not a deal-breaker for me.
Remote Control
Both cameras can be controlled remotely by either a Remote Control or phone App.
A remote control is not included in the retail box and you will have to buy separately if you need to use this feature.
The GoPro Max supports GoPro Smart Remote which is waterproof up to 10 meters / 33 feet. This remote can control up to 50 compatible cameras at a go.
The Remote can be strapped on your wrist and it provides a range of 180 meters / 600 feet.
On the other hand, the Insta360 One R supports a GPS Smart Remote which is also bought separately.
One advantage of buying this remote is that it comes with an 'invisible' selfie stick. You can also strap this remote on your wrist.
Before using this remote, make sure your One R runs on the latest firmware, if not, be sure to update your camera.
Both remote controls have LCDs that show useful information like the current mode in your camera.
---
Video
Most people will use a 360 degrees camera to record videos as opposed to capturing images.
This is the deal-breaker department for many people wondering about which action camera to settle with.
Since the One R is a modular camera with interchangeable lenses, I will focus on the Dual-Lens 360° Mod to give GoPro Max fair gameplay.
But have in mind that there is also a 4K Wide Angle Lens Mod (if you buy the Twin Edition), and another One-Inch Wide Angle Mod.
I will walk you through what is presented by both cameras and show you some sample videos that will help out in picking out the differences. Follow me along.
Video Resolutions
Both cameras shoot in 360 degrees although you also get the linear options.
The GoPro Max can shoot at a maximum of 5.6K (2.1): 5326 x 2688 in a 360 degrees angle of view. The Hero resolutions available are: 1440p (4:3): 1920 x 1440, and 1080p (16:9): 1920 x 1080
On the One R, you will have the following resolutions: 5.7K – 5760*2880 and 3.8K – 3840 x 2160
Going to 360 resolutions on the GoPro Max, the Max can take 360-degree videos at 6K @ 30 fps, and 3K @ 60 fps.
Spherical videos are captured separately with both lenses at 180 degrees each and then stitched together with the selected resolution automatically.
Both cameras will save the video in the MPEG 4 (MP4) format in the memory card.
Here's a great video showing the GoPro Max in action with 360 footage:
And another video shot by Gunnar Biniasch with the Insta360 One R in 360 degrees:
Frame Rates
The maximum frame rate on the GoPro Max is 60 frames per second available with 3K resolution in 360 degrees mode, and 1440p and 1080p resolutions in Hero mode.
30 frames per second is available for the spherical 6K resolution in the Max.
Coming to the Insta360 One R, the maximum frame rate in the Dual-Lens 360 Mod is 100 frames per second which is compatible with a resolution of 3K. You will also get 30, 24, and 25 frames per second in this lens.
You will get a variety of frame rates to choose from in the other Mods for the Insta360 One R.
Bitrates
The Bitrate refers to the minimum amount of data the camera will use to record one second of video.
With the GoPro Max, the bitrate is 78mbps (megabits per second)
On the One R, the maximum Bitrate is 100mbps. Higher Bitrates denotes faster writing speeds hence improved video quality.
Codecs
Both cameras support H.264 and the newer H.265 video encoding formats.
H.265 provides better compression for your video files and will hence result in good quality footage.
You will also get more editing powers in videos encoded with H.265 hence a high versatility in post-production.
Slow Motion
Both cameras can shoot in slow motion thanks to the high frame rates available.
With the new firmware update, 360 videos slow motion is now an option on the GoPro Max, you will have to shoot the 30 videos in 3K at 60 fps.
You will be able to get 2X slo-mo videos.
You can also shoot slow-motion with 60 frames per second in Hero mode using the GoPro Max.
The One R can shoot 360 degrees video 3K @ 100fps, meaning you will get almost 3.5 times slower footage.
Here's a video shot by Luke Edwin showing the slow motion quality of the One R:
---
Stabilization
Both cameras have stabilization technologies to ensure your rugged actions are smoothened up. You get an option to have this feature on / off for both cameras.
On the GoPro Max, the technology has been named Max HyperSmooth while on the One R it is named FlowState.
Max HyperSmooth vs. FlowState
Going with GoPro's standards, Max HyperSmooth is better than what you get with HyperSmooth 2.0 and HyperSmooth which are the stabilization techniques used for the Hero8 Black and Hero7 Black respectively.
In general, stabilization in a 360-degree camera would be more impressive than what you get with a linear camera because the former shoots in a large FOV giving it more room to crop the video.
In this category, FlowState stabilization is a clear winner. However, I'm not trying to say that Max does a bad job in stabilization.
It is only that One R has moved a notch higher and done perfect work here. But still, with the Max, the stabilization is very good.
---
Photo
Photo Resolution & Formats
The GoPro Max can capture photos in 16.6 megapixels although it houses 18 megapixels lenses. It can take both 360 degrees and standard photos. The photos are saved in the JPEG file format.
Photos in the Hero mode are taken with a resolution of 5.5 megapixels.
The photos are of high quality and they have a lot of details and sharpness.
The One R on the other hand takes photos with a resolution of 18 megapixels. The photos are either saved in insp or RAW formats. You will require a desktop software to edit RAW photos.
Both cameras produce crisp photos with good details. However, the photos by Max looked more vivid and natural.
Having RAW capabilities in the One R is a huge plus for me. RAW photos are uncompressed hence they usually take up a much bigger size than JPEG.
With RAW format, you end up getting many photos with lots of pixels hence giving you more editing powers.
Here's a GoPro Max 360 photo:
HDR
The One R has the ability to shoot in HDR. This feature combines several photos in one creating a good quality output.
The Max does not offer this capability.
Exposure Control
It is possible to adjust the exposure on both cameras by using the touch screen for different shooting modes.
You will tap on the area of your photo where you want to adjust the exposure using your finger.
For the GoPro Max, you will get two options for exposure in your selected area, Auto and Locked.
The Insta360 One R gives you Auto and Manual exposure.
Burst
This mode is only available in the One R. In burst mode, you can use your One R to capture a series of photos in a set time interval.
---
Time Lapse
Both GoPro Max and Insta360 One R are capable of shooting both Time Lapse Photo and Video.
Time Lapse Video
This is when the camera shoots frames in a set interval and then combines them to form a single video file. The audio is not recorded in this mode.
One R has a dedicated star lapse mode that is suitable for filming the night sky.
The Max doesn't have a night lapse option like the Hero8 Black, so to shoot night stars, you would need to adjust the ISO and long exposure.
Initially, GoPro Max could only shoot time-lapse in HERO mode so non-360 videos.
However, after the last update, the MAX can now shoot 360-degree time-lapse videos.
Here are the available intervals: 0.5 (default), 1, 2, 5, 10, and 30 seconds; 1, 2, 5, and, 30 minutes; and 1 hour.
Time Lapse Photo
In this mode, the camera captures still images at the set interval then saves in the memory card.
TimeWarp vs TimeShift
TimeWarp is GoPro's version of a hyper-lapse which is similar to time-lapse but for when the camera is moving around and not in a fixed position.
TimeWarp 2.0 uses image stabilization to keep the time-lapse footage smooth and stable.
The Max shoots TimeWarp videos in both 360 and Hero modes. In 360 mode, the resolution is 5.6K & 3K and in Hero mode, you can select between 1440p and 1080p.
The speed on the TimeWarp videos can be set to 2x, 5x, 10x, 15x, 30x.
The One R has a hyper-lapse option called TimeShift. It is very similar to Max's TimWarp.
Videos can be shot using that mode then increase or decrease the speed as you like.
Here's a 360-degree TimeWarp video shot by Ben Claremont with a GoPro Max:
And, a hyerplapse (timeshift) shot by Manolet with an Insta360 One R:
---
Battery
The GoPro Max is powered by a Lithium-Ion battery with a capacity of 1600mAh. On the other hand, the One R uses a rechargeable Lithium Polymer battery with a capacity of 1090mAh.
There are two other battery bases for the One R. A Boosted Battery Base with a capacity of 2380mAh and a vertical battery base with a capacity of 1200 mAh.
The latter base can only be used with a dive mount or the Dual-Lens 360 degrees mod. These two bases will come with an extra cost If you wish to use them.
The striking difference between a lithium polymer and ion battery in the kind of electrolyte used in their electrodes.
Both cameras cannot give you continuous filming of over 90 minutes. However, the Max has a bigger battery in terms of capacity.
The bigger battery on the Max actually compensates for the bigger screen it also has. One R uses a tiny screen that cannot drain a lot of power.
Other factors that affect battery life include:
The shooting mode. Video / Photos
The video and photo resolutions used
Shooting mode settings
Temperature etc
The recommended temperature by GoPro for using the Max is 10 (50°F) to 35 (95°F) degrees Celsius whereas Insta360 recommends using the One R at -20°C (-4°F) to 40°C (104°F)
Both cameras use a USB type C charging system to charge up their batteries. You can either charge it from your computer or the wall socket. The latter is faster as you already know.
---
Other Features
Here are some more features available on the GoPro Max:
Clips: You can shoot 15 or 30-second short video clips that be easily saved to your phone or shared to your social media channels.
Shutter Speed: Good for night shots and hight lapses, you can decide how long you need the shutter to stay open for it to get more light.
Color: You can change the colors to flat, giving you more flexibility during editing.
White Balance: You can set the color temperature between warm and cold, the lower the value, the warmer the color. Here are the available values: auto, 2300K, 2800K, 3200K, 4000K, 4500K, 5500K, 6000K, 6500K and native.
ISO: ISO is the measurement of the camera's sensitivity to light. The higher the ISO, the brighter the images. ISO can be set between 100 and 6400. It is available for both photos and videos.
Exposure Value: Changing the EV Compensation value will have an effect on the brightness of your shots. This can be set to: -2.0, +0.0, +2.0.
Sharpness: This option will control the level of detail in your shots or footage. The higher the sharpness, the more details you will see. It can be set to High, Medium or Low.
Here are some more features available on the Insta360 ONE R app:
Adjust Speed: You can adjust the speed of your video to highlight key moments with cinematic slow-mo or speed things up. Speed can be set to 1/4X, 1/2X, 2X, 4X, 6X, 8X, 16X.
Barrell Shot: The Barrel Roll effect lets you adjust the rotation of your shot with a swipe. Only available for 360 videos.
Bullet Time: The One R blend images from both of the Dual-Lens 360 Mod's fisheye lenses into one seamless shot that stays trained on the center of motion.
Color Plus: Color Plus adjusts your footage to account for tough lighting conditions and color differences in your video. Can be set to on or off.
Multiview: The app can now track your face and keep you in frame in a small vlog window.
Post-production
I use Adobe Premiere Pro which for me is the best video editor ever created, especially when editing 4K and 360-degree videos shot by any camera whether it is a GoPro or Insta360.
If you don't like Adobe Premiere, you have other options you can look at, make sure you check my list of best video editing software.
---
Should you buy the GoPro Max or Insta360 One R?
This is a tough choice for anyone who would put these cameras on their wish list.
GoPro is a trusted brand that makes good action cameras and most of us already know that.
However, Insta360 is the closest competitor to GoPro in terms of giving us the good quality photos and videos we always receive from GoPro.
Being the world's first action camera that features a modular design with interchangeable lenses is something very worthwhile to note.
Both cameras have good video output that can be used as intended.
However, I noticed that the One R lacked the crisp clear details shown by the Max but not to a great extent.
In terms of photos, I am very impressed by the ability to save RAW formats in the One R.
GoPro did very well in providing six microphones in the Max model.
These strategically located mics can capture sound in every corner of your 360 degrees footage.
Insta360's answer to that was in providing an adapter that can be used to attach an external microphone. I would prefer an external microphone any day, no matter how many internals I get on a camera.
The video stabilization in the One R is amazing, to say the least. GoPro Max also produces smooth footage but in more rugged situations, One R stands still.
---
To Conclude
GoPro Max vs Insta360 One R is not a comparison on which one is the very best in all dimensions.
There are places where they outdo each other. For me, I will go with the Insta360 One R because of many reasons but majorly, I like the fact that it is a modular design camera.
Having different lenses in my bag from which I can choose for my shots is something I enjoy in my adventures.
At the end of the day, your decision will depend on what you are looking for in an action camera.
---
---
I hope you found this comparison helpful.
If you have any questions or comments about any of the cameras, please leave it below and I will get back to you.