Olympus has their Tough series of cameras which are designed to be more compact and weatherproof.
In May 2019, Olympus announced their replacement to the TG-5 camera which is named TG-6.
The Olympus TG-6 is strikingly similar to its predecessor in terms of physical appearance and you may not be able to distinguish between the two in red color.
If you already own the TG-5 camera, I do not see any major reason why you should be upgrading.
However, Olympus made a few changes in the LCD increasing the color dot to 1.04 million from 460k, the one we got in the TG-5.
Unlike other action cameras, TG-6 packs several sensors, shockproof, dustproof, crushproof, freezeproof, and waterproof capabilities which constitutes its tough capabilities.
It is true to say that Olympus makes the true rugged cameras, continue reading along this post to get my experience and review of the Olympus Tough TG-6 camera.
---
Let's Jump to the Review!
Product: Olympus Tough TG-6
Release date: May 2019
Warranty: Yes
Cheapest place to buy: Amazon
---
Olympus Tough TG-6 Specifications on paper
| | |
| --- | --- |
| Spec | Supported |
| Video | Maximum 4K@30FPS, FHD, HD, and SD. |
| Effective pixels | 12M |
| ISO | Auto, 100 – 12800 |
| Zoom | 4x Optical, 2x Digital |
| Focal Length | 25-200mm |
| Maximum Aperture | F2.0 – 4.9 |
| Image Stabilization | Yes, sensor shift. |
| Display | 3.0 inches with 1,040k-dot LCD |
| Wi-Fi | Yes |
| GPS | Yes |
| USB | 2.0 (480 Mbit/sec) |
| Memory card | Yes, |
| Dimensions | 113 x 66 x 32 mm or 4.45 x 2.6 x 1.26 inches |
| Weight (including battery and memory card) | 253 grams |
---
The Unboxing Experience
With your retail purchase of the Olympus Tough TG-6 camera, you will get the following items in your box:
Olympus Tough TG-6 camera unit
USB cable
Hand strap
Instruction manual
Warranty card
LI-92B Lithium-Ion Rechargeable Battery
F-5AC USB-AC Adapter
If you lose your instruction manual or prefer an online edition, click here to download the PDF version.
---
Design & Components
Olympus did not put a lot of effort into altering the design of the TG-5 in making the new TG-6.
Apart from the imprints around the cameras which differentiate them, the two are completely identical, to say the least.
Weight and Dimensions
The TG-6 weighs 253 grams (0.56 pounds / 8.92 ounces) with the battery in place. This only represents a 3gram increase from the TG-5.
The box-shaped camera has dimensions of 113 (W) x 66 (H) x 32 (D) mm which is exactly similar to what we got with the older TG-5.
Processor & Image Sensor
The processor on the TG-6 is TruePic VIII which is made by Olympus.
This processor is said to improve the sensor-shift image stabilization as well as the image quality produced by the TG-6.
I did my tests on this camera and I will be giving my thoughts on the performance of the processor later in this review. Be sure to check that out!
The TG-6 has an image sensor type known as BSI-CMOS with a size of 6.17 x 4.55 mm. This sensor supports a maximum resolution of 4000 x 3000 with effective 12 megapixels.
LCD Monitor
One big improvement that comes with TG-6 is the revamped display in terms of pixel color dots (dot pitch).
It has a 3 inch LCD monitor at the back of the camera that supports 1.04 million pixel color dots up from 460K, the one we saw with the TG-5.
In a nutshell, the dot pitch is the ultimate determinant of how sharp a display will appear.
Having a huge pixel-dots directly translates to a sharp display and vice versa. So, the TG-6 has a very sharp display compared to its predecessor and I was very impressed with what I saw.
Being an LCD monitor, the TG-6 has no touch screen capabilities at all.
If you are coming from brands like GoPro which offer Touch-sensitive displays, then this is something you are going to miss and it will be a deal-breaker to some.
Can you keep up with a camera without touch screen functionality? Let me know down in the comments.
Lens
The TG-6 is packed with a very fast FCON-T02 fisheye F2.0 macro lens with a maximum of 8X zoom capabilities.
The lens does not pick fingerprints easily when touched and I have found this to be a breath in the fresh air since I do not need to wipe it all the time.
The lens is 4.5-18mm and you get the ability to shoot in a Wide-angle. You also have the option to adjust the views between circular and diagonal by changing the focal length.
With this camera, you get an LB-T01 lens barrier which is normally available on point & shoot cameras
Coupled with the CMOS image sensor, this lens produces very high-quality images and videos with bags of details.
Although protecting the lens in the TG-6 might not be a necessity owing to the rugged nature of this camera, it is always good and healthy to consider getting one just in case.
I always use the JFOTO TG-C Lens Cover which can also be used with other Olympus cameras in the Tough series.
Ports and Sockets
There is a door on the right side of the camera that covers both the micro HDMI and micro USB ports.
You can connect the camera to a PC or screen to either transfer your files or playback your saved recordings.
The USB port is used to charge the camera's battery. You will connect the USB cable to a supplied USB AC adapter to be able to connect it to a wall socket.
On the top right of the camera, there is another door that covers the battery and the SD card compartments.
To open this door, there is a lock knob that needs to be twisted in the direction imprinted on its side. The following cards are supported in this camera: SD, SDHC, and SDXC.
Always make sure you format any new card you introduce to the camera, the formatting option is provided in the TG-6 settings.
Microphones & Audio
The TG-6 has a pair of stereo microphones located at the top side of the camera.
The use of two microphones is key in ensuring you get better sound quality. Unlike other cameras, you get an option to adjust the recording volume in the video settings of the camera.
I have found the audio quality to be improved on the TG-6 as compared to the Olympus Tough's preceding model.
However, the audio is not the best in the action camera space especially when you compare to the Hero8 Black from GoPro. You can read my GoPro Hero8 Black full review.
One downside with this camera is that you do not get the ability to connect an external microphone.
At its huge price point, Olympus should give its users a chance to enjoy boosted audio performance. If audio quality is a deal-breaker for you, then there is a huge stumble here.
Wind Noise Reduction
Olympus TG-6 gives you the option to reduce the wind noise for clearer audio quality.
This option can be put on/off depending on your preference. I usually put it on when in extremely windy environments and it does a decent job in eliminating some of the noise from wind.
---
Rugged Technology
Being in the Tough series of the Olympus cameras, the TG-6 features dedicated capabilities to enable users to enjoy wild adventures without the need of worrying about breaking or spoiling the camera and its internals.
Waterproof
The TG-6 is waterproof without the need for waterproof housing.
You can dive up to maximum depths of 15 meters (50 feet) without worrying about water damages. This rating is perfectly fit for use in snorkeling and underwater photography.
If you need even deeper underwater experience, you can consider getting the Olympus PT-059 Underwater Housing which will boost the depth limits to 45 meters (147 feet).
Shockproof & Crushproof
Dropping your TG-6 camera should not give you stress anymore because Olympus has made this camera shockproof from a maximum height of 2.1 meters (7 feet) and crushproof to tolerate force of up to 220 pounds.
Having this shock and crushproof capabilities in your camera is a nice inclusion but I will advocate for total care when handling your camera. Let these features only serve you during emergencies and do not drop your camera anyhow.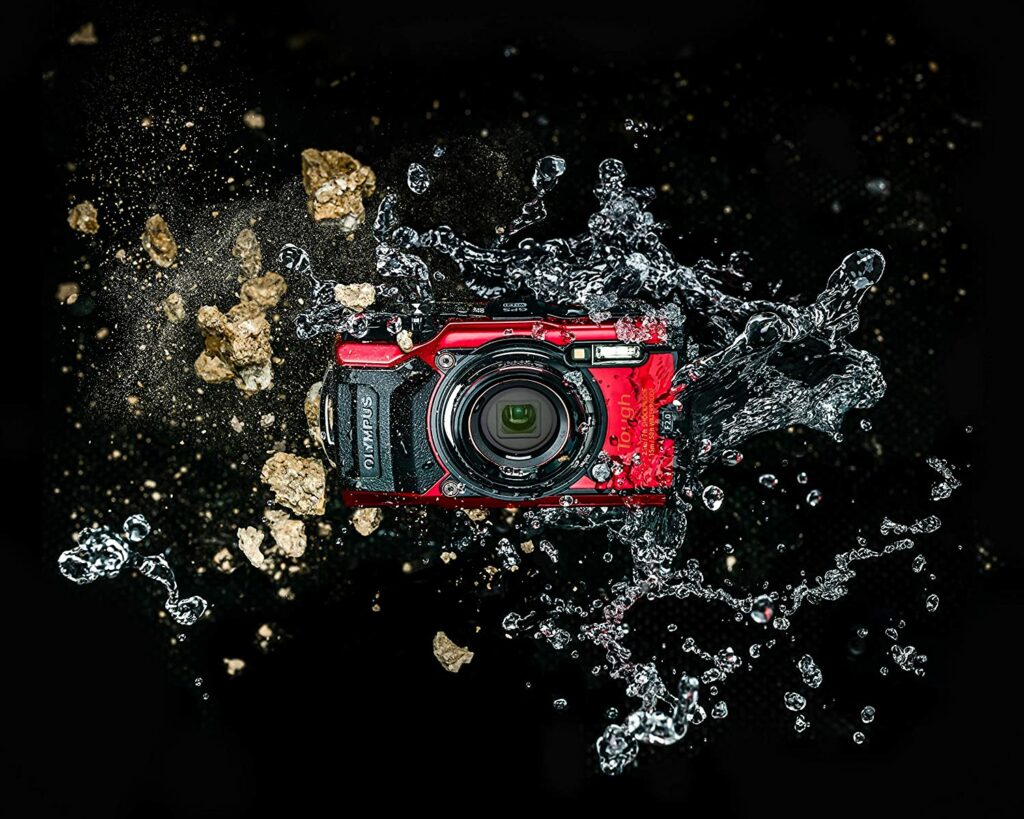 Freezeproof
During winter and extreme snow weather, you have no reason to leave your camera behind for the fear of internal damage. You can use the TG-6 on freeze slopes to temperatures as low as 14°F (-10°C) without seriously minding about your camera's internals.
Dustproof
In desert areas, the TG-6 can withstand the dust without necessarily compromising your audio and video qualities.
The airtight body construction of the camera permits minimal to no dust particle entrance to the camera.
Controls and Buttons
As I pointed out earlier, the TG-6 does not have a touch screen display, hence you are going to rely on the buttons to change your modes and navigate through the different settings.
Menus
Accessing the menu is very straightforward, all you have to do is press the menu button (which doubles up as a Wi-Fi button), and a list of available options will open up on your screen.
One thing I liked about this camera is the layout of the buttons; they are concentrated near the display of the camera at the back, this makes the navigation even easier since you get a real-time view of what you're doing.
The power button, shutter button, control dial, LOG switch and the zoom lever are all located on the top side of the camera.
The playback button, MENU/ Wi-Fi button, arrow pad, INFO button mode dial, and movie/select button are located at the back of the camera on the right side of the LCD.
Modes
The Olympus TG-6 has different modes for shooting photos and movies. In underwater, you will get five different photography modes. I will give you more insights about that later in this review.
Remote Control
The TG-6 does not feature a physical remote control device like the ones provided by GoPro, Akaso, and other brands.
Instead, you will have to connect the TG-6 to a smartphone via the in-built Wi-Fi for you to control the camera remotely.
I don't have any problem with this option because even with other brands, I rarely use the remote control. Having this capability in my smartphone is quite good for me.
You can also use the TV remote control to operate your camera once it is connected to the TV via the HDMI port.
When the HDMI is connected, you will select ON for HDMI control to be able to use this feature. It's important to note that you can use the TV remote control for playback only.
Logging system
This feature allows you to record the GPS and other data to draw the direction of your travel ensuring you are still in the track.
---
Video
Video Resolutions & Aspect Ratio
The TG-6 shoots videos with a maximum resolution of 4K (UHD), which is native and can be combined with 30 frames per second.
You also get the following resolutions with this camera; 1080p (FHD), 720p (HD), and 360p (SD).
The following are the pixel widths and heights for each resolution:
4K: 3840×2160
1080p: 1920×1080
720p: 1280×720
360p: 640×360
The following aspects ratios are available with this camera 4:3 (standard), [3:2], [16:9], [1:1], and [3:4]. You get the option to choose your desired ratio for screen size.
How is the Video Quality?
The 4K shooting does a very impressive job in producing good quality videos with sharpness and many details @ 30fps during the day.
I must say the waterproof macro photography is really really impressing. See below some videos shot with the Tough TG-6 in different scenes.
Underwater Video Quality
Daytime Video Quality Shot with Different Resolutions
Daytime Macro Video Test
Low light footage is not the best, however, you get a flashlight that illuminates your subjects at night.
In addition to that, the ISO ranges from 100 – 12800 which is very impressive and can give you a lot of options to ensure you get a bright night shot.
Frame Rates
The TG-6 supports a maximum frame rate of 480fps which can be shot with a standard definition of 360p.
This combination is very key in ensuring you get slow-motion footage. Other frame rates available in this camera are: 240fps, 120fps, 60fps, 50fps, 30fps, and 25fps.
Bitrates
The TG-6 supports a maximum bitrate of 102Mbps which is an improvement from the previous TG-5.
This bitrate is even higher than what we get with the GoPro Hero8 Black which goes up to 100Mbps.
Higher bitrate indicates more compression rates or writing speed which in turn will produce better quality videos.
Lower bitrates will give you smaller file sizes while expectedly compromise your video quality.
You will get the following options to choose for the bitrate in the TG-6;
SuperFine (SF)
Fine (F)
Narrow (N)
Video Codec
The Olympus TG-6 supports only one video encoding option, the H.264 (AVC) which will save videos in the MPEG-4 (MP4) file format.
This codec can save an individual file to a maximum size of 4GB, ensuring you don't pass that limit since your footage will be split.
Also, the maximum individual time for recording one video is 29 minutes which is pretty low for the camera's price. Olympus should check on improving that.
The H.264 does not give you much post-editing capabilities compared to the newer H.265.
Slow Motion
Owing to the very high frame rates supported by the TG-6, it is very much possible to record movies in slow motion.
If you like recording slow motion action scenes then Olympus got you covered.
Using the following resolution and frame rates will give you slow-motion footage:
1080p @120fps
720p @240fps
360p @480fps
Using the standard definition at 360p will not give you a very clear video, but you will get dramatic slow-motion movies.
480fps will give you 16 x slower videos, 240fps will give you 8x slower videos, and 120fps 4x slower videos.
When shooting in slow motion, you will not be able to turn image stabilization on, keep that in mind.
Image Stabilization
Olympus included a Sensor-shift Image Stabilization technology in this camera which is similar to what we saw with the TG-5 model.
Unlike the Electronic Image Stabilization (EIS) which is very common in the action camera space, Sensor shift image stabilization uses a completely different technology to eliminate shakes and movements.
It means that the TG-6 has a floating sensor that shifts whenever the camera shakes to counterbalance the movement.
In the TG-6, Image stabilization works for both still photos and videos.
You can either have this setting on or off, there is nothing like boost/high option which we get with the GoPro Hero8 Black.
I found the stabilization to be very useful in providing shakes-free videos, especially when doing less intense actions like walking.
Doing intense actions will not give you a completely shakes-free video, as Olympus claims.
I have found the EIS in GoPro Hero8 Black works so much better to produce smooth footage.
Field of View
This represents the angle that can be captured by the TG-6 lens.
The maximum FOV angle available with this camera is 105°. This is not very wide as compared to other action cameras but it gets the work done especially underwater.
If you want to get a wider field of view, you can purchase an additional Olympus accessory to revamp your lens.
---
Photo
Resolution
The Tough TG-6 has a back-illuminated CMOS image sensor that can capture a maximum of 12 megapixels.
Olympus says they included an Anti-reflective coating in the sensor which should be more useful in underwater photography for filtering out the characteristic ocean/lake colors.
Photo Formats; RAW and JPEG
The TG-6 supports both JPEG and RAW formats.
Having RAW options is very impressive in a camera since it will give you more editing powers in post-production.
You can use the new Olympus Workspace image editing software to process your photos or still, you can process the images right within the camera.
RAW photos usually occupy a large file size since they are not compressed.
ISO Photo
The TG-6 has a wide range of ISO to choose from for your photo shooting. With the Auto option, you also get a range of between 100 to 12800.
Higher ISO values will give you brighter shots in low light conditions while compromising the quality of the photo.
Underwater Shooting
Something I particularly like about the Olympus cameras is the dedicated underwater photography mode which is even improved with the TG-6.
There are five modes you can use in underwater photography:
Underwater Macro: Use this mode when you want to get close-up images of small objects. You can zoom in to get the close view but remember, the lens will only focus at a minimum distance of 10 cm. Do not go smaller than that past your subject or the depth of view will become very shallow. You can use the flash to illuminate your subject.

Underwater Microscope: With this mode, the camera will use the end of the lens to shoot subjects from as close as 1cm away. This mode can be equated to using a microscope underwater since it magnifies the subjects.

Underwater Wide: Shooting in dark underwater conditions is now made easier with this mode. You can navigate through the various settings e.g. white balance, flash, and others to make sure you get the perfect shot.

Underwater Snapshot: When in this mode, your camera will use the natural light to shoot in that water body to give you the real experience in a snapshot.

Underwater HDR: In this mode, your camera will save multiple images in varying exposures and composited to produce a very nice photo of the underwater sections.
Underwater White balance
You will get three modes to select from the underwater white balance setting depending on your water depth, they are Shallow, Mid-range, and Deep.
These new options have improved the underwater images compared to the preceding Olympus cameras.
Photo Quality
The daytime photos shot with a resolution of 12MP are good and can be used as intended.
The night images are also OK and I noticed a slight improvement from the previous TG-5 model especially when I adjusted the ISO level.
The underwater shots are so nice to have, the TG-6 captures a lot of details in this mode.
Here are some photos captured with the Tough TG-6:
Pro Capture
You can use this mode to take continuous shots with your TG-6. This feature allows your camera to fix its focus on the fast frames.
The camera will capture with a rate of 10fps starting at 0.5 sec before the shutter button is completely pressed down. I use this mode to capture moments I may otherwise have missed.
---
Battery
The Olympus Tough TG-6 is powered by a 1350mAh Olympus LI-92B rechargeable 3.6V battery.
This is the same battery we got with the TG-5 model, Olympus did not make any improvement in this department.
This battery is a Lithium-Ion as with what we see with many other action cameras.
The battery has a dimension of 40 (W), 8 (H), and 33 (D) mm, and weighs 26 grams. You will be able to charge this battery directly from within the TG-6 camera via the micro USB port.
Olympus says that the battery can take up to 340 shots with a single charge according to CIPA tests and 50 minutes movies recording time under standard JEITA testing.
I usually mix photos and videos in my adventures and with that, I have found this battery to be a disappointment.
When shooting in 4K, be sure to carry an extra or two batteries so that you don't run out of juice.
For my spare, I bought the Big Mike's Olympus spare battery that also ships with a charger.
You can also use your power bank to charge the battery from the camera, and one thing I liked is that you can keep using the camera while it charges up.
GPS, pressure, depth, temperature, and altitude data, along with an electronic compass to show the direction of travel.
---
Olympus Smartphone Apps
Olympus provides two Apps that can be used with their cameras including the TG-6. The apps are namely; OLYMPUS Image Share and OLYMPUS Image Track.
First, ensure you have downloaded the apps from either Google Play or Apple Store depending on your phone's OS.
Open Wi-Fi from your camera and connect the phone to the camera's Wi-Fi.
Once connected, you can be able to use the Image Share App to monitor your recordings live as well as control the camera remotely.
You can simply touch your preferred focus point on the phone's screen and press the shutter to have an image focused on that area.
The Image Track App can be used to change the camera's GPS data and display the track you have taken.
---
Conclusion – Is the Olympus Tough TG-6 Worth it?
Though minimal, the Olympus TG-6 has very slight improvements to the preceding TG-5.
The screen resolution is now more than double up from 460k to 1.04million pixel dots in the TG-6.
Underwater photo qualities have been improved thanks to the additional modes and white balance functionalities.
Macro photography is awesome and I really liked how clear the footage looks.
The audio quality is okay and can be used although I will appreciate the inclusion of an external microphone capability. Otherwise, the stereo microphone gets the work done.
Battery life and performance is not the best for an action camera, brands like Drift Innovation have taken their battery game to another level and Olympus should borrow a leaf from them
The Tough capabilities of this camera are arguably the selling point, there are no worries at all for breaking or damaging your camera from falls and knocks.
Going with my Olympus Tough TG-6 review, I would recommend this camera to people who are coming from TG-3 or TG-4.
If you already own a TG-5, there is no big improvement that will worth your extra bucks.
---
I hope you liked my review on the Olympus Tough TG-6 and found it useful.
If you have any questions regarding this camera, please leave a comment below and I will get back to you ASAP!