Welcome to my Ricoh Theta Z1 vs GoPro Max comparison post.
GoPro is a brand leader when it comes to action cameras but with Ricoh, a tough competition looms. Which of these 360 cameras would you consider?
When it comes to action cameras, many people consider GoPro as a leading brand in this industry.
In 2019, GoPro introduced the GoPro Max which is a successor to the GoPro Fusion.
SEE ALSO: GoPro Max vs Insta360 One R Comparison Post
Ricoh on the other hand is doing all it takes to compete with professional cameras like DSLR.
With the introduction of the Z1 in the Theta line-up, users are now spoilt for choices from Ricoh. Check my review of the Ricoh Theta Z1.
360-degree cameras introduce a breathtaking experience in capturing your activities and making virtual tours.
Spherical cameras are better than standard cameras in terms of the amazing views you get from impressive image stabilization.
If you are torn between purchasing the Z1 or GoPro Max then you are in for a tough puzzle because these cameras cannot easily replace each other.
As you already know by now, Theta Z1 captures excellent photos whereas GoPro Max takes good videos.
Choosing between these cameras will depend on which shooting mode suits you in your adventures and virtual tours.
Both cameras have advantages and disadvantages over each other in various photography, videography, and user experience aspects.
A good example is the presence of a touchscreen display on the Max, while the Z1 only has a small status screen that cannot even be used for preview nor playback.
The Z1, on the other hand, has a candy-bar shape which is long and easy to pocket while Max has a boxier shape which is a little bit chunkier in my opinion.
In this comparison post, I will be giving you such important information about both cameras while making sure you get my thoughts and experience on how it will affect the user experience.
All information to do with camera design and outlook, video properties, photo properties, shooting modes, battery performance, and many more will be discussed in this post.
Be sure to follow me through to get a full view of what you will be getting into if you decide to purchase either camera.
As a start, I am going to show you a side by side tabulated technical specification for both cameras so that you get a picture of how they measure up against each other on paper.
---
Product: GoPro Max
Release date: October 2019
Warranty: Yes
Cheapest place to buy: Amazon
---
Product: Ricoh Theta Z1
Release date: February 2019
Warranty: Yes
Cheapest place to buy: Amazon
---
Ricoh Theta Z1 vs GoPro Max Specifications
Spec
Ricoh Theta Z1
GoPro Max
DESIGN
Body Dimension
48mm(W) x 133mm (H)x 30mm(D)
64mm(W) x 69mm(H) x 25mm(D)
Weight
182 grams
154 grams
Lens
x2 1.0-inch CMOS image sensors
x2 1/2.5-inch CMOS image sensors
Display
Status Screen
Touch Screen
Chipset
Snapdragon
GP1
Memory
19GB Internal Only
MicroSD card up to 256GB storage capacity.
Media Interface
USB Type C
Micro USB
Waterproof
NO
Yes, up to 5 meters / 16 feet
Battery
Built-in Lithium Ion
Lithium Ion
VIDEO
Lens Aperture
f/2.1, f/3.5, and f/5.6
f/2.8
Video Resolution
4K@30fps
5.6K spherical videoHERO Mode 1440p60 / 1080p60
Video Format
MP4 (H.264/AVC)
MP4 (H.264/AVC), MP4 (H.265/HEVC)
Shutter Speed
(Auto) 1/25000 to 1/30 seconds (Shutter priority, Manual) 1/25000 to 1/30 seconds Live streaming: (Auto) 1/25000 to 1/30 seconds
1/30s to 1/480s
Video Codec
H.264
H.264 and H.265
Maximum Bitrates
56Mb/s
78Mb/s
Video Stabilization
Yes
Yes, Max Hypersmooth
Livestream
Yes, in 4K
Yes.
Shooting Modes
Noise reduction
DR correction
Auto HDR
Interval shooting
Internal Composite Shooting
Shooting with self-timer
Shooting with multibracket
Spherical
Hero mode
Slow-motion
Timewarp
Timelapse 
PHOTO
Photo Resolution
26.6MP RAW
22.6MP JPEG
18MP Source, 16.6MP Stitched 360 Photo
5.5MP HERO Photo
Photo Formats
JPG and Raw (DNG)
JPEG, RAW
Shutter Speed
(Auto) 1/25000 to 1/8 seconds,(shutter priority mode) 1/25000 to 1/8 seconds(Manual mode) 1/25000 to 60 seconds
Auto, 1/125, 1/250, 1/500, 1/1000 and 1/2000
ISO Photo
80 – 6400
100, 200, 400, 800, 1200, 1600, 3200, 6400
Exposure
Aperture priority
Auto- Noise reduction- DR compensation- HDR rendering
ManualShutter priority
ISO priority
Auto, Manual (Shutter 1/8000s-120s, ISO 100-3200), Shutter Priority (1/8000s-2s), ISO Priority (100-3200)
AUDIO
Microphones
3
6
Audio Type
Spatial Audio
360 + Stereo (default), Stereo
External Microphone port
No
No
---
What's in the Box?
With the retail version of both cameras, you will find the respective items in your packaging.
Ricoh Theta Z1
GoPro Max
Ricoh Theta Z1 camera unit
1x Instruction manual
1 x USB AC cable for charging
1 x Soft Case
GoPro MAX Camera Unit
1 x Rechargeable Battery
1 x Curved Adhesive Mount
2 x Protective Lens
2 x Lens Cap
1 x Microfiber Bag
1 x Mounting Buckle
1 x USB Type C Cable
1 x Thumb Screw
We can see that GoPro Max offers a better unboxing experience in comparison to Theta Z1.
---
Design and Components
These cameras take on a completely different design language.
Theta Z1 has the signature candy-bar shape that Ricoh uses for its theta cameras while GoPro Max takes on the square design that GoPro has used for a long time.
GoPro Max is however not completely square like what we see with other GoPro cameras including the Hero9 Black and Hero8 Black.
SEE ALSO: Ricoh Theta Z1 vs Insta360 One X
Theta Z1 has a glossy finish whereas the GoPro Max has a matte-like finish.
This means that Theta Z1 will be somewhat slippery in the hand. I would advise the user to handle the camera consciously because it can easily slip off the hand.
Weight and Dimensions
Despite appearing to be smaller in size, the Z1 is chunkier than the Max in terms of weight.
The Z1 weighs 182 grams while the Max weighs 154 grams. Both masses are not that big and that means that none of these cameras will give you a huge challenge in carrying it around.
Moving on to body dimensions, the Theta Z1 measures 48mm(W) x 133mm (H)x 30mm(D) whereas the Max measures 64mm(W) x 69mm(H) x 25mm(D).
We can clearly see that the Z1 has a taller height than the Max.
Touchscreen vs. Status Screen
In terms of display, the GoPro Max has a touch-sensitive panel that is also used for live preview and video playback.
The Z1 on the other hand has a small status screen that is even smaller than the one on the front side of GoPro Hero8 Black.
The screen is used to display information such as battery level, shooting mode, wireless connections, and many more.
GoPro Max does not have a front status screen like the other regular GoPro cameras in the Hero lineup.
If you are accustomed to controlling your camera via touch-sensitive display, then going for the Theta Z1 will be a challenge because you will miss that feature.
Both the touch and status screens are bright enough to be effectively seen in direct sunlight. This makes outdoors adventures more interesting and user-friendly.
Dual-Lens
An outstanding feature of any 360-degree camera has to be the two lenses that work together to create a spherical video and photo.
Each lens captures its view in not less than 180 degrees then the camera combines both views to create a single spherical outcome.
Both cameras have an internal stitching option which is the process where the camera combines the two views from each lens to create one view.
If you go for the low-quality 360 cameras which are often cheap, you experience problems in internal stitching where the camera will give an output where you can see a clear line between the two views from either lens.
Variable vs. Fixed Lens Aperture
Lens aperture refers to the level of openness that the lens can go to allow light to enter into the lens and image sensor.
The Theta Z1 has a variable lens aperture system where you can go from f/2.1, f/3.5, or f/5.6.
The Max on the other hand has a fixed lens aperture of f/2.8
Having a variable system is a good step in the right direction in ensuring that users can choose how they want the camera to perform in different lighting conditions.
As I mentioned earlier, Ricoh seems to be out to offer a competition to professional cameras like DSLR because this is a feature mostly seen in such cameras.
Ports and Sockets
Both cameras use a USB Type C port for charging and media transfers.
The port is located on the bottom side of the camera for the Z1 while for the Max, you will be able to find it behind the camera's battery door.
The Max has a microSD port that can support memory cards of a capacity of up to 256GB of storage. For the Theta Z1, there is an internal 19GB memory capacity which is non-expandable.
If you are a heavy user, you might require a camera with enough storage capacity for your recordings. But for me, I see 19GB as enough especially since I use the Z1 for capturing still images only.
The Theta Z1 has a mounting screw hole at the bottom center of the camera, you can use this hole to attach the camera to your favorite mounting accessories and selfie stick.
The Max has folding fingers at the bottom of the camera for mounting purposes. It is good to see that you can mount the cameras without needing an extra case to offer support attachments.
Both cameras don't have an HDMI port, you will depend on the USB port for media transfers.
Microphones and Audio
Being 360 cameras, we expect to find several microphones that should seamlessly capture spherical audio.
The Theta Z1 has four microphones for recording audio in what Ricoh calls Spatial Audio. The Max has six microphones dotted on the camera to offer spherical stereo audio.
Comparing audio from both cameras, I found out that GoPro Max performs better in terms of capturing clear audio.
Also, Max has an advanced noise cancellation which removes background wind noise from your recordings.
Both cameras do not have a dedicated 3.5mm port for external microphone connections.
It is however not recommended to use an external microphone especially the wired ones in 360-degree cameras because they will present artifacts in stitching the videos.
Which camera is waterproof?
GoPro Max is waterproof without the need for waterproof housing.
Ricoh Theta Z1 is not waterproof without the need for waterproof housing.
You can submerge yourself in water with Max for up to a maximum depth of 5 meters / 16 feet without worrying about any water damages to your camera.
Having a waterproof camera offers good protection against rain and accidental splashes, therefore, you will have to be careful not to expose the Z1 to wet environments.
If you are a deep diver, you can get a waterproof case for your Max and push the depth limit to 30 meters/ 98 feet.
There is no waterproof case available for the Z1.
---
Controls and Buttons
Both cameras can be controlled by buttons that are strategically located around the camera to offer easy clicking.
The Theta Z1 has the Shutter button on the front side. You will use this button to start/stop video recording and for taking photos.
On the side of the Z1, we have all the other buttons located vertically. There is the Power button on the top for powering the camera ON/OFF.
Then follows the Wireless button which is used to activate Wi-Fi and Bluetooth.
Next, we have the Mode button which is used to switch between Photos and video mode.
Finally, there is a new key named the 'Function button' which is used to toggle between self-timer and regular shooting on the camera.
Moving on to the GoPro Max, we have the power button that also functions as the mode button. You will use this button to power the camera ON/OFF as well as to change the shooting modes.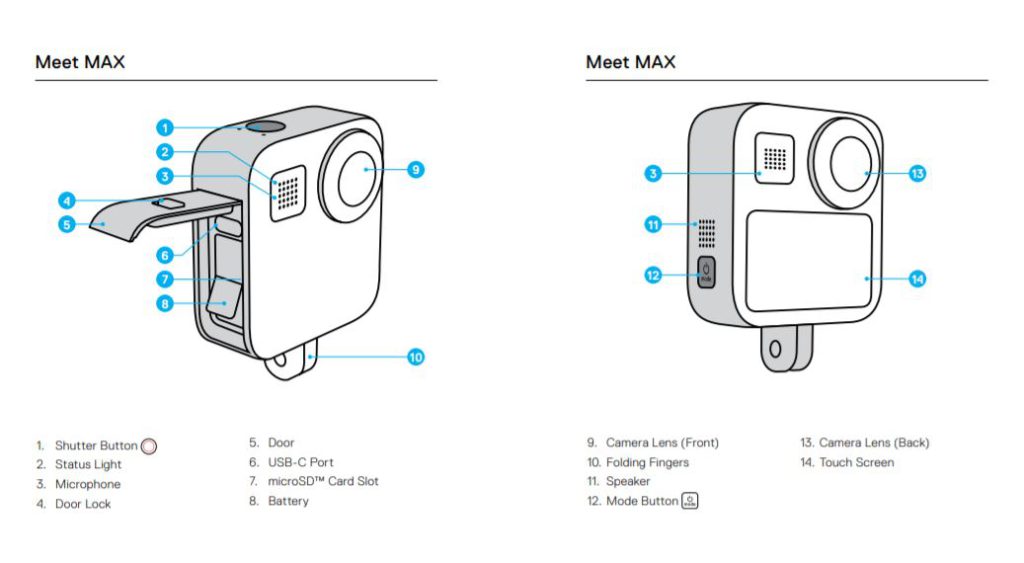 The second button on the Max is Shutter, which is used for video recording, photo capture, and playback.
Using the Smartphone App
Both cameras have in-built Wi-Fi which means that you can connect to a phone and control the camera via the compatible APP.
You can download either Apps (GoPro APP and RICOH THETA App) from either Google Play or App Store and install it on your device.
After a successful installation, you will then pair your camera to your phone by using a Wi-Fi connection; in creating a hotspot from your camera.
Once connected, you will then use your phone to change things like video resolution, ISO settings, white balance, exposure, and many more.
Apart from controlling the camera via the App, you can also use your phone to live-preview what you are recording.
After recording, you will then edit the footage right from within your phone in the App.
Finally, you can use the APP  to share the recordings with your favorite social media platforms.
Both Apps work in a more or less similar way, there are a few differences between the two but not major to be a deal-breaker.
---
Video
Moving to the video segment, I will show you the various features that are supported by both cameras and how they perform in video performance.
I will go through the video resolution, codec, bitrates, formats, and many more.
Video Resolution
The Theta Z1 has two resolutions, 4K and 2K.
The Max has a maximum of 6K resolution for 360 mode and 1440p & 1080p for Hero Mode.
We can see that GoPro Max offers more in terms of video resolution than theta Z1.
This already suggests that Ricoh did not put more effort into making sure that the Z1 excels in videography.
If you need videos with many details, then you need to check out the camera with more resolutions.
How does the video quality compare?
GoPro Max has better video quality than the Z1. This can be seen by the much clearer and sharper video.
Theta Z1 videos appear of lesser quality when you put it side by side with the one from the Max.
Despite Ricoh utilizing good developments like improved image sensor and lens functionality, the camera still has less to offer in terms of videos.
Video Formats
Both devices save video files in the MP4 format.
Video Codec
Theta Z1 has only one code; the H.264 (AVC). The Max on the other hand has two codecs; the H.264 and H.265(HEVC).
H.265 video coding is better because it compresses videos in a good way and results in a video file with reduced file sizes with the same high quality.
GoPro Max uses Google EAC to convert videos to the MP4 format in-camera.
Video Bitrates
This refers to the amount of data that will be used to record a 1-second-long video by the camera. For the Z1, the bitrate reaches 56Mbps (megabits per second), when recording videos.
The Max uses 78Mbps which is compatible with the H.264 video codec only.
Other codecs available for the Max are; 45/60Mbps, 30/45Mbps, and 24/36Mbps. You can select your preferred video codec in Protune for video.
The higher the video bitrate, the better the writing speed which will eventually improve the video quality.
Electronic Image Stabilization
Both cameras have EIS for removing wobbles in shaky videos. Max HyperSmooth performs better in this task than the stabilization in Theta Z1.
In matters of video stabilization, 360-degree cameras are always a step ahead because of the massive FOV which gives an extra room for video cropping.
To drive my point home; Max HyperSmooth performs even better than HyperSmooth 2.0 which is the EIS in GoPro Hero8 Black.
When you are walking with the camera in vlogging and doing activities like cycling and hiking should not pose a challenge to you when you have the GoPro Max.
Have a look at the video below by Ranatinho that shows the performance of Max HyperSmooth in cycling.
This is a video by 'the 360 guy' shot with the Ricoh Theta Z1:
---
Photo
Moving on to still images, you will quickly notice that Ricoh did a good job of ensuring that Theta Z1 excels in this category.
In this segment, I will highlight photo resolution, photo formats, photo settings, and many more
Photo Resolution
Theta Z1 has a maximum photo resolution of 23MP which is impressive enough for 360 photos. The camera also takes 22.6MP JPEG photos.
GoPro Max can take both spherical and regular photos. 360-degree photos are captured with a maximum of 18 megapixels then later stitches to produce 16.6 megapixels photos.
For both cameras, you can capture 360-degree photos then later reframe in editing to have regular photos.
How do the photo qualities compare?
Ricoh Theta Z1 captures better photos than GoPro Max. The colors are well balanced giving no room for overexposure.
Ricoh has also done a good job of ensuring that Ghosting is reduced when taking the photos. You will only experience minor cases of ghosting when capturing moving people in HDR.
GoPro has always done a good job on how their cameras capture the sky, but with the Z1, the sky is perfectly captured giving you an impression of how you would see it with your eyes.
Once you fine-tune the exposure, ISO, white balance, and the correct lens aperture for the Theta Z1, you will surely capture everything as your eyes would see them.
The one-inch image sensor also ensures that the Theta Z1 has improved night performance which is a problem for the Max.
Here are some photos shot with the Theta Z1:
And a 360 photo taken with the GoPro Max:
HDR
The Z1 has better HDR owing to the small lens aperture which will allow the camera to capture high dynamic range.
HDR in the Z1 exposes the still images nicely without any appearance of crushed shadows.
As I have mentioned before, you need to beware of ghosting which will faintly appear when you use HDR where moving people are involved.
A nice trick will be to avoid shooting people in HDR and always have the camera still for this purpose.
JPEG vs RAW
Ricoh Theta Z1 has both JPEG and RAW formats for photos whereas the Max has the JPEG option only. I prefer using the RAW format because of the flexibility when it comes to editing the photos.
Here is an article explaining the difference between JPEG and RAW.
From my experience, I would say that Theta Z1 has the best DNG RAW in any point and shoot 360-degree camera.
The RAW capabilities of the Z1 are getting closer to the DSLR in terms of quality and usability. Other companies are yet to attain this level.
The photos look sharper thanks to the high resolution in the Z1. To get different levels of exposure, you can adjust the aperture.
Ricoh has developed plugins that are so useful when editing the RAW images in Adobe Lightroom.
PowerPano
This is a feature available for the GoPro Max which enables you to take a 270-degree panoramic photo just by pressing the shutter button once.
A big advantage here is that you can take the panoramic photo without having to move your camera along.
Photo adjustment settings available for both camera
·     ISO Photo
·     Exposure Control
·     White Balance
·     Shutter Speed
---
Battery Comparison
Ricoh Theta Z1 has a rechargeable in-built Lithium-Ion battery that powers the camera. The GoPro Max has a removable and rechargeable Lithium-Ion battery with a capacity of 1600mAh.
Having a camera with a removable battery is everybody's wish because you never know when you will be out of power and need an extra power source.
I decided to use the Theta Z1 for photos only, and if you do so, the battery life will not be a big issue for you also.
The Z1 battery lasted for about 120 minutes capturing continuous still images in RAW. When you use the camera for video recording, the battery will drain faster.
The GoPro Max was able to take me for about 90 minutes of filming on a single charge.
Charging
Both cameras use USB Type C for charging. The charging time for both cameras is 2 hours when you are using AC.
Recommended operating temperature
Ricoh Theta Z1 recommends an operating temperature of between 15 to 25°C / 59 to 77°F.
GoPro recommends an operating temperature of between 10 to 35 degrees Celsius.
Remember not to use the cameras in extreme weather because it affects battery health.
---
Why you should Choose Ricoh Theta Z1
·     Good photos quality
·     RAW photo capability
·     Sleek design
·     Short workflow when using Lightroom
·     Can be used professionally.
Why you should choose GoPro Max
·     Good video quality
·     Touchscreen display
·     Waterproof
·     Reasonable priced
·     Variety of shooting modes
·     Good audio recording
Negative issues with both cameras
·     Average battery performance
·     No external microphone input
---
To Conclude – Which Camera Should you Buy?
The decision on the camera to buy will ultimately boil down to what you exactly intend to do with the camera.
If you need a more professional camera that takes good images with robust flexibility in editing, then you need to consider getting the Theta Z1.
GoPro Max on the other hand will serve you right if you are after good video quality with many shooting modes.
Ricoh has made a step in competing with professional cameras like DSLR in providing good image quality by incorporating advanced photography technology.
Max HyperSmooth performs better than stabilization in Theta Z1. You also get a variety of video shooting modes in the GoPro Max.
GoPro Max is waterproof without the need for waterproof housing; it offers protection from rain and accidental splashes.
Both cameras have good spherical audio although it performs better in GoPro Max also because of the advanced wind noise reduction.
Ricoh Theta Z1 vs GoPro Max is a tough choice that involves deciding whether you will use your camera for photography or videography.
---
---
---
Thanks for reading through my comparison post
If you have any questions or concerns about the cameras please leave a comment below and I will get back to you ASAP.