It's not a secret that ever since GoPro's massive success in the action camera market, several companies have taken inspiration and modeled their cameras after successful GoPro models. SJCAM is not an exception either, with products similar in design with GoPro cameras but costing a lot less than the latter.
What I will show you now is a detailed SJCAM SJ4000 review. This camera made it to the list of the best action cameras under $100.
Let's Jump to the Review!

Product: SJCAM SJ4000 WiFi Action Camera
Price: Less than $100
My Rating: 8/10
Cheapest Place to Buy: Amazon.com
Specifications
The physical dimensions of the SJCAM SJ4000 are 1x2x1.6 inches or around 30x59x41 mm. Having a field of view of around 170 degrees, it can record videos of resolution 1920x1080p at 30fps, 1280x720p at 60fps and 648x480p at 60fps. It's not a high-end camera, but the 1080p at 30fps is still a bargain at that price.
Pictures are captured in JPG format at 12MP, 10MP, 8MP, 5MP, 3MP, 2MHD, VGA and 1.3M. All these are recorded on a microSD card. This camera can support memory cards up to 32 GB; so you don't need to worry about changing memory cards every now and then.
The SJ4000 has a removable 900 mAH Li-ion battery which takes around 3 hours to get fully charged when charged with the microUSB cable. The battery door is present at the bottom of the camera.
It's advisable to keep recharged spare batteries at hand, so that they can be used whenever the inserted battery runs out of charge. The camera has a recording time of around an hour per battery charge; so over all, it isn't too bad.
It's easy to be impressed by the Car Mode that this camera possesses, it basically turns your camera into a dash cam. The microUSB cable is plugged into the car's power outlet, and when the engine is started, the camera automatically turns on and begins the recording. The battery life is maintained too as the cable is plugged into a power outlet.
The Cyclic Record function lets the camera record for selected time of 3, 5 or 10 minutes and after the allotted time is up, it saves the file and starts recording a new file.
As available memory space decreases, the oldest file is deleted and the recording process goes on, saving new files and deleting old ones.
You can use this feature to help you in cases of a car accident or some fights where, video evidences are necessary as they eliminate doubt and the issue of bias.
The Motion Detection feature is another plus in this camera. For those of you who don't know what this feature is, here's a little help.
You just need to turn on this feature in the camera menu and any kind of movement in front of the camera will begin the recording process. The SJCAM advertises this as a Home Security feature, but in reality, it is neither fast nor efficient enough.
Controls
You can manually control certain settings such as exposure, white balance, and so on. You can even turn off audio recording while shooting a video in cases where sound isn't really needed. As a result, the file size decreases and prevents cluttering of memory space.
The kit comes with a waterproof case, and when the camera is inside it, the sound that the microphone records, is understandably faint and muffled.
The case is waterproof up to 60 feet. The camera also has an automatic rotating screen which effectively reduces the setup time and prevents unnecessary hassle.
After recording, in the editing program, when you flip the image 180⁰, the image again becomes upright. A disadvantage is that, while viewing a video, there is no Skip Forward or Skip Back button.
The SD card slot and port lack a covering door, therefore may get damaged in unfavorable conditions.
This camera has a HDMI port, thereby enabling you to view your recordings on the big screen. You will find a speaker on the side at the location of the Up and Down buttons, and the sound is as good as you can expect from a camera speaker.
The Up button acts as the Fast Forward button whereas the Down button functions as the Reverse button.
Accessories
Along with the waterproof case, the kit box also contains USB charger, zip ties, adhesive tapes, Velcro straps, safety wires and different mounts.
If you are in the mood for going out cycling and recording and clicking pictures, the bicycle mount is there for you. If you are a fan of helmet mounts, that provision is there for you too.
You will even find a mount to clip the camera to your belt. The simple clip allows you to attach the camera to any convenient place, be it your belt or your clothes at any desired height.
The clips won't withstand any strenuous activities like skiing, kickboxing or back flips. Only tasks like taking a simple stroll or doing mild household chores are suitable if you want this clip to hold on to your clothing.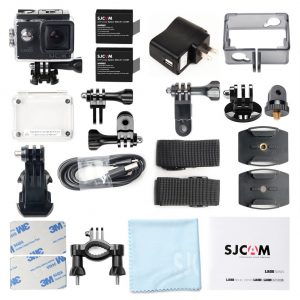 The SJCAM SJ4000 comes with its own set of cons despite so many features. If you are using this camera without its waterproof casing, you might end up pressing the Power/Mode button, causing you to change the mode and create trouble if you were in the middle of any kind of recording. As this button is located at a very accessible position, it is very easy to accidentally press this button.
A list of notable settings that can be accessed through the camera's menu contains Photo Sharpness, Colour, Quality, Face Detection, Screen Saver, Resolution, Anti-Shaking, Date Stamp, and HDR. The zoom in feature is also available and it allows up to 4x zooming in.
The time lapse feature is missing from this particular camera; so if you are planning to use that feature frequently, you should be looking at alternative products in this category.
Here's a YouTube video from Techmoan showing a review of the SJ4000 WiFi:
Final Thoughts
The SJCAM SJ4000 comes at a far reasonable price, in comparison to its competitors in the market, but it comes with its own set of drawbacks as well.
There are a few features missing, but you cannot expect to have a lot at this price range either. The customer ratings are certainly positive, and if you are looking at a decent medium-end action camera, this is the one you should go for.
I hope you liked my SJCAM SJ4000 Review. If you have any questions, please feel free to leave a comment in the comments section below 🙂