I have recently picked up the Suunto Core Crush and it's time to review it. Just in case you don't know, one of the biggest watch providers currently booming in the industry is Suunto Oy, or more popularly known as, Suunto.
The company specializes in distributing compasses, precision instruments, and multi-function electronic wristwatches that range in type from lifestyle watches to sport watches; both types having numerous lines under them.
Their lines of watches are surely a hit among consumers, with the outstanding functionality that lies beneath each one of their products.
One of the popular lines of Suunto under sports watches in the Core line is the Suunto Core Crush. This sports watch surely brings its users the functionality they need especially when they are participating in outdoor activities such as hiking, mountaineering, trekking, climbing and even diving.
Suunto Core Crush is a much simpler version of Core as it has the same functionalities as the Core and other Suunto models.
The only thing that differs Core Crush from the first ones is that there are some features that didn't make it through this model.
Considering this, this watch model is a great find for such a reasonable price. Suunto Core Crush is more affordable and is suitable for people who have low budget.
Even with its lower price, this sports watch will go over people's common expectations, through its optimum performance and great functionality.
---
LET'S JUMP TO THE REVIEW!
Product:
Suunto Core Crush
My Rating: 8/10
Price: Check on Amazon
Warranty: Yes
Cheapest Place to Buy: Amazon
---
SUUNTO CORE CRUSH SPECS AND FEATURES
The Suunto Core Crush model is one of the most reliable watches available in the market today. Not only does the Core Crush model has unique and modern design to spice up anyone's everyday look, it also has the functionality that people, who are always on the go, need.
The watch is specifically designed to withstand strenuous activities people are engaged in, from hiking to diving.
Let's dig further in to Suunto Core Crush and get to know the features and functionalities it offers.
DESIGN
The Suunto Core watch is one of the best watch choices, with its simplistic and durable design for people who want a simple outdoor timepiece that has incredible features to offer.
It comes in three different versions which all offer the same functionalities but differ by materials the watches were made from; The Suunto Core Premium has Sapphire glass lens, a stainless steel case, and a silicone strap; The Suunto Core Classic has mineral glass lens, a composite case, and an elastomeric strap.
The Suunto Core Crush is mostly the same as the Classic version; the only difference is the elastomeric strap of Classic as Crush has a silicone strap.
The Suunto Core Crush Collection has six watch models under it; the Graphite Crush, Blue Crush, White Crush, Lime Crush, Gray Crush and Coral Crush.
These models differ in color design on their silicone straps but have the same overall features. Considering the number of features of these watches, they are very lightweight at 83 grams of weight.
The watches come with a replaceable battery that has a battery life of approximately 1 year. Unlike other models like the Suunto Traverse, the Core Crush doesn't make use of GPS, making it less expensive than those that have.
The only downside of this simplistic watch model, aside from the absence of GPS, is that it can't be paired with a heart rate belt, which will always come in handy during workout sessions.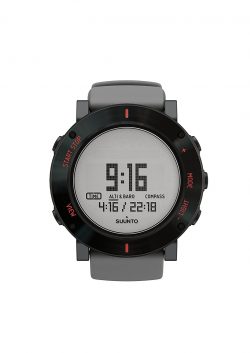 ALTIMETER
An altimeter is a basic requirement for an adventure watch. The Core Crush has an advanced altimeter to calculate your climb and let you know the altitude of your target.
It features a start-from-zero function so you don't have to enter a reference altitude; just push the button, and the altimeter will begin to track your ascent and descent. Here's a link to the user guide.
This feature makes the watch suitable for mountaineers, skiers and wilderness travelers.
BAROMETER
The barometer will keep you right on track on your adventure as it will forecast sudden weather alterations through the atmospheric pressure trend graph and trend indicator.
Know if a storm is on its way towards you and take the necessary precautions ahead of time for a safer and successful journey. You do not have to worry about getting stuck in a dangerous weather or storm again.
The Core Crush watches automatically switch from Altimeter mode to Barometer mode as they can detect if you are changing altitude.
COMPASS
The digital compass feature will help you navigate and pinpoint certain locations to safely find your way through the wilderness and in whiteout conditions.
You can set and a follow a bearing with a traditional rotating bezel, or you can just simply point the top watch toward your intended destination and lock it in.
The compass automatically calibrates itself, however you may need to manually calibrate it in case you changed the battery, accessed the service menu or if the compass hasn't been used for a long time.
SUNRISE / SUNSET
This watch feature will help you maximize your daylight hours. The sunrise and sunset times are available for over 400 locations around the world.
ADDITIONAL FEATURES
Aside from the mentioned features above, here are some basic features that Suunto Core Crush offers.
Thermometer
Depth meter (good for snorkelling)
Storm alarm
Multiple watch, date and time functions
Multilingual menu (EN, FR, DE, ES)
30 meter water resistance
Altimeter Range from 1,600 ft – 29,500 ft
Barometer memory of 24 hours
SUUNTO CORE CRUSH: SUITABLE FOR WHICH ACTIVITIES?
The Suunto Core Crush Watch Collection is specifically designed to be a good adventure companion of people in every journey they take. It's the perfect go-to of people who are always out for an adventure, may it be for mountaineering, hiking, or even snorkeling.
We have discussed about the main features and functionalities that this watch offers, now let's see what outdoor activities you can find this watch useful.
MOUNTAINEERING / SKIING / TREKKING
Let's start with activities that involve mountain climbing such as mountaineering, trekking and skiing. The watch is designed such that it's durable and at the same time, versatile for anyone.
Obtain minimal to no scratches at all even with the extreme conditions or situations that can be encountered when engaging in mountain climbing activities like such.
The altimeter feature of this watch is the most useful one, next to its barometer and compass, as it will help you track on how high you've ascended or how low you've descended from your starting point.
It also has the ability gauge your overall progress when climbing. It has an altimeter range of 1,600 feet to 29,500 feet.
The watch knows when you are climbing and when you've stopped, changing back and forth between the altimeter and the barometer to maintain your reading accurate and correctly labelled for your convenience.
The watch automatically switches from altimeter mode to barometer mode (or vice versa), giving you ease and comfort while travelling or participating in extreme outdoor activities.
HIKING / CAMPING / BACKPACKING
You can also find this watch suitable for hiking, that's the reason it made it to my list of best hiking watches for 2017. Find your way through the wilderness with the watch's digital compass. Navigate safely by just pointing the top watch to your intended destination.
Know whether you'll get a nice and sunny day ahead of you, or you'll get a wet and rainy situation in your journey by the watch's barometer.
The barometer will forecast you the weather through its atmospheric trend graph, letting you be aware of possible weather alterations.
If the watch detects a storm coming in your way, its storm alarm will let you know so you can go ahead and prepare for the necessary safety measures. The barometer can save readings from the last 24 hours.
The Core Crush watch has the ability to inform you how much daylight you still have through. It will let you know what time the sun will be rising and setting so that you can plan your day ahead and maximize your daylight. This way you will never find yourself stranded in darkness.
SNORKELING
The Suunto Core Crush watch has a depth meter that lets you know how deep you are going when snorkeling.
You don't have to worry about your buttons or the whole watch itself as it has water resistance down to 30 meters.
You can tag along with your teammates and stay in the group by aligning your watches together for a target depth. Just a quick and important note, this watch is not suitable for scuba diving.
EVERYDAY USE
Whether going out for an outdoor activity, or just going to work, this watch can be reliable.
Aside from its optimum functionality and comfortable silicone strap, its excellent design and different colours to choose from will help you find the watch design that suits your style.
Do not be surprised if you notice people catching a glance at your wrist every now and again.
Here's a video by Jacob Ziech showing the Suunto Core in detail:

---
CONCLUSION
The Suunto Core Crush Watch Collection is truly not your average wristwatch. The number of features that this small watch offers greatly sets the standards high.
its budget-friendly price, this collection is a total steal!
I hope you liked my Suunto Core Crush Review. Have you used this watch? I would like to know your experience, please let me know if you have any questions by leaving a comment in the comments section below 🙂