If you're wondering what is the best hiking camera backpack then you might want to continue reading!
I still remember clearly how much I had to struggle to find a decent camera backpack. This was some ten years ago when there were few camera backpack manufacturers.
After a few years, when I started taking adventure sports and shooting seriously, I was really surprised to see a few camera backpacks making their way to the market. The F-Stop Gear was among the earliest into this industry, followed by Gura Gear Uinta and others.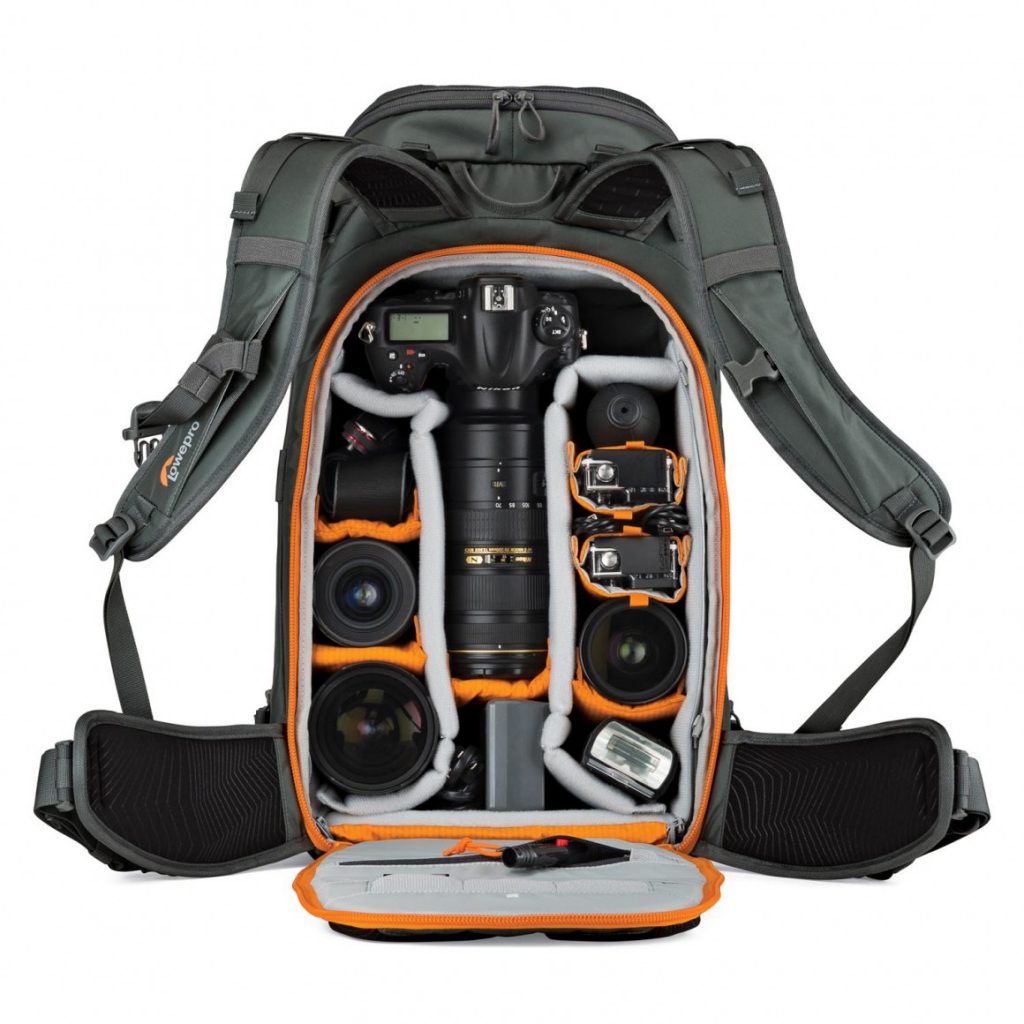 I have been using the Lowepro Whistler BP 450 AW for a while now and I must say that I'm really impressed with this backpack in terms of quality, storage and protection.
This camera backpack was different from others I tried. In fact, many backpacks that were released before the Lowepro Whistler tried to cover a wide range of uses, but few of them were able to offer the benefits this backpack has.
This model was designed for the avid hiker, the amateur and the pro. I can store my DSLR camera safely without having to worry about it getting wet or damaged. It's on the top of my checklist when packing for a hiking trip along with my GoPro and GPS watch.
Let's Jump to the Review!
Product: Lowepro Whistler BP 450 AW
Cheapest Place to Buy: Amazon.com
My Rating: 9/10
---
Before I go any further with the review, let me share with you some of its technical details.
Technical details:
Internal Dimensions: 9.53 * 6.54 * 15.75 inches (24.2 * 16.6 * 40 cm)
External Dimensions: 12.20 * 11.89 * 22.52 inches (31 * 30.2 * 57.2 cm)
Pro DSLR (like Canon 1DX or Nikon D4S)
Weight: 7.28 lbs (3.31 kg)
Flash (like SB910)
Up to 3 lenses: 24mm f/1.4, 24-70mm f/2.8, 58mm f/1.4
Personal items and functional outdoor gear
Can also fit a GoPro or any similar size action camera
Why the Whistler BP 450 AW is my favorite hiking camera backpack?
Avid hikers like myself can be pretty demanding. Besides the comfort and style factors of backpacks, I make sure that my hiking partner is durable and reliable so it can serve me for a long time. I can say that I found all these qualities and more in the BP 450 AW.
My Lowepro backpack is extremely comfortable to wear because while hiking, you need to be sure that your gear is comfortable, especially when doing some extreme ascents. Also experiencing different weather conditions that – the camera, its accessories and myself need to withstand. It's one backpack I can trust to handle all this for me.
While I'm embarking on my hiking endeavor, I can easily assemble my camera unit in this backpack. From the main camera unit, to lenses, there is room for everything in the backpack. There is nothing more I can expect from my hiking partner!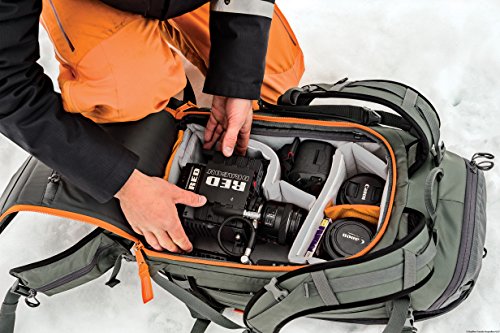 Pros
After having used Lowepro Whistler BP 450 AW for a long time now, I can surely say that this backpack packs a punch in almost all aspects. For avid hikers and photographers, there can't be a better backpack than this. While it looks technically sound, from the aesthetic point of view as well, the backpack doesn't disappoint.
The BP 450 AW comes with a nylon exterior with TUP face coating, Duraflex hoops, a Hypalon base, and Nifco side-release buckles. What's more, the backpack comes in gray and well matching orange accents. The backpack also comes along with an all-weather cover and this can be stowed away when I'm not using the backpack.
A special mention has to be made about the backpacks' heavy-duty attachment points that will allow me to carry a variety of accessories, including poles, tripods, skis, and much more without interfering with the main camera unit whatsoever. During my usage, I also found buckles and zipper pulls to be heavy-duty and glove-friendly. Frankly speaking, these are some of the best buckles I've ever used in my life!
For a hiking camera backpack to be successful on the market, it needs to have a spacious interior, with rooms available for the main camera unit and other accessories that come along with it. In this regard too, the backpack did not disappoint me. The interior dimensions that I shared above are quite impressive for a heavy-duty backpack. The main compartment where I store the camera can be accessed via the back of the bag. So, there is absolutely no danger that someone could steal my camera unit from behind.
Cons
Well, to be honest, there aren't that many flaws with the Lowepro Whistler BP 450 AW. At least, didn't feel anything with it that I'm uncomfortable with. Still, I believe that the backpack is slightly on the heavier side for something that you carry along with you wherever you go.
The corner edge at the bottom of the backpack needs some padding. Well, you might not notice this if you are hiking for a small distance. However, for long distance hiking, say 10 miles and above, this could cause minor issues. But well, it all depends on the body structure. 🙂
Conclusion
For me, the Whistler BP 450 AW makes an excellent and reliable hiking camera backpack. A variety of testing processes and rigorous design that have been employed in making this great backpack is clearly evident by looking at its attention to detail and overall quality.
Whatever your outdoor requirements are, this backpack will definitely meet your needs. And for someone like me who is always on the move and seeking a hiking spot nearby, this backpack makes for an ideal partner that I can carry along wherever I go. Go for this camera backpack if you are looking for a good value for money!
I hope you enjoyed my Lowepro Whistler BP 450 AW review! Let me know if you have any questions by leaving a comment in the comments section below and I will be more than happy to help! 🙂