I'm going to show you today how to use a GoPro as a security camera/CCTV. Yes, you heard that right, a security cam.
I have received a couple of requests to create this small guide following my other guides on using a GoPro as a webcam and dash cam.
I agree that it's unusual to use a GoPro for CCTV but many people would like to know how to make that possible.
Is it the high quality video or the wide angle they're aiming for? well maybe both.
The below guide will show you:
Pre-requisites (What you need to complete the set up)
Where to fix your GoPro for a perfect angle
How to connect the GoPro to a computer
Record the videos to the computer's hard drive
Watch the live feed from your computer
If you have an old GoPro that you would like to make use of instead of keeping it stored in your drawer, or you're just curious, then you might want to continue reading.
Important: GoPro Hero 8 Black doesn't have an HDMI port. GoPro released the Media Mod which adds an HDMI port to the camera.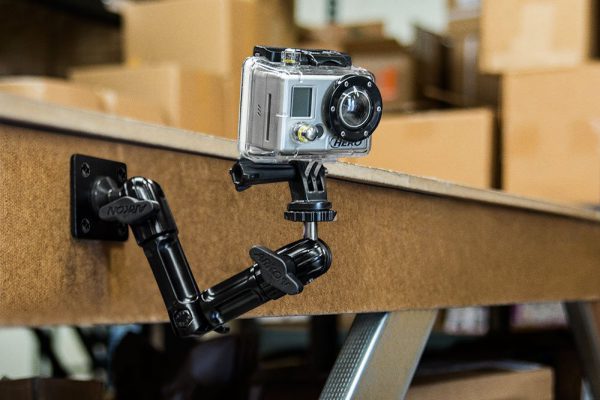 ---
What Do You Need to Make it Happen?
Your GoPro, I use my GoPro Hero 6 Black

Any GoPro with a micro HDMI port will work here

GoPro frame (for indoors) or GoPro case with side ports access (for outdoors)

If you're planning to use the GoPro indoors then the GoPro frame is more than enough. However, if using it outside, you need to keep it protected using the case. (this case will have minimum protection from wet conditions so it's not advisable to use the GoPro under the rain). I can't guide you on which case to use here since the model differs depending on which GoPro you're using.

Long Micro HDMI to HDMI cable

Will be used to connect the camera to the capture card

MiniUSB to USB cable

Will be used to power the GoPro since using the battery is not at all efficient for this method. The USB cable length depends on how far the electrical wall outlet is from your GoPro.

5V charger for GoPro, I use this one

Will be used to feed the GoPro with power, output should be 5V 1A.

Wall mount for GoPro, I use the Arkon mount

This is needed only if you would like to mount the camera to a wall.

Capture card, I use Digitnow

A capture card is required to record videos from GoPro to the computer's hard drive in high-quality resolution. I know it's an extra cost, but this is the only solution for recording full HD videos from a GoPro. The Digitnow is one of the best capture devices available in the market at an acceptable price.

OBS Software (freeware)

Will be used to record the watch the live feed and record videos to the computer
It's a long list I know, but if you're really want to make it happen then you know what you need 🙂
---
What Resolution to Use?
Since GoPro offers a wide range of super high-quality video resolutions unlike the resolutions on the usual CCTV cameras, we can have the flexibility of choosing whatever resolution we like.
Of course, in our case here, choosing a resolution higher than 1080p is really not necessary or even 720p. It's more than enough and I will tell you why.
The higher the resolution, the more space the videos will take from your hard drive.
So yeah no need to have a 4K videos for example. I would stick to 720p or 1080p if I were you, it's HD and doesn't use as much space as higher resolutions.
So before jumping to the next section, go ahead and change your settings to 720p or 1080p at 30 frames per second.
If you're shooting at low light, make sure to turn the Low-light function ON as well as Protune and set a higher ISO for the videos.
<<Check out my detailed GoPro comparison chart>>
---
Set Up the Connections
Now that the kit is there, it's time to put everything together. Let me go through this in detail:
Get the perfect angle. This is a very crucial step here, you need to have the perfect angle before permanently fixing your GoPro to the wall. That's why testing first is useful in this situation. Go ahead, connect your GoPro through WiFi to your GoPro app on your phone and check where would be the most ideal location. If you don't know your GoPro WiFi password, follow the steps here to reset it.
Once you know the location, it's time to fix the wall mount. I would suggest to have a wall outlet nearby to power the GoPro.
Put on the GoPro frame or case and attach it to the wall mount
Plug the GoPro USB cable to the nearest wall outlet using the 5V charger.
Plug the micro HDMI cable from GoPro to your capture card. It's better to have the computer near the GoPro to avoid having to buy a very long HDMI cable.
If you're using a GoPro Hero5, 6, 7 or 8 Black, make sure to do the below as well:
Disable OSD On-Screen Display: Go to "Preferences", find "OSD" then turn that off.
Change HDMI output settings: You need to change the HDMI out settings on your Hero5 Black to "Live" in order to prevent the GoPro screen from going black. Here's how you can do it: Go to "Preferences",  scroll down to find "HDMI Output" then choose "Live".
---
Set Up Your Capture Card and Computer
We now have mostly everything connected.
Plug the capture card to your computer via the USB cable (make sure the USB port on the PC is 3.0)
Install the drivers(if required) depends on the model of the capture card
Download OBS and install it
Open OBS, go down and right-click on "Sources" then Add -> Video Capture Device, You can put the device name "GoPro". A new window will open, select the device which is the video capture card, then under Video tick "Custom Resolution" and select 1280×720 then for FPS select 30.
For audio, you also have to choose the capture card unless you're using an external mic for your GoPro. Press OK and now you should be able to see the camera preview or the live feed in our case.
To set up recording, go to settings and click on "broadcast settings", under "mode", select "file output only" (for recording videos to your computer) and select the path where you want your videos to be saved.
That's a screenshot from my GoPro Hero6 Black fixed on a wall mount facing the main house door: (I should lower it a bit, but just for you to get the idea)
---
Are There Disadvantages For Using a GoPro as CCTV?
Cost: Unless you have a camera that you're not using, buying a GoPro specifically to be used for CCTV can be quite expensive.
But think of it this way, even with a CCTV camera, a video recorder is needed. In our case, we used a capture card.
I can only think of one disadvantage which is the extra cost. I think the GoPro has more advantages since it offers high-quality videos and a wide-angle lens that covers more than a normal CCTV cam would.
At the end of the day, the choice is yours. If you would like to set up your GoPro for CCTV then just follow the above steps. You won't be disappointed with the quality and output.
---
This guy uses his GoPro as a baby monitor surveillance system! Check it out:
---
Frequently Asked Questions
1- Question: is it possible to view the live feed on my computer, not stream it or record it?
Answer: You can try to preview your video on Quik or GoPro Studio by connecting to your GoPro using WiFi. The videos will be compressed so low quality and you won't be able to hear any audio since the audio is not transmitted during the live preview in Quik/GoPro Studio.
You can also use VLC with WiFi, but of course, there are disadvantages of using the WiFi method:
1- The videos are compressed and will lag
2- Your laptop/PC WiFi will be connected to the GoPro so you won't be able to use the internet at the same time
3- GoPro goes to sleep when not recording and disconnects the WiFi
2- Question: Do I need a capture device in order to record the videos from my GoPro?
Answer: Yes, you will need a capture device if you would like to record the videos to your computer. Connecting the GoPro directly to your HDMI port on your PC will only give you a preview, the recording won't be possible without a capture device like the Digitnow.
3- Question: Why when I connect my GoPro Hero 5/6/7/8 to the Digitnow capture card the GoPro screen goes black?
Answer: This doesn't happen to everyone but if it happens to you then you would need to change the following on your GoPro: Go to "Preferences" then under "I/O", select "HDMI Output". Set it to "Live".
You also need to make sure that the GoPro is being powered by an external 5 Volt charger.
4- Question: What capture devices other than Digitnow I can use?
Answer: I have personally tested the Digitnow, it is compatible with all operating systems as well. I have also used devices from other brands like Elgato, Mirabox, and Avermedia.
---
There you have it folks! You now know how to use a GoPro as a security camera.
What do you think of the above setup? Please let me know if you have any questions and I will be more than happy to help 🙂