I want to show you today what are the best GoPro external mics that you can use to enhance the audio quality of your shoots.
Using an external mic for GoPro can take the audio recording to another level.
Many users complain about the audio recorded by their GoPro cameras, mainly because action cameras don't have the best built-in mics.
So they cannot deliver crisp audio quality like other video cameras.
I mainly use external microphones when doing live broadcasts or online video calls on Skype because a clear and crisp audio quality is important to me.
If you are not satisfied with the built-in microphone of your GoPro then you need to continue reading.
There are a couple of GoPro-compatible microphones available for:
All the microphones in my upcoming list are recommended by GoPro.
Please keep in mind that external microphones cannot be used with the Hero4 session, Hero and Hero+ LCD. You will also need the Media Mod in you have a GoPro Hero 8 Black.
---
Mics compatible with all above GoPro models (Best for live streams)
Sennheiser MKE400
The Sennheiser MKE400 is a small shotgun microphone that is great for doing live broadcasts, recording YouTube videos, or having video calls.
It works for both GoPro and DSLR cameras.
It's designed to reduce noise thanks to its foam windshield, wind noise filter, and integral shock-mount. It has a metal housing that will make it rugged and solid.
This microphone is powered by one AAA battery that can last for up to 300 hours.
Frequency response is 40-20000 Hz. I personally have one that I use for my broadcast sessions and I can say that I'm very satisfied with its quality
---
Rode VideoMic
Similar to the MKE400, the Rode VideoMic is a professional shotgun condenser microphone designed to be used with both DSLR and action cameras.
I use this one with my DSLR camera when using it as a webcam.
This one has a high quality shock mounting design that isolates the microphone from its shoe mount and provides isolation from unwanted vibrations.
I had zero noise recorded from handling and waving around with the camera.
They did a pretty good job at designing this mic. The sound is crisp and full. Frequency response is 40-20000 Hz.
It's powered with a 9V alkaline or lithium battery so if you're looking into getting an affordable shotgun microphone then look no further.
---
Sennheiser MKE-440
A competitor to Shure is the Sennheiser brand. Another great and popular brand in the music world.
The MKE-440 is an upgraded version of the MKE-400.
It is great for recording speech, ambiance and music thanks to its mini dual-shotgun mics.
It rejects off-axis noise which distinguish from other microphones. It has a stainless steel micro-mesh perfect for noise reduction and high frequencies.
It works on 2x AAA batteries that can last up to 100 hours. Frequency response is 50 to 20,000 Hz.
---
Opteka VM-200
Another good shotgun microphone is the Opteka VM-200.
It is a highly sensitive directional shotgun microphone with noise reduction capabilities like the NRS system (Noise Reduction Suspension) and the windscreen.
You will get two windscreens in the box, one for indoor use and the other for outdoor use with more noise cancellation features.
It's powered with a 9V lithium or Alkaline battery and can last for up to 100 hours. It can also be attached to DSLR cameras.
It's cheaper than the MKE400 but of course doesn't have the same sound quality.
---
Comica CVM-VG05
If you don't like the bulky looking mics and prefer to have a small microphone for your GoPro then look no further.
The Comica CVM-VG05 is the right choice, it's a "convenient" mic that attaches directly to your GoPro.
It's best used for interviews and POVs, didn't test it in windy conditions but I know that the kit includes a windshield filter to reduce wind noise when used outdoors.
It might not have the same quality of the above Rodeo and Opteka mics but if you're looking for a compact and cheap GoPro microphone then the Comica mic would be your best choice!
---
Shure VP83
The Shure VP83 is another great mic from Shure.
This model is a shotgun model super cardioid/lobar polar pattern.
It has RF immunity against cellular and other RF device.
It has an integrated shock mounting system that protects from vibrations and other noises.
It delivers high quality audio and has a very robust design. It operates on 1x AA battery that can last up to 125 hours.
Frequency response is 50 to 20000Hz.
---
Small Hands-Free Mics for GoPro
Sound Professionals SP-TFB-2
I don't know if you are familiar with this type of microphones. Well for me I wasn't until I tried this SP-TFB-2 from Sound Professionals.
This is an In-Ear binaural microphone that has in-ear holders that slip into your ears.
Weird I know, but they claim that it has the most realistic recording.
Also your hearing will not impaired while recording so you can enjoy recording without any issues.
This mic has windscreens on both ear holders. It can also take additional battery power. Frequency response is 20-20000 Hz.
---
Sony ECMCS3
A very small hands free microphone with a clip that can be attached to your clothes.
It can rotate for flexible placement and doesn't need any batteries, it has plug-in power.
This is a good option if you don't require any high quality recording or noise cancellation capabilities.
---
---
Important Accessories for Hero 4
Mini USB to 3.5mm Gopro External Mic Adapter
In order to connect a GoPro Hero 4 to an external microphone, a Mini USB to 3.5mm GoPro external mic adapter is required.
Since the GoPro doesn't have an audio input but only a Mini USB port.
This is a small inexpensive adapter that you need to get if you want to use external mics.
I recommend you to get the GoPro adapter and not a third party one since some of them have poor quality and can impact your audio input.
GoPro Hero4 Frame
The GoPro Hero4 Frame is a must have for audio recording and charging your GoPro while it's fixed on a mount.
It exposes the USB, HDMI and SD card slot ports.
With this frame, you will be able to keep your GoPro charged while recording.
It also enables you to have better audio quality from the built-in mics since it doesn't soundproof the sounds unlike the waterproof case.
---
Important Accessories for Hero 5, 6 and 7
USB-C to 3.5mm adapter
For the Hero5 Black/Session, Hero6 and Hero7, you would need the new GoPro USB-C 3.5mm mic adapter as the USB-C mic adapter that is used with Hero4 cameras does not work on the Hero5, 6 and 7.
In addition to the 3.5mm port, there is a USB-C port you can use to charge your GoPro while using the external mic.
GoPro Frame for Hero 5, 6 and 7
Same as the frame for the old Hero cameras, this one is compatible with the Hero 5, 6 and 7 Black.
With this frame, you can mount your GoPro without the need to use any other housing that covers the ports or the built-in mics.
A key accessory to have in combination with the microphone.
---
Media Mod for GoPro Hero 8 Black
Unlike the older models, the GoPro Hero8 Black doesn't have a 3.5mm mic jack port.
However, GoPro have released a device called 'Media Mod'.
The Media Mod is basically a frame that connect to the Hero 8 Black via the USB-C port and provides enhanced directional built-in mics, an HDMI out port, a 3.5mm mic port and a USB-C port.
---
Professional Microphones Only For Hero4 Black & Silver, Hero5 Black & Session
GoPro recommends the below microphones for the Hero4 Black, Hero4 Silver, Hero5 Black and Hero 5 Session.
They are not compatible with any other model, so be careful when ordering your mic.
The mics that I'm going to show you are pro mics and they really provide high quality sounds.
If you're not happy with the audio produced by your GoPro Hero4 or Hero5 then you might want to consider adding an external microphone to enhance the sound quality.
Whether you are planning to take footage of yourself playing guitar or maybe just singing, you cannot go wrong with these ones!
Pre-requirement
The microphones that I'm going to show you below use an XLR connector and not a 3.5mm jack like the above mics since these are PRO mics.
So in order to connect them to your GoPro, you will need to get an XLR to USB adapter.
I use the one from SHURE.
---
Shure SM57
I think you are familiar with the SHURE brand when talking about microphones.
The SM57 is mainly an instrument mic, it is versatile and rugged.
It picks up clear and bright sounds while minimizing background noise. It's highly reliable and diverse.
You can use it with anything whether playing an instrument or doing a performance. The brand SHURE speaks for itself.
Compatible with: Hero 4 Black, Hero 5 Black, Hero 5 Session
---
Shure SM58
Another great mic from Shure. The SM58 is the number one mic when it comes to recording vocals.
It's legendary and used everywhere. It's rugged and very well designed to help minimize breath pop noise and background noise thanks to its high quality built-in filter.
Frequency response is 50-15000 Hz.
Compatible with: Hero 4 Black, Hero 5 Black, Hero 5 Session
---
Shure SM7B
The Shure SM7B is a super high quality cardioid dynamic mic designed for music and vocals and used mainly in radio and TV.
It has many great features like flat, wide-range frequency response, bass roll-off and mid-range emphasis.
Another excellent product from SHURE.
Compatible with: Hero 4 Black, Hero 5 Black, Hero 5 Session
---
ElectroVoice RE20
This retro looking microphone is also recommended by GoPro.
The ElectroVoice RE20 is a pro microphone with a heavy duty internal pop filter that reduces proximity effects and wind noise.
Contrary to its looks, this mic uses the latest technology for the best sound quality.
Compatible with: Hero 4 Black, Hero 5 Black, Hero 5 Session
---
Sennheiser MKE 2 Elements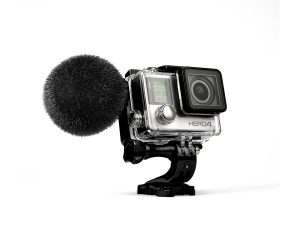 The Sennheiser MKE 2 Elements is the recommended microphone by GoPro for the old Hero4 Black and Silver models.
A waterproof microphone you can use outdoors in wet conditions.
Whether you're mountain biking, water rafting or kite surfing, you can now capture awesome video and audio without having to worry about the external mic getting wet or recording low quality audio from GoPro's built in mic.
The Sennheiser MKE 2 Elements is rugged, very well sealed and can go underwater without any issues.
But how does it do it? Well, the Sennheiser MKE 2 mic is designed as a BacPac that attaches to the GoPro case.
The mic also comes with a filter for wind resistance, it will greatly enhance the whole experience and let's you capture the thrill in high quality audio.
Compatible with: Hero 4 Black, Hero 4 Silver.
This is a video explaining about it in more detail:
---
To Conclude
If you are looking to improve the sound quality of your GoPro videos then you might want to consider adding an external microphone, you won't believe the difference it makes specially with a high quality mic.
If you play an instrument, sing, shoot broadcasts or just want a better audio quality then I would personally advise to try an external mic. You will love it!
There you have it folks!
What do you think of these GoPro external microphones? Please let me know by leaving a comment in the comments section below 🙂