I will show you today how to use a GoPro as a dash cam in your car.
You may have noticed lately on some YouTube videos that many people actually use it especially in Russia to record video footage while they're driving. Many police cars in the US have it as well.
It has a lot of advantages and can be extremely useful in a lot of situations like accidents, road rage and other incidents.
People use the video as a proof to show the authorities what really happened and get out of trouble.
It's not mandatory to use a dash cam except maybe in some countries, but I highly advise it.
I have a spare GoPro mounted as a dash cam that records continuously while I'm driving.
Why GoPro?
It's true that GoPro is an extreme sports camera used for surfing, snowboarding and skydiving, but it can also be used for other purposes like a webcam or even a security camera.
It offers high quality video resolutions with a wide shooting angle (the fish-eye effect) and that's extremely beneficial for recording in a car, no blind spots whatsoever.
I personally love GoPro and I own few models from the Hero4 to Hero8.
If you have a spare one or maybe when you're not using yours for other activities then you can definitely use it for this setup.
Let me show you my GoPro dash cam hack.
---
Here's What You Need: My GoPro Dash Cam Kit..
Your GoPro
MicroSD Memory card

I recommend at least a 64GB, I can record around 4h22min with 720p at 60fps.

GoPro Frame with side access

This frame gives access to the side ports

Mini USB to USB cable

To connect my GoPro to the car charger

12V USB car charger

To keep my GoPro powered and avoid using the battery

Suction cup mount for GoPro

To mount the GoPro to the windshield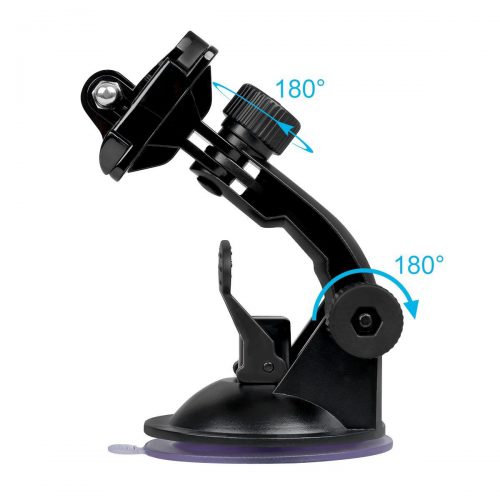 ---
Let Me Show You How To Do it
1. Understanding the functionalities
First of all and before mounting the GoPro, we need to make sure that loop recording is enabled.
What is loop recording?
GoPro has this very essential feature integrated in the camera that allows continuous recording.
It basically overwrites the beginning of the video once there is no space left on the memory card.
In my case, if I use a 64GB SD card, I'll be able to record 4h 22min of video, loop recording will only keep the last 4h22min of my video, all videos before that will be deleted.
What if I want to record for longer?
Both GoPro Hero4 and Hero5 support 128GB SD cards which can record double that time so around 8h44min of video footage.
Some people might find it necessary to record more than 4hours but it's up to the individual's choice.
How to enable loop recording on a GoPro?
Loop recording feature offers several interval options, but for a dash cam setting, I need the set the interval to max, that means the GoPro will not start erasing the beginning of the video until the SD card is full.
There are other interval windows such as 5, 10, 30 minutes but it's useless in this situation. Learn how to enable loop recording here.
Which resolution is the best?
I use 720p at 60fps. 720p is full HD which is enough for dash cam recording also setting higher fps is useless in this situation.
2. Preparing the GoPro: My GoPro Dash Cam Settings..
When using a windshield mount, the GoPro will be upside down as shown in the below photo.
That's fine, don't worry. GoPro has an additional setting where I can change the orientation (Up, Down or Auto) which is another great feature from GoPro.
So I make sure to set this up prior to mounting the camera.
To change the orientation on your GoPro Hero4, go to 'Setup' then orientation (the 2nd line), then choose 'Auto'.
That way the GoPro will automatically detect if we're using the camera upside down and will flip the video. The front LCD screen will also flip.
To set up the loop recording on your GoPro Hero4, press the 'Settings' button on the side of the camera, select 'Looping' then under it, select the interval.
As I mentioned earlier, the interval should be set to 'MAX' that way the GoPro will start erasing ONLY when the SD card gets full.
Under the interval, we need to choose the resolution, I choose 720p which I find enough. I then choose 60 for the FPS.
3. Connecting Everything
Now, that the GoPro is set up, we need to connect everything. I'll start by putting on the frame on the camera then fixing it to the suction cup mount.
Next, would be to fix the suction cup to the windshield. The windshield should be clean from any dust, better to clean it with a cloth first.
I'll apply some force on the mount then tighten the small release buckle.
I usually try to wiggle the mount a bit to mimic the road vibrations just to check if it's mounted properly, it's worth checking before fixing and connecting everything. I don't want the camera to fall off while I'm driving.
Once it's stable, I plug in the 12V USB charger in the cigarette lighter socket and connect the USB cable.
I then connect the USB cable to the mini USB port of the GoPro. Once I verify that the GoPro is powered through the charger, I can now click the shutter to start recording.
Another method would be to use the GoPro app on my mobile or the remote to start and stop recording or change any setting I might want to change after mounting the camera.
I recommend to have either the app or the remote connected to the GoPro that way I won't need to touch the camera and maybe move it by mistake which can ruin the shooting angle.
It's a pretty straight forward setup, no extra hardware is needed except the suction cup mount. I'm sure everyone already uses a USB car charger for their mobile phones.
Here's a video of a GoPro as dash cam. I really like the wide angle, no blind spots!
4. Additional Tip
Using a dash cam is great and offers some security for many people and what would be good is to have a GPS tracker connected to the camera.
Imagine having the exact location of an accident or whatever incident that takes place, awesome idea, isn't it?
Well, the GoPro Hero5 or newer models have GPS capabilities that can to track your movements.
I find it essential to have location information when recording from a dash cam.
I can always go back and track the route I took or use it to identify the location of an incident.
If you have a Hero5, 6, 7 or 8 you can easily activate it, here's how to do it:
Swipe down on the GoPro screen and go to 'Preferences'
Scroll down to 'GPS' and turn it 'ON'
Now you will see the little location icon on the left side of your screen, next to the WiFi icon.
GPS gauges can be added to the video later using GoPro's software 'Quik'.
All the GPS data is stored on the camera and then you pick which gauge you like to display using Quik.
It's pretty cool if you're planning to edit the video later on.
What about the audio?
For me, audio is as much important as video in a dash cam and can be beneficial in many incidents like car accidents, road rages, etc..
Recording a good quality audio is a plus in this situation, and we know that the GoPro is capable of recording audio but to be honest the quality is not that great.
The solution to this was to connect an external mic to my GoPro, this will greatly enhance the sound quality of the recorded videos, it will be a lot more crispier, clearer and wind-noise free.
Of course this is optional, but for anyone looking to upgrade the sound quality of his GoPro should give this a try, you won't be disappointed.
What are the advantages of using a GoPro over a normal dash cam?
Cost saving: No need to spend extra money on a new dash cam if you already have a GoPro.
Quality: Even with a good quality dash cam, a GoPro Hero6 can easily beat it with its 4K video resolution and GPS capability
Reliability: GoPro is well-known to handle rough conditions and can be pretty reliable especially when using it as a dash cam.
Functionality: GoPro can be controlled using the GoPro remote or through the app on your mobile which makes it a lot easier to change settings without having to un-mount the camera from the windshield like other dash cams.
What are the disadvantages of using a GoPro over a normal dash cam?
Using a GoPro as a dash cam has its disadvantages as well:
Overheating: Using a GoPro for an extended period of time when it's continuously recording and under the sun can make it overheat, even when using a GoPro frame and not the closed case.
Theft: GoPro are much more expensive than normal dash cams, therefore it can sometimes attract thieves to break in your car and steal it (that is a worst case scenario but you never know).
My suggestion would be to use the windshield sun shades to hide the GoPro and protect it from the heat.
---
As you can see, there are more advantages than disadvantages of using a GoPro as a dash cam.
It's up to you to decide whether you use your GoPro or purchase another dedicated camera.
I suggest you keep in mind the above details and decide whether you go with a GoPro or normal dash cam.
That's it folks! I hope you liked this tutorial. Feel free to share any tips, thoughts or questions you have in the comments section below, and don't forget to share 🙂