When I'm preparing for a holiday, photography gear is an essential part of my packing list. I will show you today what are my best GoPro accessories for travel and the purpose of each accessory. We all know that DSLR cameras are great but I simply cannot travel without my GoPro, it's a must have on every holiday. At the end of the day, you cannot take DSLR cameras underwater or attach it to your head so here comes the beauty of this small powerful camera.
Since I own a huge collection of cameras and accessories, it can get confusing to know what to take with me on a holiday. Usually it depends where I'm going and what I'm planning to shoot, but before deciding on these, there are essential accessories that I can take mostly anywhere, they are the basic need for a successful shooting with my GoPro.
Let Me Show You the Essential GoPro Accessories for Travel
1- Battery Batteries OR Brunton

One of the most important part of a GoPro is the battery and one isn't enough AT ALL. We all know that GoPro are not that good with batteries as they barely last for 2 hours and it can be very disappointing to miss some good shots during your trip because the battery is dead, hence the need to have extra batteries. When I'm packing, I make sure to take at least three batteries, I use the Smatree brand and not the GoPro ones since the others are stronger (1290mAh) and last longer than the stock ones.
I also have the Smatree 3 channel charger that can charge 3 batteries at the same time so I don't have to recharge them one by one which can be really helpful specially if you're short on time. Three of these Smatree batteries can last me around 8 hours so it's a huge advantage when I'm out all day as I don't have to worry about my GoPro dying and I can shoot for as long as I want.
Another GREAT accessory is the Brunton All Day 2.0 Extended Battery For GoPro. It literally lasts "All day", it's a MUST HAVE seriously. The first version was only compatible with the previous Hero 3 Models but the new 2.0 version is compatible with all kinds of GoPro Hero4 and Hero.
It's a very well designed battery that can last around 5.5 times more than the usual GoPro battery (yeah I tested it), I was shooting the whole day and I still had like 20% left when I went back to my hotel! Also the Brunton battery is waterproof (down to 40 meters), it attaches to the back of the camera replacing the Backdoor. I don't have to remove the GoPro battery while using the Brunton as they can work together.
This battery is also great for time lapses so if you're planning to create one then the Brunton will definitely do the job!
2- Memory CardS

I put S in capital because same as the battery, one is NOT enough for a trip or holiday, at least for me because I'm always shooting around with my GoPro. It's very important to know the memory card type you need and it comes down to what type of video I'm willing to shoot.
For 4K videos, I go for the very fast SANDisk Extreme Pro 64GB, I cannot use slower cards because I get bad video quality. For other types of videos, I go with the SANDisk Extreme which can be used for mostly all resolutions without sacrificing the video quality. I make sure I take 2 or 3 on every trip, because I may not have the time to transfer videos on to my laptop so I fill up my memory cards before returning back home.
3- GoPro Traveling Case
An important part of my packing list is the case itself, I need a good, shock and water resistant case to protect my GoPro camera and accessories. For small trips, I use the Camkix Small Water Resistant case, it's small, light and can fit my camera, batteries, remote, LCD Bac Pac, floaty backdoor and cables.
Well it can fit the basic stuff that I need to carry with me to be able to shoot with the camera, it's compact so can fit easily in my baggage, the good thing I like about this case is the water resistant zipper, it's great for beach or boat use, just keep in mind not to totally submerge it in water, it can handle rain and splashes fine but it's not made to be fully covered in water.

N
ow for longer and more extreme trips, I use a bigger, more rugged and WATERPROOF case that can fit more stuff than the Shineda case, it's the Pelican 1200 case. I took this one with me to long treks in Nepal and India, and I must say that it's awesome.
You can drop it in the ocean or leave it at the top of Everest, this case will really stand against all difficulties without any issues, it's crush-proof and waterproof, can go underwater without letting in one drop of water, it's heavy and rugged and can fit more stuff. Of course, it's heavy and more expensive than the usual cases but for it's advantages it's worth the money.
4- The Pole/Selfie stick

One of my favorite accessories is the SPgadgets POV pole, I take it with me on all my trips, I mean literally everywhere, it's really an essential part of my travel packing list. It's very useful to have a pole for selfies and steady shots also in case there is no one around to take photos of you. This pole also have a integrated GoPro Wifi or Smart remote housing which makes it easier for me to control the camera without the need of using the buttons, it can also extend up to 39 inches!
5- The Tripod

Another great accessory I always carry along with me is a tripod, it's small and light, doesn't take space and can fit into my GoPro case. It's another essential part of my trip that I use a lot. I need this one to take good steady shots of sunsets, sunrises, time lapses and shots of myself.
It's pretty stable and extremely useful, I own two of these, one is the usual GoPro tripod and the other is the Gorilla pod action tripod that allows you to literally fix your GoPro anywhere, its flexible legs can wrap around anything from a tree branch to a pipe, and it's also lightweight. I personally use this one because it gives me more flexibility than the usual tripod but if you don't need this then you can just stick to the standard tripod.
6- Underwater Filter

When I'm planning to shoot underwater with my GoPro, the red filter becomes a necessity. Whether I'm snorkeling or scuba diving, the red filter is a must have if I want to have more natural colors in my videos. Shooting without the filter will make the videos very blue which can ruin your precious holiday footage. The red underwater filter introduces the red color so that the videos appear less blue and give it more vibrant and natural colors.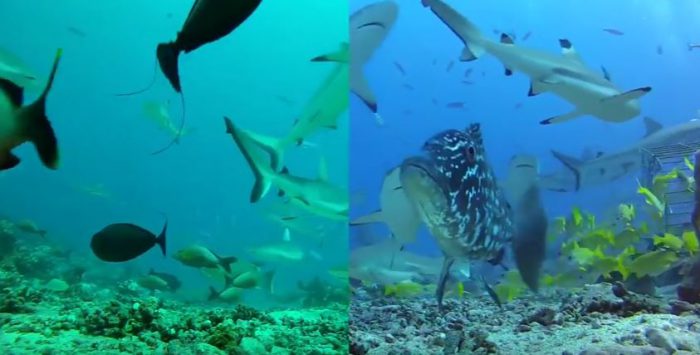 As you can see in the above comparison photo, no filter was used on the left side and you can clearly see that the colors are more green and blue whereas looking on the right photo where a red underwater filter was used, you can see the more vibrant and natural colors. So if you're planning on going for a snorkeling or scuba diving trip during your travels then I strongly recommend the GoPro red underwater filter.
There you have it ladies and gentlemen!
What do you think of my best GoPro accessories for travel? Let me know by leaving a comment in the comments section below 🙂