It took me a while to publish this ThiEYE T5 Edge review, mainly because I wanted to provide you with as much detail as possible on this great budget action camera.
Note: This camera is no longer available for sale. Check the ThiEYE T5 Pro for an upgrade/alternative.
The recent popularity of action cameras that promise premium features at a price less than half of GoPro's flagship models has begun to pose a new threat to the action camera giant's loyal fan base.
The market, hitherto dominated by GoPro, has now been thrown open with several companies coming out with power-packed action cameras at competitive prices.
In fact, it may not be a hyperbole to state that the market in the budget category appears almost saturated by products that have derived not-so-subtle inspiration from GoPro's Hero series.
As the demand for such action cameras continue to escalate, companies like ThiEYE find themselves at a crucial juncture where they have to combine affordability and functionality while devising a strategy to keep the profits flowing.
The ThiEYE T5 Edge has barely been in the market for a few months, but it has already ruffled enough feathers to persuade experts to sit up and take notice.
At just about $100, the ThiEYE T5 Edge has a number of competitors, but only a few offer equally impressive features. Native 4K recording at 30 fps is undoubtedly a bargain!
In this review, I will be taking a detailed look into the specifications of the T5 Edge and analyze its performance in a comprehensive fashion.
---
Let's Jump To The Review!

Product: ThiEYE T5 Edge
Price: $$
My Rating: 4.8/5
Cheapest Place to Buy: Amazon.com
---
Specifications
Here are the ThiEYE T5 Edge specs screenshots taken from the ThiEYE website:
---
Design
The design of T5 Edge resembles ThiEYE's earlier products that have a striking similarity with GoPro action cameras.
With dimensions of 60 x 42 x 23 mm, the camera is small, compact, and easily portable. It is pertinent to mention here that these are the exact dimensions of the T5e as well; so if you are looking to use its accessories for the T5 Edge, you will not be facing any issues.
The Body
The body feels solid and the rubber coat prevents the camera from slipping off your hand. In fact, the black rubber finish also adds to the look of the product.
The 170-degree lens is present on the front along with the Power button beside it. There are 2 LED lights that indicate recording and Wi-Fi status.
The 1" x 1.75" display makes up almost 4/5th of the back side. There are 2 LED indicators at the back as well which light up blue when you are recording.
This is quite a handy feature because you get to know the recording status of your camera regardless of how you're holding it.
At the Top
The Wi-Fi/selection button lies at the top.
At the Side
You will find the micro USB charging port, a micro HDMI cable port to output videos and photos and another port to accommodate the micro SD card.
At the Opposite Side
There are 2 buttons for navigation through the settings.
At the Bottom
There is the provision for mounts like tripods, selfie sticks, bike mounts, etc..
Then you have the battery compartment and the battery cover.
Refer to this User Manual Guide to learn how to properly operate the camera.
---
Video and Photo Quality
Video
The USP of the T5 Edge lies in the native 4K recording feature. Honestly, this feature may sound like a gimmick at this price, but once you test it for the first time, you will realize how wrong you were.
Wide Dynamic Range
The colors are well saturated, details are crisp, and the wide dynamic range does not hurt either. WDR(Wide Dynamic Range) is the difference in light levels in an image between the darkest and the brightest areas.
Here's an example of WDR Off vs WDR On:
4K Resolution
The T5 Edge can record in 4K resolution at 30 fps, 2.7k at 30 fps, 1080p at 60 fps and 720p at 120 fps. If you compare these numbers with those of Hero 6 Black, you will find that the GoPro camera also records 4k at 30 fps and does a little better at 1080p and 720p.
Slow Motion
The 720p at 120fps is great for capturing high speed movements like jumping, parkour, motocross racing and other high speed extreme sports. You will be able to capture all the action and slow it down during the editing and playback, the reason why capturing more frames per second is important.
170-degree Shooting Angle
The 170-degree super wide angle 7G lens does well to capture smooth footage in different scenarios and lighting conditions.
Built-in Gyro Stabilizer
The built-in Gyro stabilizer, Electronic Image Stabilization (EIS) work well to stabilize bumpy recording that can be beneficial while shooting fast moving objects and minimize blurring at 4K & 1080p.
Distortion Correction
Distortion Correction feature will correct distortions like the fish-eye effect which most action cameras have, due to the wide shooting angle. If you would like to remove the fish eye effect, make sure to turn it on.
Here's an example with distortion correction ON vs OFF:
Aqua Mode
With Aqua Mode ON, you can record videos and take photos underwater without the need of an additional filter, this aqua mode with preserve the original blue color.
Here's a photo showing the difference between Aqua mode OFF and Aqua Mode ON:
So if you're shooting underwater make sure you turn this feature on in order to get the most out of your underwater photography.
Video Time-Lapse
Again, a great feature is the video time-lapse mode. It can be set to capture video frames at the interval of 1/3/5/10/30/60 seconds. So when played at normal speed, the video will appear to be moving faster and lapsing.
If you like to capture a time lapse of a sunrise, sunset, moving traffic or changing clouds, then make sure to use this feature.
Dash Cam
Yes, the T5 Edge can be used as a dash cam in your car or motorcycle. Here, you will notice the beauty of the Gyro Stabilization on bumpy roads.
You can check my guide on how to setup your action cam as a dash cam here. It's initially for GoPro, but works with all kinds of action cameras.
Issues with Video
While the camera records well in 4K and 2.7K, it fails to deliver equally well while recording at 1080p.
The footage in 1080p looks like 720p recording being stretched out. This is something ThiEYE should worry about since most users prefer 1080p recording as it provides the perfect balance between video quality and storage space.
I hope they will fix this by releasing a new firmware, they have fixed a couple of issues on some of their other models through new firmwares.
However, this camera is priced at around a $100, and it is unfair to ask for the best quality pictures in addition to everything that it is already offering at this low price.
---
Photo
The image sensor for photos is 14 MP, which is an upgrade from the 12 MP sensor in ThiEYE i60e. The photos are crisp and clear, but it falls behind in the race against flagship models.
Here are the available photo settings:
ISO
ISO can be set up to 3200, This will give you better shots in the dark than other action cameras.
Scene Mode
Manual, Portrait, Landscape, Outdoors, Night.
Exposure
You can get a long exposure time of up to 60 seconds, useful for moving scenes and night time photography.
White Balance Settings
Auto, Daylight, Shade, Tungsten Light, White Fluorescent.
Burst Mode
Capture 3/7/15/30 photos in one click.
Time-Lapse Photo
It can be set to capture photos at the interval of 3/5/10/30/60 seconds. The photos taken when stitched together will look like a video.
---
Sound Quality
As mentioned earlier, the T5 Edge scores higher than the ThiEYE E7 in the audio segment because of its fantastic wind noise reduction feature.
Dual Microphones & Noise Reduction
The camera is equipped with dual microphones – a nifty feature which ensures perfect wind noise reduction.
This is a great addition and is worth the extra bucks if you are someone who prefers to record outdoors.
Ambient sounds can be a nuisance and need to be maintained at minimum levels, and this camera does just that! Of course, you need to be on the latest firmware in order to use it to its potential. Click here to check if you have the latest ThiEYE T5 Edge firmware.
Voice Recognition
The full potential of the microphone is tested when you are using voice commands. Initially, this may appear a bit of an issue because the camera tends to misread accents till it has grown used to your voice, but once you have registered your voice, it should work 9 out of 10 times.
Of course, you need to speak clearly and directly towards the camera, and make sure you're not in a very noisy environment.
---
Navigation, Controls and Battery
Navigation is one of the areas where ThiEYE cuts expenses and offers technology inferior to GoPro models.
No Touch Screen
Unlike the latter's touch screen display, ThiEYE T5 Edge provides the user with control buttons. The buttons certainly appear sturdy and the interface looks clean, but you may need some time to get accustomed to changing settings initially.
Clear Menu
The menu is categorized neatly into video, photo and camera settings. This is another palpable improvement from the T5e which had a single big list instead.
Toggling up/down is easy with the intuitive buttons on the side, and the Power button on the front also works as a Mode Selection button that lets you exit each settings screen.
Supports up to 128GB
The T5 Edge does not come with in-built storage, but it supports up to 128 GB of data in the form of micro SD, SDHC or SDXC.
While investing in a 128 GB card may seem like overkill, it must be remembered that native 4K recording does consume a lot of space, and it is always prudent to have enough storage for safety.
The camera supports both wired transfer of files as well as wireless connectivity. The latter isn't flawless, but at this price point, that is understandable.
Battery
The ThiEYE T5 Edge comes with a 1100mAh battery that lasts around 1.5 hours, of course the time depends on a couple of factors like the resolution being used, continuous or intermittent recording, etc..
If 1.5 hours are not enough, you can always buy extra batteries at a very cheap price.
---
Smartphone App
There are two ThiEYE apps now. The ThiEYE Action Cam is for the older models like T5e, i60 etc., while the T5 Edge needs the new ThiEYE Cam app.
The camera allows connectivity over both Wi-Fi and Bluetooth. On turning the Wi-Fi on, you will be receiving a prompt displaying a QR code.
For Android and older IOS users, this is of no importance since they will need to navigate to their Wi-Fi settings on the phone and connect manually.
Live Streaming
You can broadcast Full HD live streaming from your social media such as Facebook or YouTube Channel to your family or friends, via WiFi network or cellphone hotspot. Here's how you can do it.
App Advantages
However, if you are using a recent device (IOS 11 and above), you can simply scan the QR code on the camera's screen and connect with the camera's Wi-Fi. You can go here to check and scan the QR code to download the app on your phone.
The app design is minimalistic, and performs all the basic actions that you need it to do. It allows you to click pictures, record videos and change settings remotely.
The app interface appears smooth and clutter-free, although the fact that not all the settings on the camera are present on the app may turn out to be somewhat inconvenient for heavy users.
Additionally, the app boasts of quick editing features that allow you to touch up your photos before sharing them on social media.
App Disadvantages
One of the downsides of the app, however, is the number of negative reviews it has accumulated in the last few months.
Several users complained that while connected to the app, the camera's Wi-Fi screen froze regularly, and the issue could only be solved after removing the battery, placing it back again and restarting the device.
This may be a software glitch that is not impossible to solve with a firmware update. But if it is something more complicated, ThiEYE will need to find a quick bug fix for the number of disgruntled customers spread across the world.
How to Connect to the Camera via the ThiEYE CAM App
Step 1:
Press and hold the Wi-Fi button until the screen shows "Wi-Fi ON".
Step 2:
Connect your phone to the Camera Wi-Fi Network (Default Name: ThiEYE_CAM, Password:1234567890), then open the App and click "CONNECT" button.
Open the ThiEYE Cam App and scan the WiFi QR Code (for Android / iOS App).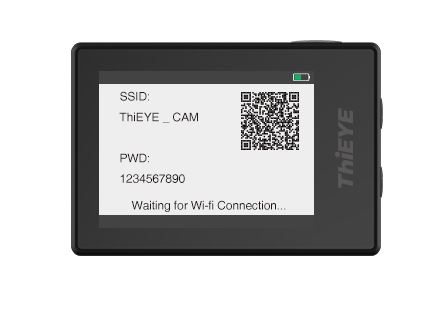 ---
Accessories and What's in the Box
The camera comes with all the basic accessories manufactured by ThiEYE like waterproof casing, flat and curved adhesive mounts, adhesive stickers, anti-fog inserts, a 360 degree rotating release buckle, a 360 degree vertical release buckle, one battery, a micro USB cable, a microfiber cloth, cloth bag and user manual.
Remote Control with Voice Recognition
There's also a remote controller inside the box that helps you to access your camera from a distance.
ThiEYE has released two remotes – one with a microphone and another without. The former is for devices that respond to voice commands, while the latter is reserved for those cameras that do not have this feature.
This being the only difference, both remotes do not face any issues while connecting to the T5 Edge.
The remote controller has 3 buttons – one each for power, video and photo. There are indicators lights on the remote controller just like on the camera itself.
This is a great feature as it helps you to know whether your camera is recording when it is at a considerable distance away from you.
Anti-Fog Inserts
The anti-fog inserts can be very useful when you have the waterproof housing on and the camera is used underwater.
Fog builds up when the warm air on the inside of the housing is cooled by the cold surface of the lens, leaving condensation on the inside of the housing. So if you are planning to shoot underwater, don't forget the anti-fog inserts.
360-degree Swivel Mounts
The 360-degree swivel mounts are signature accessories from ThiEYE that are immensely popular among action camera enthusiasts.
While traditional mounts are cheap and available widely, these swivel mounts, despite not being as widely available, are much more flexible and versatile in comparison.
If you are someone who has a penchant for extra mounts and accessories, it will come as a relief to you that you will be able to use almost all the accessories of your previous camera with the T5 Edge.
---
Firmware
It's always recommended to keep your camera's firmware up to date, ThiEYE always releases new bug fixes. And as I mentioned earlier, there is a small issue with the 1080p resolution which makes the video looks stretched. This bug might be fixed through a firmware upgrade in the future.
Let me walk you through the firmware upgrade process of your ThiEYE T5 Edge, if you choose to do it:
Download the RAR firmware by going to the ThiEYE support page and choose your camera model.
1. Install the driver on your PC
1.1 Decompress the RAR file and install Driver DirectUSB-Setup by starting DirectUS-Setup (all included in the RAR file you will download)
1.2 Find the DirectUSB by going to (C:\Program Files\Ambarella\DirectUSB II)
2. Parameter setting
2.1 Open the DirectUSB.exe
2.2 Choose the file which type name ends with elf.
3. Upgrade steps
3.1 Keep the battery but remove the SD card.
Press and hold the Top button of the camera until you connect it with the USB cable to your PC then double press the MODE button.
Then open the DirectUSB, click Connect.

3.2 Click the Download button to start upgrading. When the process is done the Status will show as OK, it takes about 5 minutes.
4. Auto Reboot
4. The camera will reboot automatically after the upgrade completes.
---
Comparison with ThiEYE E7, T5e and GoPro Hero6 Black
While it is not so difficult to see why the ThiEYE T5 Edge is a direct upgrade to its predecessor T5e, the comparison with ThiEYE E7 is much harder.
You can check my review of the ThiEYE E7 here.
A quick glance at the specifications of both the cameras reveals mostly similar numbers. The only areas where the E7 differs from the T5 Edge are the absence of wind noise reduction and voice-controlled remote control in the E7.
It does not end up having a massive difference in the performance – both these cameras come with identical chipsets and image sensors – but of course, the added features push the price of the T5 Edge slightly higher.
ThiEYE T5 Edge vs E7 vs T5e vs GoPro Hero6 Black Comparison Table
| Model | T5 Edge | T5e | E7 | GoPro Hero6 Black |
| --- | --- | --- | --- | --- |
| Native 4K | YES | YES | YES | YES |
| Video Resolution | 4K 30fps, 2.7K 30fps, 1080P 60 / 30fps, 720P 120 / 60 / 30fps | 4K 30fps, 2.7K 30fps, 1080P 60 / 30fps, 720P 240/ 120 / 60 / 30fps | 4K 30fps, 2.7K 30fps, 1080P 60 / 30fps, 720P 120 / 60 / 30fps | 4K 60 /30 fps, 2.7K 120 fps, 1440p 60 fps, 1080p 240/ 120 /60 /30 fps, 720p 60 fps |
| Photo Resolution/Sensor | Up to 20 Megapixels | Up to 12 Megapixels | Up to 20 Megapixels | Up to12 Megapixels |
| Gyro Stabilization | 4K 30fps and 2.7K | 1080p 60/30 fps | 4K & 1080P | YES, all resolutions |
| Voice Control | YES | NO | YES | YES |
| Audio quality | Good | Average | Good | Excellent |
| Wind Reduction | YES | NO | NO | YES |
| Live Streaming | YES | NO | NO | YES |
ThiEYE T5 Edge vs ThiEYE E7
Here's a video by Chigz Tech Reviews showing a comparison between the E7 and T5 Edge:
ThiEYE T5 Edge vs GoPro Hero6 Black
A photoof the same scene taken by a T5 Edge and a GoPro Hero6 Black:
Here's a video showing an overview of the T5 Edge and comparison with the Hero6 Black and Yi 4K+:
---
Final Verdict
What I didn't Like
However, it does fall short of expectations while recording in 1080p resolution – this is a grave concern that may turn out to be the deal breaker for many – and the software bug that freezes the screen while connected to the app is an annoying issue.
Overall, the T5 Edge promises a lot on paper. Although it may seem ridiculous at first, the little beast, indeed, ends up ticking most of the right boxes. Its shortcomings, on the other hand, are significant, albeit few.
If you are looking to upgrade from another ThiEYE product, the T5 Edge is definitely a lucrative buy. But if you are willing to pay more, then you may find better alternatives from other companies.
What I Liked
As a budget option, the ThiEYE T5 Edge fares rather well in some departments while falling through in a few. Let us summarize the pros and cons of the product.
Native 4K recording feature, in-built gyro stabilizer that entirely transforms a recording, the remote control along with the ability to use voice commands, the reliable waterproof casing, the clean interface, and the several customizable settings are definite pros of this camera.
Another advantage of buying this product is that it comes with all the necessary accessories so that you won't have to spend extra on anything, except the micro SD card.
Check the ThiEYE T5 Edge on Amazon
---
---
I hope you liked my ThiEYE T5 Edge Review! Please feel free to drop me a question in the comments section below and I will be more than happy to answer 🙂