Let me show you what are the best GoPro Accessories for Hiking and what each accessory offers in terms of usability, POV and compatibility.
Few things in life are as rewarding as taking a GoPro camera for hiking. GoPro provides the best action cameras in the market, specifically designed to capture adventure sports like hiking, kitesurfing or skiing.
However, ensuring that my GoPro is safe and sound during extreme situations is a primary requisite. It is similarly important to own a few mounts in order to capture unique shots in a hassle-free manner.
That said, not everything deserves your money, which is why I have listed the top GoPro accessories for hiking that would be of great importance to capture those amazing moments!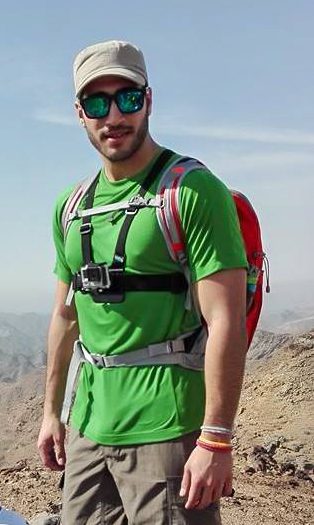 What you should be looking for while buying a GoPro accessory for hiking?
It is always necessary to understand your requirements and set some basic criteria before deciding to buy accessories for something as sophisticated as a GoPro camera. Here are some tips while looking for accessories:
Size
Action cameras are never bulky – they are compact and portable, and that's precisely how they should be even after adding a mount or two.
Your mount cannot take up a lot of room if you're packing things for going on a hike. The accessories you choose must be lightweight and easy to carry.
They must be of high quality, rugged, and durable. There is simply no point in carrying along something that is not going to protect your camera in extreme situations.
Multi-purpose
Further, hiking calls for versatility, same as looking for a hiking watch for example. It's always a good idea to opt for an accessory that can serves a number of purposes ahead of one that specializes in a single function.
Here's a video showing how cool is hiking while shooting with your GoPro:

---
1. Backpack Strap Mount for GoPro
A backpack strap mount is an interesting accessory for you to have while hiking. It lets you record videos of people in front of you as well as of those in the back. Also, it's one of the most inexpensive accessories you're going to get for your GoPro camera.
This quick clip mount from PolarPro is a fantastic little object that allows you to clip the GoPro on your backpack strap in order to capture videos, thanks to the 360 degrees rotation. Here's a video that shows how to mount it on your backpack.
It is made up of plastic parts, but is sturdy enough to prevent any accidents from happening. It is compatible with all Hero series models and most other action cameras.
---
2. GoPro Chest Mount Harness
Chest straps are a nice way to record your experience while living in the moment. They are easy to wear, lightweight, and allow me to capture the moments without actually worrying about "capturing the moments".
Not surprisingly, chest mounts have gained immense popularity among action photography enthusiasts in the last few years, and GoPro has been the single name that has led the market in this department.
The GoPro Chest Mount Harness is one of the most popular chest straps available in the market currently for capturing mid-range POV shots. It is extremely comfortable and fully adjustable; so I don't have to worry about whether it will fit your size. It comes with a J-shaped buckle, although I can use other kinds of flat buckles as well.
One of the best things about using chest mounts is that it helps me capture more than the helmet mount. GoPro takes pride in the immersive experience that it claims this product helps me capture. It is compatible with all GoPro cameras. Interestingly, it has a kid version for adolescents too, known as the Junior Chesty.
---
3. GoPro Head Strap Mount
A head strap is always a useful accessory to have when you decide to go hiking. Not only is it easy to carry, but also provides the best POV experience while shooting videos.
Head straps are usually among the cheaper camera accessories, despite all their utilities. And if you're planning for getting the best value for money for this kind of product, never look beyond GoPro.
The GoPro head strap camera mount works with all GoPro models. It is waterproof, lightweight, and of solid quality. you can wear it directly on your head or over a hat or helmet. It can stretch if required so that you don't have to worry about size. Depending your needs, you can easily adjust the size.
The non-slip rubber inserts on the nylon straps and the tough polycarbonate buckles make the product impressively durable. It is not recommended for high impact sports, but seems to be ideal for hiking.
---
4. GoPro Portable Power Pack
There's nothing like running out of battery during a hiking adventure. If you're going to be gone for a number of days, it is always a good idea to pack some extra batteries and preferably a charger along with the other accessories.
GoPro cameras have a habit of running out of power more frequently than you would like, and that is when the utility of power banks and extra batteries come into play.
The GoPro Portable Power Pack is an official GoPro accessory; so you can trust it blindly as regards to quality and performance. It has a capacity of 6000 mAh, and is ideal for recharging two GoPro models simultaneously within two hours on the go.
It is compact, portable, lightweight, and hassle-free to use. You can tether it to your GoPro if you plan to shoot for an extended period. It supports all GoPro cameras, and even mobile devices that can be charged via a USB cable. It recharges in 4 to 6 hours, depending on the power source.
---
5. Extendable Handheld Monopod for GoPro
The most important thing to keep in mind while buying a selfie stick or monopod for your GoPro camera is that you need to choose one that is as rugged as your action camera.
The normal selfie stick is not usually high on endurance; so if you go hiking with it, chances are you're going to destroy your GoPro camera one way or the other.
The SP-Gadget extendable handheld mono-pod is an ideal product, not only because it's cheaper than most of its competitors in the market, but also because it's lightweight, strong and waterproof.
The ergonomic design, coupled with the anti-slippery grip allows you to hold it comfortably without the risk of it breaking down. It can extend to 39-inches and also comes with a socket for the GoPro remote, that allows to control the camera from the remote and take the best selfies!
---
6. GoPro 3-Way Grip, Arm, Tripod
The GoPro 3-Way Mount is yet another amazing official accessory from GoPro whose popularity soared once customers got an idea about its versatility.
As suggested from the name itself, the product has three parts – a grip for the camera, an extendable arm, and a tripod. The setting of the 3-way tripod is quick and hassle-free, just like the collapsing.
At first glance, you may be inclined to doubt the durability of the tripod. It is made up of plastic which helps to reduce its weight significantly.
However, once you set it up, you get an idea about how sturdy it actually is. To set the tripod up, you have to unscrew the plug under the grip and remove the tripod legs before screwing them back in again.
The legs of the tripod offer reasonably stable support, but, of course, you need to be careful while centering your GoPro on the mount.
---
7. Safety Leash for GoPro
If there's one thing all of us can agree on, it's that GoPro cameras do not come in cheap. So unless you have a lot of bucks to spend on your next camera, should your present one break, it is a wise decision to opt for a safety leash as soon as you become the owner of a GoPro.
The SlinkLink Safety Tether is one of the most popular safety leashes on Amazon with many users vouching for its efficacy. It is designed in a way that it specifically integrates into the GoPro mounting screw thereby providing an added safety net for your camera. It is 12 inches long, and is perfect for looping around things, should the need to anchor your GoPro arise.
Moreover, you can slide the looped end over your wrist when you are recording with your hands to keep your camera safe. It is compatible with all GoPro models, and is definitely one to buy for that extra protection in case of a mounting failure.
---
8. Helmet Extension for GoPro
A helmet extension for GoPro cameras isn't the first thing you'll be looking for once you have decided to go hiking, but it certainly offers a great way to have fun with several unusual videos and uniquely angled shots during your adventure.
There aren't too many alternatives in this category, so the GoPole the Arm is probably the best helmet extension you are going to have to settle for.
Honestly, it's great and I love it. It's reasonably light and can adjust to a number of existing mounts. It supports all GoPro Hero models and allows for 180 degrees POV recordings.
If you are looking to film a video of yourself from a helmet mount, this is something you may well invest in.
---
Remember to Buy the Right Accessories
Most action cameras come with a few basic mounts and accessories. If yours doesn't, it's always prudent to buy them as early as possible.
Hiking can be twice as enjoyable with a GoPro if you have the right accessories with you. I hope you do after reading this article.
I hope you like my list of best GoPro accessories for hiking. If you think there are more essential accessories that should be included in this list, please do let me know by leaving a comment below 🙂