Insta360 is the brand that gives GoPro a very tough competition in the action camera space.
The company produces quality cameras that can match GoPro's standards at any time and the One X is not an exception.
Insta360 is the first company in the world to make a completely modular design action camera, the Insta360 One R.
We can see that this is a company that really has a taste for the future and can try new things that would revamp the customer experience.
The Insta360 One X main selling point was that it offered good image stabilization which is branded as 'FlowState' by the company.
Check my Insta360 One R and One X comparison.
The other selling point was the great video quality thanks to the 5.7K resolution packed in the camera.
What I particularly like about this camera is the invisible selfie stick effect which makes 360° footage appear so nice with a drone-shooting view.
The camera also has a small size which is very portable because it can fit in the pocket easily without causing discomfort to you.
There are still many impressive features of this camera that will prompt you to buy it. Especially the fact that it can shoot 360° videos is so nice.
Follow my review on the Insta360 One X, I will cover all the major aspects that may help you to decide on whether to buy this camera or not.
If you already own this camera, you can also read along because I will be covering some tips also that will be beneficial to you.
---
Let's Jump to the Review!
Product: Insta360 One X
Release Date: October 2018
Warranty: Yes
Cheapest Place to Buy: Amazon
---
Insta360 One X Technical Specifications
Spec
Insta360 One X
BODY
Dimensions
115mm (L) x 48mm (W) x 28mm (H)
Weight
115 grams
VIDEO
Lens Aperture
f/2.0
Video Resolutions and Frame Rates
5K@30fps, 5K@25fps, 5K@24fps, 3K@50fps, 3K@30fps, 3K (3008*1504)@100fps.
Video Format
MP4, INSV, LOG, and HDR
Video Codec
H.264 and H.265
Maximum Video Bitrate
120Mb/s
Video Modes
Standard 360 video, Time Lapse mode, Bullet Time, HDR video, and Log 360 video.
Electronic Image Stabilization
Yes, FlowState
Live stream
Yes
PHOTO
Image Sensor
Sony CMOS sensors
Photo Resolution
18MP
Photo Formats
JPG, INSP, Raw (DNG)
Photo Modes
Standard 360 photos, timed 360 photos, HDR 360 photos, interval 360 photos, and RAW 360
White Balance
Auto, 2700K, 4000K, 5000K, 6500K
Exposure Modes
Auto, Manual (Shutter 1/8000s-120s, ISO 100-3200), Shutter Priority (1/8000s-2s), ISO Priority (100-3200)
AUDIO
Microphone
Two
External Mic
No
OTHER FEATURES
Waterproof
No
Wi-Fi
Yes,
Memory Card
Yes, micro SD Card Slot up to 256 GB.
USB Interface
Micro USB
Battery Capacity
1050mAh
Charging Time
100 minutes
Operating Temperature
32° F to 104° F / 0° C to 40° C
Display
Status Screen
---
What's in the Box?
With the retail package, you will find the following items in the box.
Insta360 ONE X Action Camera Unit
Insta360 ONE X Battery
1* USB A to Micro-USB Cable
1* Tether Wire
1* Screw
1* Protective Pouch
Warranty card
---
Three Major Differences Between Insta360 One X and One R
| | |
| --- | --- |
| Insta360 One X | Insta360 One R |
| Not Waterproof without a Case | Waterproof up to 5 meters / 16 feet |
| Does not have touch-screen display | Has a touch-screen display |
| No external microphone input | Has an external microphone input |
---
Design & Components
Weight and Dimensions
The Insta360 One X weighs 90.9 grams without the battery and 115 grams with the battery included.
This is a nice weight for portability making your adventures less bulky. The camera has only a black color option.
The camera has a body dimension of 115mm (L) x 48mm (W) x 28mm (H).
Processor & Image Sensor
The Insta360 One X has an Ambarella processor which has proved to be high-quality.
The camera rocks two 1/2.3″ Sony CMOS sensors which enable filming in 360 degrees.
Display Screen
The Insta360 One X has a small display screen that shows details like the recording time and the resolution you are using in filming.
The screen is so small that you may find it very difficult to read what is being displayed there.
Dual-Lens
Being a 360-degree camera, it surely rocks a fixed ultra-wide fisheye dual-lens setup which will enable the creation of an all-round view video. The lenses have an aperture of f/2.0.
Each lens will capture video up to 200° then stitches together to create the 360-degree video output.
Tip: Always use a lens protector to prevent your lens from unnecessary scratches and dents.
Ports and Slots
The Insta360 has a Micro USB charging port on the left side of the camera that will be used to juice up your battery as well as connect for software updates.
The camera can take micro SD cards of up to 256 GB of storage.
I strongly recommend the SANDisk Extreme 256GB.
The memory card slot is located on the bottom of the camera just beside the ¼ inch hole for mounting.
Always format a new memory card before using it. There are three ways of effecting a memory card format in this camera:
Format in the ONE X camera
Format on the ONE X App
Format on Computer
Read the official support article by Insta360 to learn how to format your memory card.
Microphones & Audio
The Insta360 One X has a stereo microphone that is good for recording audio in a 360 degrees field.
The audio performs well as you would expect from a 360-degree action camera.
However, if you move outdoors where there is plenty of noise from wind, you will significantly notice the drop in sound quality.
As I mentioned earlier, this camera does not have a 3.5mm mic input port.
You cannot attach an external microphone hence you will have to rely on the in-built microphone for your audio recordings. This is a huge hindrance to people who do a lot of vlogging.
You can neither use an external microphone via Bluetooth. However, this is possible with the newer Insta360 One R.
Wind-Noise Reduction
The Insta360 One X has a mechanism of detecting and eliminating wind noise from your audio recordings.
This mode does a good job of canceling the noise but you will still hear some background noise in footage recorded in very noisy areas.
I still think an external microphone will be a better option to have.
Is the Insta360 One X Waterproof?
The camera is not waterproof without a case. Please ensure that you always keep your camera in a safe place free from moisture or dampness.
When using the Dive Case, waterproof housing, you will get an underwater depth limit of 30 meters / 96 feet. That is a good rating to use for scuba diving.
Before using the waterproof case, test it to make sure there are no leaks and openings.
After every underwater adventure, always rinse and dry your dive case to prevent the damp effect.
Standalone Use: Controls, Buttons, and Modes
The camera has two only two buttons, a small and large one.
The large button is for Shutter / Enter whereas the small button is for Power / Switch mode.
To power on/off the camera, press and hold the small button. When the camera is powered on, press the small button to switch modes.
While in photo mode, press and hold the large button to navigate through the various options in this mode: Standard photo, HDR photo, and Interval shooting photo modes.
While the camera is in video mode, press and hold down the large button to navigate through the different shooting options in this mode: Standard video, Bullet Time video, Time Lapse video, and HDR video modes.
While the camera is in the settings mode, press and hold down the large button to navigate through the various options available: Photo, video, Wi-Fi, and More settings, you will then press the small button to select which option you would like to adjust in settings.
Voice Control
Voice control is the feature where you can control your camera using a set of predetermined voice commands.
This feature is very important when your hands are engaged and you would not like to compromise your safety for the sake of using a camera, e.g. when cycling especially on a busy highway.
Insta360 One X does not support voice control. If you are looking for a camera with voice control capabilities, then check out the Insta360 One R which is the newer model.
Remote Control
Insta360 One X can be controlled remotely via GPS smart remote and smartphone App.
GPS Smart Remote
Before connecting your camera to the GPS remote, ensure that your camera runs on the latest firmware version.
You can use the remote for a maximum length of 10 meters, which is not bad.
You can use the GPS remote to take a photo, shoot a video, turn on/off, and reset.
Insta360 One Smartphone App
The Insta360 One X has in-built Wi-Fi that will enable you to connect the camera to a smartphone.
To use this App swiftly, make sure your phone runs on a fast processor, this will eliminate lags that may be encountered.
First, download the Insta360 One App from Google Play or App Store depending on your phone OS. Activate Wi-Fi on your camera and select 'connect now'.
Activate your phone's Wi-Fi and open the App. Pair the two devices together and you are set to go.
You can now use the phone to control the camera by navigating through the different modes and settings.
There are lots of settings in the App that can be adjusted right from within, they include; exposure, white balance, resolution & frame rates, and many more.
Editing your footage in the phone App is just amazing and that is something you will surely like.
---
Video
Video properties and quality is one major reason that somebody will choose an action camera over the other.
This is truly a make it or break it feature for many people who would love to file their action activities in a video file.
Video Resolutions
The Insta360 One X can shoot videos with a maximum resolution of 5.7K. We also have 4K and 3K resolution in this camera.
The pixel widths and heights for the resolutions are;
5.7K: 5760 x 2880
4K: 3840 x 2160
3K: 3840 x 1920
Frame Rates
The camera has a maximum frame rate of 100fps which can be shot with a resolution of 3K.
The video resolution and frame rates combination are as follows: 5K@30fps, 5K@25fps, 5K@24fps, 4K@30fp, 4K@50fps, 3K@50fps, 3K@30fps, 3K (3008 x 1504)@100fps.
What about Video Quality?
The video quality from the Insta360 One X is amazing as you would expect.
The 360-degree footage looks great with all the resolutions. One thing I like about shooting 360 degrees in 5.7K is the ability to reframe the footage and get a Full HD 16:9 video.
The color saturation is balanced and there are minimal incidences of over/underexposure.
Oversaturation was a big deal for me with the GoPro Hero6 Black which overdid the blue and red colors in daytime filming.
The video looks sharp and especially when you shoot using the invisible selfie stick, it gives you a breath-taking experience.
Low light filming is not any better than daytime filming as you would expect from an action camera.
The night footage appears grainy, but not so much as other action cameras out there.
For a camera that is almost 2 years old from launch time (at the time of writing this review), I would say that in the video department you will get exactly what you pay for, no regrets.
Here is a sample video by Kyle Pugliese that will give you a deep insight of the video quality and features:
Bitrates
The Insta360 One X has high bitrates of up to 120Mbps. Bitrate refers to the amount of data that your camera can write in a second. It is measured in megabits per second (Mbps).
A higher bitrate would normally result in improved video quality by accommodating higher image qualities.
The following are the maximum bitrate you will get with each resolution in this camera;
5.7K will have anywhere between 50-60Mbps per lens, resulting in 100 to 120Mbps in total.
4K@30fp will have 50Mbps in total.
4K@50fps will have 85Mbps in total.
3K@100fps will have 100Mbps in total.
Video Codec
The Insta360 One X has only one video encoding technology that is the H.264.
Although not the best, this codec is perfect for editing your footage on a slow PC/Mac.
If you have a newer and faster PC/Mac don't worry, it will still work for you as well.
Video Formats
All videos are saved in the memory card with either of the following formats; insv, mp4 (files saved in this format can be exported via Insta360 One App), LOG (Files saved in this format will need software on PC/Mac to stitch).
---
Video Modes
The One X has five video-shooting modes namely; Standard 360 video, Time Lapse mode, Bullet Time, HDR video, and Log 360 video.
To change the video mode, press and hold down the large button to navigate through the different shooting options in under video mode:
Standard 360 Video
This mode allows you to shoot 360 degree-video via the dual-lens setup.
In this mode you have a maximum video recording length of 30 minutes in all resolutions and frame rates save for 4K@30fps which can go up to a maximum video length of 90 minutes.
The One X supports 360 degrees live streaming
Video Time Lapse
In time lapse video, the camera will capture video frames in the set duration of time, and later on, it will combine the frames to create one video.
If you want a good time-lapse video, always position your camera in a stable position so that you can avoid unnecessary shakes during the filming.
As you may or may not know, audio is not recorded in time lapse video. Also note that when shooting in Time Lapse video, you cannot enable FlowState stabilization.
You can read this detailed tutorial to learn how to shoot in Time Lapse effectively.
Bullet Time
You can attach the invisible selfie stick to your One X and the bullet time-handle to shoot a bullet-time video.
Always use this mode outdoors for the best performance. Follow these simple steps to create your bullet-time video.
Mount your One X onto the invisible selfie stick and make sure it is tightly secured.
Attach the bullet-time handle onto the invisible selfie stick.
Fully extend it to maximum level while making sure the One X is flat.
After you have done the set-up, you can now switch to bullet-time mode on your One X and start recording.
Swing the selfie stick overhead. Rotate the bullet-time handle slowly in cycles.
After five or six rotations, bring the handle down carefully and stop recording.
Disassemble your set up.
Edit the Bullet time video on your One X app / Studio for One X.
Bullet time video can only be shot in 3K@100fps for a maximum of 30 minutes per file.
Here's a video by Insta360 showing the bullet time feature:
HDR Video
Make sure your camera runs on the latest firmware for you to use this mode flawlessly.
HDR video allows you to produce more favorable shots. While the camera is in video mode, press and hold down the shutter button to choose HDR mode.
Here's a video by insta360 showing the difference between HDR and no HDR video:
---
FlowState Stabilization
The Electronic Image Stabilization technique on this camera is dubbed 'FlowState' and is a Built-in 6-axis gyroscopic setup.
It does a pretty good job of eliminating the wobbles and resulting in a smoother video.
Thanks to the massive field of view that this camera's lenses can capture, it gives room for cropping the video hence removing the wobbles.
Watch this video below By Alison K and get a deeper knowledge of how FlowState works.
---
Photo
Alongside video quality, the photo quality is another make it or break it feature when it comes to deciding whether to buy an Action camera or not.
Photo Resolution
The Insta360 One X can capture images with a maximum resolution of 18 Megapixels, measuring 6080 x 3040. The photos are clear and vibrant.
How is the Photo Quality?
Just like the videos, the photo quality of this camera is good and it met my expectation especially for a two-year-old camera.
Nighttime photos are not as good as those captured during the day, but that is pretty much normal for action cameras.
Here are some photos taken with the Insta360 One X, some of them are 360 and others regular: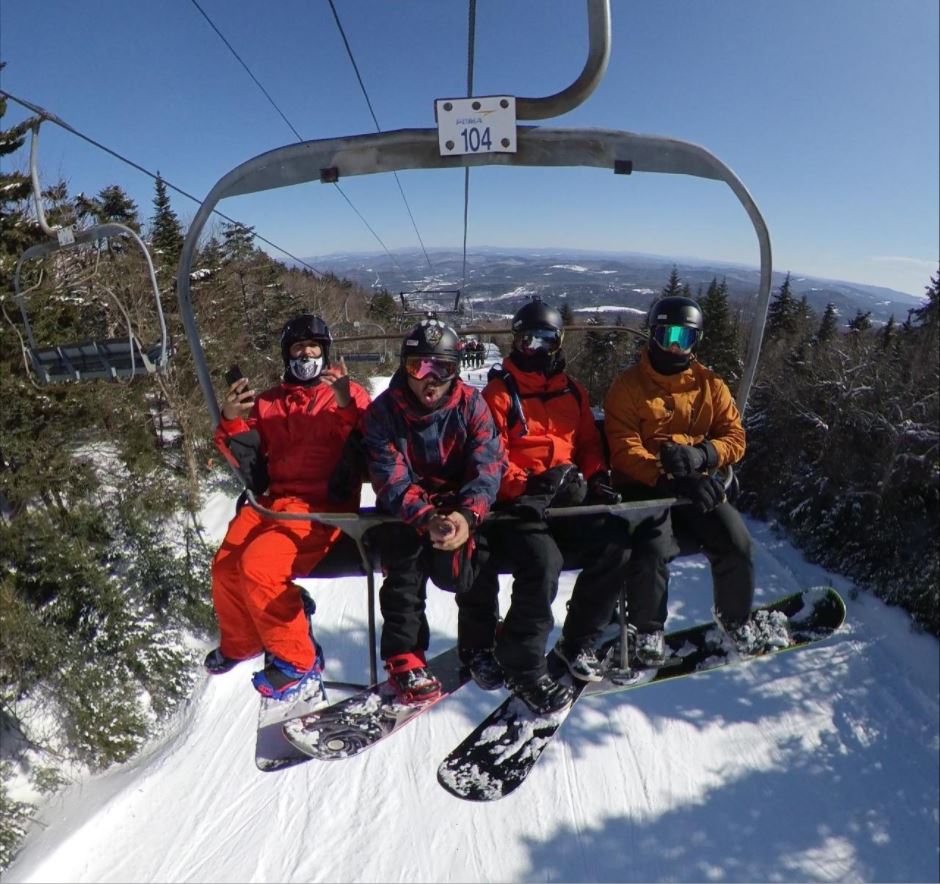 Photo Formats
The Insta360 One X will save all photos in the memory card with either of the following formats; insp, jpeg (Photos saved in this format can be exported from camera to your smartphone via the App), RAW (dng).
Raw photos can only be stitched in the PC/Mac. I like the fact that there is a RAW option on this camera.
This means that I will have more flexibility in post-editing photos saved in this format.
Photo Modes
The camera has five modes of capturing photos namely; Standard 360 photos, timed 360 photos, HDR 360 photos, interval 360 photos, and RAW 360 photos.
To change the photo mode, press and hold the large button to navigate through the various options available.
---
Insta360 One X Battery
The One X is powered by a rechargeable and removable battery with a capacity of 1050mAh.
The battery compartment is located on the right side of the camera.
The battery rating is not the best out there but it is good for this camera because there is no touchscreen display.
Insta360 claims that the battery will last you for 60 minutes of recording in 5.7K@30FPS.
According to my testing, the time is not very far from that claim because I got 53 minutes recording in 5.7K@30FPS.
The battery charging time is 100 minutes when using the micro USB charging cable and 60 minutes when using the Insta360 dual battery-charging dock.
The optimum working temperature for the standard battery recommended by Insta360 is; 32° F to 104° F / 0° C to 40° C
If you use the cold-weather battery, then the recommended usage temperature is; -4° F to 86° F / -20° C to 30° C.
---
Seamless Integration with Adobe Premiere
Insta360 and Adobe have collaborated to make our lives easier during editing. You can edit your videos prior to stitching them together.
This will save you a lot of time during post-production/editing. I personally use Adobe Premiere to edit all my action videos taken by my GoPro, Insta360, and other action cameras.
Adobe Premiere Pro is personally the most powerful editing software you can use for post-production. I edit 360 and regular videos without any issues.
Check Adobe Premiere Pro exact price.
---
Pros and Cons of the Insta360 One X
As with any other product, the Insta360 One X is not a bed of roses. Let me give you my top good and bad things that I have seen so far.
The Good
Impressive 360° 5.7K video quality.
Sleek, portable design with a lightweight.
Good image stabilization.
The Bad
Not waterproof.
Low light performance is not great
Editing the footage can be tedious.
---
In Conclusion – Is the Insta360 One X worth it?
Having a camera that can shoot 360 degrees video is always a cool, nice thing to have in your travel bag.
The Insta360 One X has performed exceptionally well in producing clear and smooth footage.
This camera was launched in October 2018 and as you know with every other action camera, the price has now dropped significantly.
You can get this camera at a lower price than both the GoPro MAX and the Insta360 One R.
The performance is still great even though you might miss out on the latest offerings from Insta360, that is a worthy sacrifice to make in exchange for the price.
The FlowState stabilization works very well to ensure you get a wobble-free video, it absolutely performed better than what I expected.
Going with my Insta360 One X review, I definitely recommend this camera if you are looking for an action camera that can produce 360 degrees videos without compromising on quality.
---
Thanks for reading my review on the Insta360 One X, I hope you found it useful.
If you have any questions or comments about the camera, please leave a comment below and I will surely get back to you.