In this GoPro Max review, I will try my best to give you all the important details you need to know about this 360 action camera that may influence your purchasing decision.
If you are looking for an action camera that can record footage in a spherical 360° view, then there are many options in the market available.
The GoPro MAX is one of the cameras that can perform in that category. It was announced in October 2019 alongside GoPro Hero8 Black. Read my GoPro Max vs. GoPro Hero8 Black comparison post.
GoPro Max uses GoPro's GP1 processor which is the one also used by the Hero8 Black and as such, we expect both cameras to show an almost similar processing power.
With GoPro, you can be assured of great quality when it comes to the photography performance of your Action camera.
The GoPro Max is the successor of the GoPro Fusion which was the company's first 360 camera. Read my GoPro Fusion vs. GoPro Max comparison post.
The GoPro Max features some of the cutting edge specs in the Action camera industry today.
It has good stabilization in the name of Max HyperSmooth and it can shoot 360 videos with a maximum stitched resolution of 5.6K.
GoPro Max can also shoot regular videos in the Hero mode. Also, you can reframe your 360 footage to create a regular Full HD video.
GoPro improved on their smartphone App and now you can do more exciting things right from within the App like editing across the 360-degree video.
The Insta360 One X is arguably GoPro Max's inspiration, however, in January 2020 Insta360 released a modular design Action Camera named One R.
The One R features an interchangeable lens setup with a 360-degree dual-lens option.
In this review, I will be also providing my answers to questions I received from different people concerning this camera, let's dive in.
---
Let's Jump to the Review!
Product: GoPro Max
Release date: October 2019
Warranty: Yes
Cheapest place to buy: Amazon
---
GoPro Max Technical Specifications
Spec
GoPro MAX
DESIGN
Body Dimension
64 W x 69 H x 25 D (mm)
Weight (Camera + Battery)
154g
Lens
2
Touch Screen
Yes
Chipset
GP1
USB Interface
USB Type C
Memory Storage
MicroSD Card up to
Microphones
6
LEDs
2
Waterproof
Yes, 5 meters / 16 feet
VIDEO
Lens aperture
f/2.8
Spherical Video resolution
Spherical Video resolution
Normal Video resolution
HERO Mode 1440p60 / 1080p60
Slow Motion
Hero mode 2x
PowerPano
270° 6.2MP Panoramic Photo
Electronic Image Stabilization
Max HyperSmooth
TimeWarp Video Intervals
Auto (HERO Mode Only), 2x, 5x, 10x, 15x, 30x
Time Lapse Video Intervals
0.5, 1, 2, 5, 10, 30, 60 seconds
Video File Format
MP4 (H.264/AVC), MP4 (H.265/HEVC)
Max Video Bitrate
78 Mb/s (1440)
FOV
Max SuperView, Wide, Linear, Narrow
ISO Video
100 to 1600
PHOTO
Resolutions
18MP Source, 16.6MP Stitched 360 Photo. 5.5MP HERO Photo. No RAW
Time Lapse Photo Intervals
HERO Mode: 0.5, 1, 2, 5, 10, 30, 60 seconds
Continuous Photo Capture
Yes
Photo Timer
Yes
Exposure Control
Yes
ISO Photo
100 to 3200
FEATURES
Voice Control
Yes
Live Streaming
Yes, at Full HD
GPS
Yes
Advanced Metadata
In HERO mode only
Auto Cloud Backup
With GoPro PLUS Subscription
Advanced Wind-Noise Reduction
6-Mic Processing
RAW Audio Capture
WAV formatHERO Mode Only
Wi-Fi + Bluetooth®
Yes
Damaged Camera Replacement
Included with GoPro PLUS Subscription (US only)
---
What's in the Box?
With the retail packaging of the GoPro Max, you will get the following items in the box:
GoPro MAX Camera Unit
1 x Rechargeable Battery
1 x Curved Adhesive Mount
2 x Protective Lens
2 x Lens Cap
1 x Microfiber Bag
1 x Mounting Buckle
1 x USB Type C Cable
1 x Thumb Screw
This is a pretty standard unboxing experience from GoPro, what's more interesting is that this camera is compatible with over 30 GoPro accessories.
So, if you own previous GoPro accessories rest assured that they will still serve you well with this camera.
---
Design & Components
Weight and Dimensions
The GoPro Max has a weight of 154 grams including the battery. That is a pretty heavy mass compared to other 360 action cameras.
For instance, the Insta360 One X weighs 115 grams and the Insta360 One R 360° dual-lens mod weighs 130 grams.
This however does not mean that the max is not portable, do not worry about carrying your camera around.
The GoPro Max has a body dimension of 64 W x 69 H x 25 D (mm). Comparing the max to Hero8 Black, it has a taller height.
The main reason for a slightly bigger body size for the Max is the fact that It houses a dual-lens setup which enables it to shoot 360° footage. The added components also increase the camera's weight.
The Max has folding fingers on the bottom hence they do not require a frame to be mounted.
Display
The Max has a touchscreen display at the back of the camera. It is an LCD with 16:9 and 1.7-inches measurements.
Using the display in bright sunlight is not a big issue since it gets so bright and it is responsive too.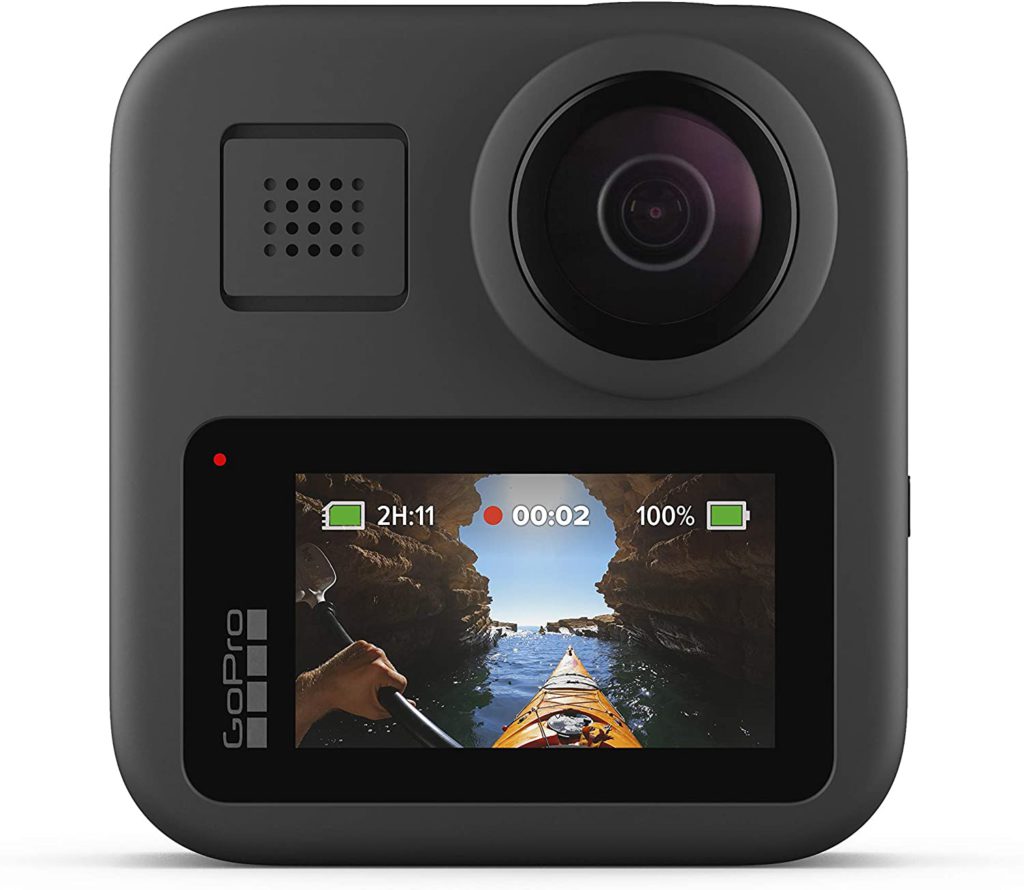 This makes the GoPro Max a true action camera since it is perfect for outdoor activities.
Unlike the Hero8 Black, the Max does not have a status screen at the front of the camera.
If you are coming from an action camera that features a status screen, then that Is something you will surely miss.
Dual-Lens
Being a 360 camera, the Max has two lenses that can shoot a spherical video.
Each lens will capture a view of +180° then the camera will stitch both together to result in one 360 degrees video.
These lenses have different fields of view to choose which are; Max SuperView, Wide, Linear, Narrow.
The lens aperture is f/2.8 which is a good opening.
Ports and Sockets
The GoPro Max has a USB Type C interface for charging and data transfer.
The camera also has a memory card slot that supports microSD cards with a storage capacity of up to 512GB.
That is more than enough capacity to serve you for a whole day.
The camera does not have a micro HDMI port or an external microphone mic input port.
Microphones and Audio
This is one of the departments where this camera lives to its Max title. The GoPro Max has a total of 6 microphones strategically situated all-round the camera's body.
This is a very important aspect when it comes to recording audio from all angles in 360° filming.
The resulting stereo audio quality is great and it met my expectations as well.
As with the Fusion, you also do not get the opportunity to attach an external microphone to the GoPro Max.
This is done purposely to eliminate artifacts stitching effects which might be caused by anything attached to the side of the camera.
Raw Audio
When shooting in Hero Mode, the GoPro Max can record in Raw Audio in the WAV format.
This feature will capture high-quality uncompressed audio during your video recordings and save a WAV file alongside the audio in the MP4 format.
You will have the following audio processing options to choose from in raw audio recording; low, mid, and high
In-camera Wind Noise Reduction
As with most other GoPro cameras, the Max has settings that will allow you to filter excessive wind noise from your outdoor activities.
There are three settings in this category; Auto, On, and Off. The default setting straight out of the box is auto.
The camera does a good job of eliminating wind-noise. GoPro truly makes this feature very effective as compared to other Action camera brands.
Is GoPro Max Waterproof?
This camera is waterproof without the need for waterproof housing.
GoPro Max is usable underwater for up to 5 meters / 16 feet.
This is half of the rating we get with the GoPro Hero8 Black, however, it is good enough to protect you from those accidental splashes.
GoPro has not yet made an official waterproof housing for the Max. An extra housing is essential when you want to perform more intense underwater expeditions which may be harmful to a naked camera.
You can get this waterproof housing from Amazon, it will push your underwater depth limit to 30 meters / 98 feet.
Remember to always test your waterproof housing before using it. Rinse and dry your housing + camera after every underwater adventure.
Controls and Buttons
Controlling the GoPro Max is similar to other GoPro cameras.
There is a power/mode button that is used to power on/off the camera. We also have the shutter button to start/stop recording and take still photos.
The camera is also responsive to touch screen control, you will use it to change modes and navigate through the various settings for each mode available.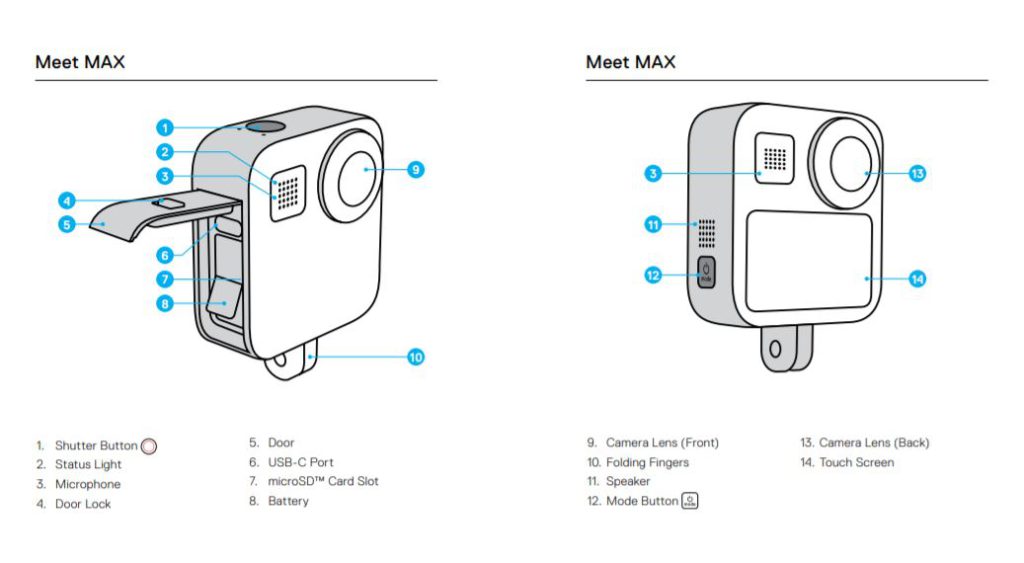 The Max has in-built Wi-Fi which means that the camera can be linked to a smartphone and get controlled via the GoPro App.
In the App, you can navigate through all the camera settings, change modes, record videos, take photos, reframe 360° videos, and many more features.
This camera is also responsive to a set of predetermined voice commands meaning that you can use your voice to control the camera following the available set.
Finally, you can pair your Max to a Remote control and control it from a distance.
Accessing Menus and Modes
Navigating and switching between the available modes is very simple in this camera just like most GoPros.
Voice Control
As I mentioned earlier, the Max has a set of predetermined voice commands that the camera is responsive to.
You have the option to turn voice control on/off from the dashboard.
The following are the supported voice commands that can be used to control your GoPro Max:
Start recording
Stop recording
Add HiLight tag to your video
Take a photo
Take burst photos
Start time-lapse
Stop time-lapse
Turn off the camera
Switch to video mode
Switch to photo mode
Switch to time lapse mode
As you might have noticed, you cannot turn the GoPro Max on using voice control, that option is only available for the Hero8 Black.
Remote Control
The GoPro Max can be controlled remotely by either the GoPro App or GoPro Smart Remote.
You can download the smartphone app from either Google Play or App Store for free depending on your phone's operating system.
The Smart Remote can only be purchased separately, it is not included in the retail box.
GoPro Smart Remote
This small wrist remote is rugged and waterproof down to 10 meters / 33 feet. That is a good rating for an accessory.
This Smart Remote offers an impressive unboxing experience with the following items included in the retail packaging;
A Smart Remote Unit
1 x Attachment Key + Ring
1 x Wrist Strap
1 x USB Charging Cable
Another cool feature about this remote is that it can control up to 50 devices all at once. The Remote is functional at a range of 180 meters / 600 feet.
The following are the other advantages of using this Smart Remote from GoPro:
Full control of the camera from a distance
Start/stop recording videos.
Used to capture still shots
You can add HiLight tags
Built-in LCD screen that shows the current camera statuses like recording time, mode, battery level.
Up to 40 % increased battery life compared to the traditional Wi-Fi Remote control.
GoPro App
You can download the GoPro App to your mobile device from Google Play or App Store.
If you already have the App, make sure you find an update for you to unlock all the new perks that the App can do.
For Apple users, GoPro App is now compatible with the Apple Watch.
You can frame the perfect shot by using your watch as a viewfinder. That is a cool feature right there.
After downloading and installing the app on your phone, tablet, or Apple Watch, you then pair to the GoPro Max camera via Wi-Fi.
You can now use your device to adjust camera settings, start/stop recording, add HiLight Tags, switch modes, reframe 360° video, and many more tones of actions.
I enjoy using the reframing tool on my device to create a Full HD regular video from 360 degrees video.
---
Video
The main reason why you will buy/have bought the GoPro Max is because of its ability to shoot 360° spherical videos.
This feature makes such cameras have a slightly higher price tag than regular action cameras.
In this segment, I will take you through the video resolutions, frame rates, bitrates, codecs, and many other features of the GoPro Max.
Video Resolutions
GoPro Max has two modes for shooting videos: 360 mode and HERO mode.
The latter is where the camera uses the front lens to capture regular videos.
There are two resolutions for the HERO mode; 1440p and 1080p. The following is the description of the pixel of each resolution:
1440p (4:3): 1920 x 1440
1080p (16:9): 1920 x 1080
In 360 mode, the Max can shoot spherical videos at a maximum resolution of 6K at 30 frames per second and 3K at 60 frames per second.
3K60fps was added to the firmware update which was released on 6th May 2020, be sure to update your firmware.
Spherical videos are usually captured separately by both lenses and then stitched together by the camera's GP1 processor to result in a 5.6K (5376 x 2688) video at 30 frames per second.
All videos are saved using the MP4 file format in the memory card.
Here is a test video by Sam Sheffer recorded by the GoPro Max:
As you would expect from a GoPro camera, the video quality is a great improvement from GoPro Fusion.
Frame Rates
The camera has a maximum frame rate of 60fps which is available for 3K in 360 mode and both resolutions in the HERO mode.
The spherical 6K resolution can be shot at 30 frames per second.
30/25/24fps is compatible with 1440P and 1080P in standard capture. 30/25fps is compatible with 5.6K spherical capture.
Bitrates
Bitrate refers to the maximum amount of video data that a camera can record per second. It is quantified in Megabytes per second (Mbps)
GoPro Max has a maximum bitrate of 78Mbps applicable only with the H.264 video encoding technology.
Other bitrate options available for this camera are 45/60Mbps, 30/45Mbps, and 24/36Mbps.
Codecs
The GoPro Max has both H.264 and the newer H.265 video codecs.
This camera also uses Google EAC to convert .360 videos to .MP4 format, this is done in-camera.
Using the H.265 is good because apart from providing better compression for your video files, it results in high-quality videos with relatively smaller file size.
H265 can be used with the below frame rates and resolutions:
GoPro Max Mode
Resolution
360 Video
All Resolutions
Timewarp
All Resolutions
TL Video
5.6K 30/25/24 fps
HERO Mode
1440-60/30/24 fps
1080-60/30/24 fps
Slow Motion
The Max can shoot slow-motion videos in 360 and HERO mode thanks to the 60 frames per second available.
In 360 mode, you can only use 3K resolution in slow-motion.
60fps means that the camera will give you 2x slower footage.
Electronic Image Stabilization
This camera uses EIS technology to produce smooth footage from your rugged scenes.
GoPro named it Max HyperSmooth which is a close competitor to HyperSmooth 2.0 which is found in the Hero8 Black.
Max HyperSmooth
Max HyperSmooth stabilization used in this camera is better than other regular action cameras.
This is because the Max shoots videos in a large FOV giving it more room for cropping out to result in smooth videos.
Doing activities like cycling and running while recording using your GoPro Max should be able to give you wobble-free videos.
Here is a cycling video by Renatinho that will give you a deeper look at how Max HyperSmooth performs in both 360 and normal videos:
Protune for Video
If you have not owned a GoPro camera before, Protune is the advanced setting that gives you the ability to adjust things like ISO, exposure, color, shutter speed, and many more others.
Protune is available for all modes.
Below is a tabulated list that shows the different Protune available for the GoPro Max
| | |
| --- | --- |
| PROTUNE | GoPro MAX |
| Bitrate | Low & High (78Mb/s) |
| Color | GoPro color, Flat |
| White balance | Auto (default), 2300K, 2800K, 3200K, 4000K, 4500K, 5500K, 6000K, 6500K and Native |
| ISO | 100, 200, 400, 800, 1200, 1600, 3200, 6400 |
| Shutter | 1/30, 1/60, 1/120, 1/240, 1/480, 1/960 |
| Exposure value compensation | -2.0 to +2.0 |
| Sharpness | High (default), Medium, and Low |
| Raw audio | Off (default), Med, High |
| Microphones | Stereo (default), Front, Back, Match Lens |
| 360 audio | 360 + Stereo (default), Stereo |
| Wind noise reduction | Auto (default), on, off |
Digital Lenses / Field of View
GoPro uses the name Digital Lenses to refer to Field of View (FOV).
This is a feature that gives you the option to choose how much of the scene you would like the camera to capture.
The bigger the digital lens means the more scenes the camera will capture.
There are four digital lenses for the GoPro Max:
Max SuperView: 13mm (available in Hero Mode Video and Photo)
Wide: 16mm (available in Hero Mode Video and Photo)
Linear: 19mm (available in Hero Mode Video)
Narrow: 27mm (available in Hero Mode Video)
You can change the options by using the touchscreen on your camera.
Horizon Leveling
The GoPro Max has a horizon leveling feature that helps to keep your recording on a level and smooth when the camera flips over.
This feature is only available in the hero mode and can be done from the GoPro App.
---
Photo
Second to video quality, the photo quality is the other most important determinant in purchasing an Action camera.
GoPro Max can shoot both 360 and regular photos.
In this segment, I will take you through Photo resolution, formats, exposure and many more
Photo Resolutions
The GoPro Max can shoot both 360 and regular photos.
The camera captures a 360-degree spherical photo with a maximum of 18 megapixels then later stitches to produce 16.6 megapixels photos.
Using the Hero mode, the camera produces photos with 5.5 megapixels.
Both modes produce high-quality photos as you would expect with a GoPro camera.
Photo Formats
Does the Max support RAW photos?
The GoPro Max saves photo files in only the JPEG format.
This is a bit of a downside because I always prefer cameras that can save photos using RAW format due to the flexibility in editing.
Nonetheless, you cannot rule out this camera just because of the unavailability of RAW photos. I think GoPro saved that feature for the Hero8 Black.
PowerPano
This is an exclusive feature available in this camera that will allow you to use both lenses to capture 270° photos.
The advantage of using PowerPano is that it will give you instant extra-wide panoramic photos rather than having to scan the scene multiple times.
Protune Photo
You will also get the advanced settings named Protune that will enable you to adjust various photo aspects of your GoPro Max.
| | |
| --- | --- |
| PROTUNE PHOTO | GoPro MAX |
| Color | GoPro color, Flat |
| White balance | Auto (default), 2300K, 2800K, 3200K, 4000K, 4500K, 5500K, 6000K, 6500K and Native |
| ISO | 100, 200, 400, 800, 1200, 1600, 3200, 6400 |
| Shutter | Auto, 1/125, 1/250, 1/500, 1/1000 and 1/2000 |
| Exposure value compensation | -2.0 to +2.0 |
| Sharpness | High (default), Medium, and Low |
Exposure Control
The GoPro Max offers you the ability to adjust the exposure simply by tapping and selecting the area you want to adjust on the touchscreen.
Once you make the selection on the touch screen, there are two options available to choose from:
Auto exposure.
Locked exposure.
If you choose 'Locked', the exposure of the selected area of your footage will be locked until you turn it off.
Continuous Photo Capture
The GoPro Max has a continuous photo capture mode which is a little bit similar to burst photos.
The only difference between burst and continuous photo capture is how you press the shutter.
For burst mode, you press the shutter once and the camera will automatically capture the number of photos per interval.
For continuous photo capture, you press and hold down the shutter button to capture the series of photos.
GoPro Max does not support burst mode.
This feature will allow you to capture a series of continuous photos while holding down the shutter button. The maximum you can have is 30 photos per second (30SPS).
Please note that when the camera captures 30 photos, it will automatically stop and move to the next batch of continuous photos.
---
GoPro Max Time Lapse
As with many action cameras, GoPro Max is capable of shooting both Time Lapse videos and photos.
Time-Lapse Video
Time-lapse video is only available in both 360 and the Hero mode only where you can either use 1440p or 1080p resolution.
The time interval available is; 0.5, 1, 2, 5, 10, 30, 60 seconds.
While shooting videos in Time Lapse, you also get the option to choose your desired Field of View; Wide, Linear, or Narrow.
Always ensure your camera is in a stable and fixed position before shooting TimeLapse videos.
Time-Lapse Photo
In this mode, the Max will capture still photos at a set interval then save them in the memory card.
During editing, you can then combine the photos to create a video. You also have the option to delete the ones that are not impressive.
You can take Time-Lapse Photo in both 360 and Hero modes.
With this camera, you have an interval range from 1 photo per 0.5 seconds to 1 photo per 60 seconds.
TimeWarp Video
TimeWarp shares a similar concept with Time Lapse videos but the only difference is that in TimeWarp, you can have the camera moving around with you.
This camera can shoot TimeWarp videos using both 360 (5.6K & 3K) and Hero (1440p & 1080p) modes.
Have a look at a 360-degree TimeWarp video by The 360 Guy:
---
GoPro Max Battery
As with most GoPro cameras, the Max comes with only one battery to power the camera.
The battery is a Li-Ion removable and rechargeable with a capacity of 1600mAh.
This is an impressive rating even compared to the Insta360 One R which has a battery base capacity of 1190mAh.
Talking about battery life, the best performance you will get is 90 minutes.
As you already know, there is a tone of factors that influence battery life and performance. They include but are not limited to; resolutions, settings, and temperature.
Filming in high resolution will deplete your battery faster than a lower resolution.
GoPro recommends an operating temperature of between 10 to 35 degrees Celsius.
Charging
You can use a USB Type C cable to charge up your battery right from within the camera's USB Type C port. The charging time is approximately 2 hours.
I hope GoPro will include a fast charging technology in its upcoming cameras.
Once the battery is fully charged, the red LED light will turn off. Always avoid using your camera while charging because it will compromise on the long-term battery life.
---
Conclusion – Is the GoPro Max worth it?
When you are looking for an Action camera that does not compromise on quality, then GoPro is a brand to consider.
GoPro Max is a very worthy upgrade from GoPro Fusion which was the company's first 360 camera.
The video and photo qualities on this camera are impressive and it truly met my expectations.
I like to put it that the GoPro Max is a Hero8 Black with deal-lenses. This is because its regular performance is almost similar to the Hero8 Black.
Max HyperSmooth is a very impressive feature in this camera, it removes nearly all wobbles from videos to create a butter smooth video.
The 6 dotted microphones around the camera body perform an impressive job of recording audio from all the angles in a spherical shooting.
I would only wish that GoPro will give us a chance to have external microphone compatibility in the upcoming 360 camera.
I have also found the PowerPano feature to be very handy especially when you need to capture a panoramic view of quick action.
It surely saves on time and gets a nice 270° extra-wide angle photo without losing the action.
Generally, the GoPro Max has a good number of creative modes that will give users an immersive experience in their daily usage.
Going with my GoPro Max Review, I easily recommend this camera to anyone coming from Fusion and Insta360 One X.
You will get value for the amount you pay for, also having in mind that this camera has a lower price tag now compared to its launch price.
---
Thank you for reading my GoPro Max Review post.
If you have any questions, comments, or concerns about this camera, please leave a comment below and I will get back to you!